Is a credit card better than a loan?
With money tight in many households an increasing number of people are applying for personal loans, but depending on the amount you want to borrow, a credit card could be a better option.
Peter Harrison, credit card expert at moneysupermarket.com, said: "A loan may seem like the obvious choice if you need to borrow money, but don't rule out a credit card if you only need a relatively small amount."
Interest on loans versus credit cards
There are a number of factors which will influence the decision over whether to apply for a loan or a credit card, and a key one is the amount you are looking to borrow.
The most competitive loan rates are available for those looking to borrow £7,500 or more. Sainsbury's Finance is offering the leading rate at 8.0% on unsecured loans between £7,500 and £15,000, but if you borrow £3,000 you'll be charged 13.7%. Want less than £3,000 and the rate is 14.9%.
Generally, if you are wanting to borrow under £3,000 – maybe you've got outstanding credit or store card debts you want to consolidate or need to replace the boiler – consider a credit card.
If you've got an existing debt, it's a balance transfer card you should consider. The leading deals offer interest-free periods which last for 12-months or longer. The Virgin Card charges no interest on balance transfers for 16-months, while HSBC, NatWest and Royal Bank of Scotland have credit cards available to their current account customers, all of which offer 15-month interest-free deals.
Other competitive deals include MBNA's Platinum card, which has a 0% balance transfer offer that runs until December 2010, Barclaycard Platinum and Egg, which are interest-free until November next year.
One thing to remember if you take advantage of a balance transfer offer is that you will have to pay a transfer fee – on the cards mentioned above, these range from 2.5% to 3.0%. Barclaycard Platinum has the lowest fee of the bunch at 2.5%.
A balance transfer offer is no good if you need to borrow to fund a purchase. In this instance it's a card that offers a low rate for purchases that you need to consider. Interest-free purchase offers tend not to last as long as those for balances transfers.
MBNA's American Express card is available exclusively through moneysupermarket.com and offers a 12-month interest-free period on purchases.
If you are looking to borrow for a number of reasons – perhaps to reduce the cost of an existing debt and fund a purchase – it's worth considering a credit card that offers the same length interest-free period on purchases and balance transfers. Sainsbury's Credit Card charges no interest for 10-months on balance transfers and purchases, with a 3% transfer fee. Alternatively, Halifax's All in One card is interest-free for nine months. The balance transfer fee on this card is also 3%.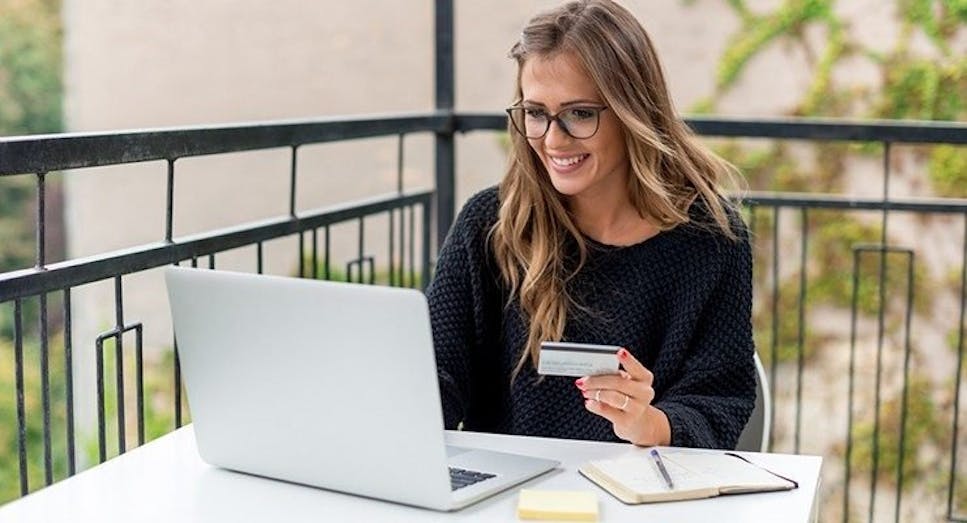 Self discipline
Being charged no interest is a clear bonus, but there are a few sticking points to taking a credit card over a personal loan.
Clear your balance within the interest-free period
Firstly, when you reach the end of your 0% introductory period, rates on credit cards will rocket. The Virgin and NatWest cards for example, revert to a hefty 16.6% and 16.9% APR respectively.
It follows, then, that you should clear your credit card balance before the introductory rate expires. But with the minimum monthly payment on a typical card pegged at a skimpy 2% of the balance or £5 (whichever is the greater) there is no pressure on cardholders to do this. This means, even on your relatively low balance of £3,000, you could be stuck on a cycle of unforgiving interest rates for considerable time.
Borrowing on a credit card therefore requires a greater level of discipline compared to a personal loan which sets down monthly payments that are designed to clear the whole debt typically over a two, three or five-year period.
If you don't trust yourself to pay down your credit card in time, there's always the option of forfeiting the 0% offer in favour of just one low interest rate. Barclaycard Simplicity, for example, charges a straight-forward annual percentage rate of 6.8% - lower than the leading loan rates.
Your credit file
But even if you run your finances like clockwork, seeking out borrowing on a credit card can present another problem. If there is a fixed amount of cash you need to get your hands on – for example, to pay for a new car or conservatory – you won't know if a credit card will offer you this limit until your application is returned. For example, you might need £3,000 but, depending on the shape of your credit file and income, the card provider will only offer £1,000. At that point, your credit file will show a footprint so applying again for a different card – or even switching to apply for a personal loan – could now be even less likely to result in success.
Keeping protected
But if a credit card application is successful for the amount you want to borrow, it will come with another important benefit. When using your card to make a large purchase – costing between £100 and £30,000 – you will be protected under the Consumer Credit Act. This means that the credit card company is equally responsible with the retailer for the quality of the goods or service and you could be entitled to a full refund. Paying for the same item with cash generated from a personal loan will not afford you this protection.
Consider all options
A credit card won't necessarily be the right borrowing method for you but it could be. Certainly if you are looking to borrow a relatively small amount – less than £3,000 - a credit card may well prove a better option than a loan. However, it's important to make the right decision and to apply carefully. Every time you make a credit card or loan application a full search is done, and logged, on your credit file. The 'mark' that is left could have a negative impact on your credit score and if that application is turned down, you may find it harder to find a product you'll be accepted for.
Please note: Any rates or deals mentioned in this article were available at the time of writing. Click on a highlighted product and apply direct.