How to get your mortgage application right
If you're applying for a mortgage, you'll want to get it right to increase your chances of being accepted. Here's what to expect.
Compare mortgages
As part of getting a mortgage, you'll need to complete a mortgage application and have a mortgage interview.
This is nothing to worry about. The process will help establish what you can afford, as well as satisfying the mortgage lender you can afford your home loan.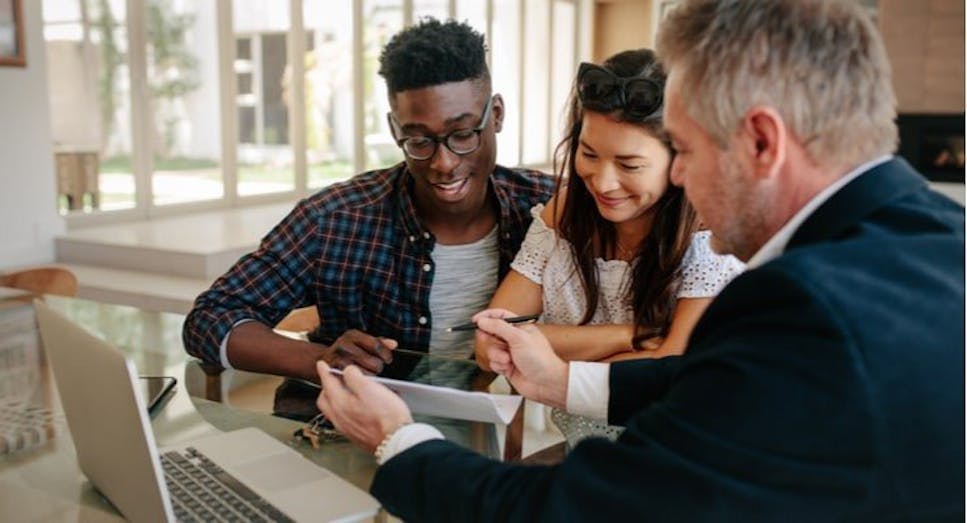 Understand affordability assessments
All mortgage lenders will want to be convinced you can afford your mortgage before they will lend you the money. There are no exceptions as all lenders work to the same Financial Conduct Authority rules. These regulations are in place to protect borrowers and stop them overstretching themselves.
Mortgage affordability isn't just about your income, but how you spend your money. During the mortgage application process lenders will ask about your spending habits and also want to see around six months' bank statements to back up what you say.
This doesn't mean you need to completely stop spending six months before you plan to make a mortgage application, but you can make some changes to improve your chances of success.
Mortgage rules mean lenders don't just need to be satisfied you can afford your mortgage now – they also need to be sure you can afford your payments in the future. This means "stress testing" your finances to ensure you can still afford your mortgage if interest rates rise. This can be a useful exercise for you too.
What kind of spending will lenders look at?
During the mortgage application process, lenders will want to see your bank statements to assess affordability.
They will look at how much you spend on regular household bills and other costs such as commuting, childcare fees and insurance. They will also take the cost of any dependants such as children or a non-working spouse into account, alongside credit commitments such as credit cards, loans or car finance.
You might be asked questions about discretionary spending on socialising, hobbies, personal grooming, holidays and clothes. You should also be prepared to answer questions about regular payments, one-off spending, debt repayments and overdraft use.
There aren't any hard and fast rules about what kind of spending is acceptable and what's not, but it's advisable to cut down on the following:
Payments to online gambling sites

Multiple cash withdrawals on nights out

Short-term credit such as payday loans
Get your credit record in shape
As well as looking at your bank statements, lenders will also examine your credit record.
There are three credit reference agencies in the UK: Experian, Equifax and TransUnion. These companies collate information about you from other organisations such as banks, credit card companies, energy suppliers and mobile phone networks.
Your credit record will show lenders how much available credit you have, as well as missed or late payments. If you have never taken out credit, you may have a thin credit file and will need to spend time building up a positive record. One option is to take out a credit card and regularly spend on it, repaying it in full every month.
Make sure at least some of the household bills are in your name and check your name is on the electoral roll at your current address.
Proving your income
Mortgage lenders will want to see proof of your income before approving a mortgage application. If you're employed, you'll need payslips from the past three to six months.
Self-employed workers have access to the same mortgage products as everyone else but can find it more difficult to prove their income. Whether you're a freelancer, contractor or company director, make sure you have up-to-date accounts and tax returns. The more years of accounts you have, the stronger position you'll be in.
Some lenders will also take other income into account. This might be from government benefits, rental income, spousal or child maintenance, or pensions.
What you need to apply for a mortgage
A successful mortgage application hinges on having the right documents. These include documents to prove your identity, income and spending patterns, and paperwork to show where your deposit is coming from. If you're making a joint application, both of you will need to provide the relevant documents.
To prove your identity you'll need:
Passport

Driving licence

Council tax bill

Utility bills dated within three months

Bank statements
To prove your income you'll need:
Payslips from the past three months

Evidence of any bonuses or commission

Bank statements from the past three to six months (this should be the account your salary is paid into)

Your latest P60
To prove your income from self-employment you'll need:
Two or more years' certified accounts

SA302 forms or a tax year overview (from HMRC) for the past two or three years

Evidence of upcoming contracts (if you're a contractor)

Evidence of dividend payments or retained profits (if you're a company director)
To prove your spending patterns, you'll need:
Six months' bank and credit card statements
Your mortgage lender will also want to see where your deposit is coming from. Gifted deposits (for example, from your parents) will typically require a letter from the person gifting you the money confirming it's a gift rather than a loan that will need to be repaid.
If you've saved a deposit, this will need to be evidenced with bank statements. Any lump sum transfers might need to be explained.
If you're a first time buyer you can read more about getting a mortgage in our guide and why not take a look at our top tips for getting your first mortgage?
Your home may be repossessed if you do not keep up repayments on your mortgage
Compare mortgages