Understand travel insurance and when to buy
Everything you need to know about booking travel insurance for your next holiday
Planning a trip isn't always straightforward, but with our comprehensive guide to travel insurance you can skip the headache and find out exactly what you need from your insurer.
What is travel insurance?
Travel insurance covers you against any cost or losses if something should go wrong when you're on holiday. Whether you're travelling abroad or in the UK, travel insurance helps you if your plans are disrupted or your accommodation gets cancelled, and is essential in the event that you injure yourself or your possessions are stolen, lost or damaged while travelling.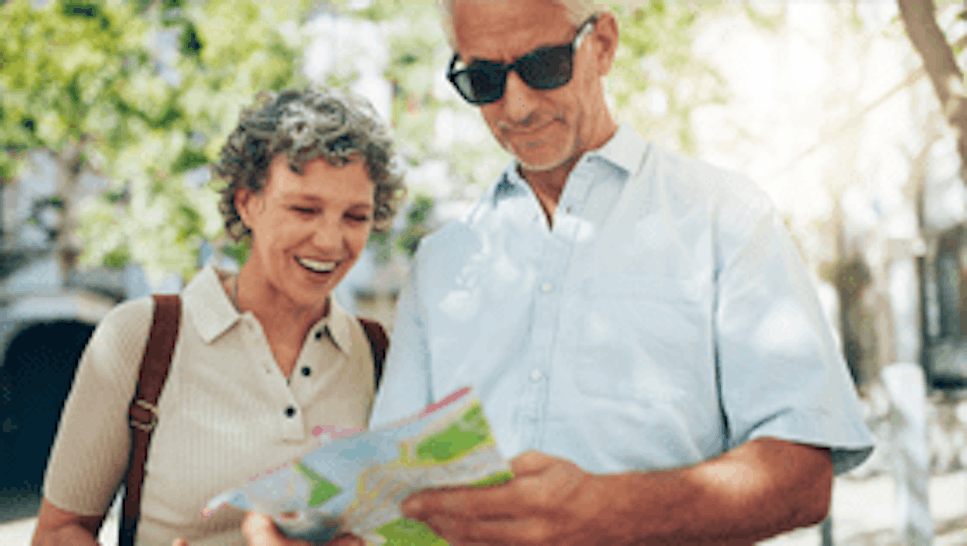 What types of travel insurance are there?
There are plenty of specialist types, but by and large, when you buy travel insurance you choose one of three options:
Single trip: This covers you for a single trip for as long as you're away

Annual multi-trip: This covers you for a full year, allowing you to take multiple holidays without rebuying insurance – as long as you go to the destination(s) declared

Backpacking: This will cover you for an extended period to multiple destinations
What does travel insurance cover?
The details of travel insurance can differ between insurers, and you should always check the policy wording before you buy your policy to be certain of what you're covered for. In general, most travel insurance covers:
Possessions: When items such as your luggage, important document, or cash up to a certain amount are lost or stolen

Medical treatment: Insurers generally include cover for emergency medical treatment, though if you haven't declared any pre-existing medical conditions, treatment for that condition likely won't be covered

Holiday disruptions: Reimbursement for disruptions to your travel or living arrangements, such as involuntary abandonment or missed departures, delayed flights, cancelled flights or accommodation, or a curtailed trip

Legal costs: For if you have to pay legal fees for an incident that wasn't your fault. If you have to pay personal liability if an incident was your fault, your insurer may also pick up the cost
There are also some common things that most travel insurance policies won't cover, so be sure to check the policy documents. In these cases, it's often possible to buy extra cover for an additional price.
Typical things that may not be covered as standard by travel insurance include:
Adventurous activities: Winter sports or other potentially hazardous activities like climbing, shark cage diving and white-water rafting may not be automatically insured, but you may be able to take out extra cover

Expensive items: Gadgets, designer clothes or sports and music equipment are often excluded from standard travel policies. If you're taking your laptop, fancy sunglasses or a guitar with you, check if you'll need additional cover as some insurers will have a maximum price limit for individual items that you can claim for

Labour-induced injuries: If you injure yourself working a temporary job while you're backpacking, for example, you may not be covered
How much does travel insurance cost?
The cost of travel insurance changes according to lots of factors, such as where you're going, how long you're away for, your age and any extra cover that you require. A person in their 20s visiting France for a few days would expect to pay five or six pounds, but a retired couple on a round-the-world tour could pay 10 times that or more.
If you're planning to take multiple holidays in a single year, annual travel insurance is the more economic option. On average, this type of policy is cheaper if you take three or more trips around the world – though prices differ according to whether you visit the USA, Canada or the Caribbean.
What affects the price of travel insurance?
What you'll pay for travel insurance is affected by a number of individual things, such as:
Your age: Insurance is fairly cheap in your 20s and 30s, but the older you get the pricier it becomes – especially for over-65s and even more so for over-80s

Your activities: If you're planning on any adventurous activities like skiing, scuba diving or hiking, you may need to pay extra to get covered

Your level of cover: Any additions you require on top of your standard level of protection, such as gadget or equipment insurance, will raise your premiums

Your destination: Local factors, such as the price of medical treatment and repatriation, can make your policy more expensive

Your holiday duration: The longer you're away, the more you're likely to pay

Your medical conditions: If you have a pre-existing medical condition, it may raise your premium. However, don't be tempted to hide it to drop down costs, as this would invalidate your insurance
When should I buy travel insurance?
Travel insurance is something you should take out as soon as you've booked your holiday. This is because it's possible you might have to cancel your trip after booking but before you've actually left. For example:
You may get injured or fall too ill to travel

You might be made redundant after you book

You could be forced to cancel due to bereavement
If this should happen for any of the above reasons, your insurer could possibly cover some or all of the holiday costs for you.
How does the excess work?
Your travel insurance policy will come with an excess, which is how much will be deducted from any claims that are paid out. This excess varies by policy and insurer, and can even vary by claim. For example, you may have £0 excess for some claims such as hospital benefit or passport cover, but it might rise to the specified amount for personal possessions or missed departure claims.
Do I need an EHIC/GHIC card?
Even though Britain is no longer part of the European Union you can still use your European Health Insurance Card (EHIC) until it expires. The EHIC is being replaced by the Global Health Insurance Card, which despite the name is only valid for use in the EU. The GHIC works under exactly the same terms and conditions as the EHIC. The GHIC is free and you can apply for a card through the NHS GHIC application page.
What does worldwide cover mean?
When you book a single-trip policy, you'll need to declare your destination(s). But when you book an annual multi-trip policy, you'll have to categorise your cover based on the area. You'll need to choose from:
European cover: This means most of mainland Europe, however, some insurers also include countries like Morocco and Egypt

Worldwide (excluding The USA, Canada and the Caribbean): This means everywhere in the world except (obviously) the USA, Canada and the Caribbean

Worldwide: Without any exclusions, this generally means most countries in the world and will include the USA, Canada and the Caribbean
Staycation insurance
Travelling doesn't necessarily mean going abroad, and you should still consider travel insurance if you book a holiday within the UK. Staycation travel insurance offers cover in case of the following:
Lost, damaged or stolen valuables: A travel policy can include accidental damage to your belongings, which may not be included if you have personal possessions insurance or any extra cover from your contents insurance

Cancelled or delayed transport: You may be able to find cover for transport such as trains, coaches, hire cars and flights if your arrangements are cancelled, or if you need to end your trip early. You should confirm this is included on the terms of your policy, as some insurers might not provide cover for internal flights

Cancelled accommodation: It's possible to get coverage for cancelled or unavailable accommodation on a domestic holiday. However, some insurers may add conditions, perhaps specifying that the accommodation must be a certain distance away from your home, or that getting there must involve a sea crossing. You may even have to stay in the accommodation for a certain period of time, or have pre-booked it
Cover for pre-existing medical conditions
If you have a pre-existing medical condition, you should expect to pay more for your policy and might face higher excesses. If you're unsure whether an illness is classed as a pre-existing medical condition, declare everything to make sure that you're fully covered as failure to declare a condition could invalidate your policy
Finding travel insurance for pre-existing medical conditions doesn't need to be stressful or expensive: it's one of the options when you compare policies with MoneySuperMarket.
Do I need special business travel insurance?
If you're travelling for business, you may find that your employer already has cover in place. However, if you need to purchase your own travel insurance – whether that's because you're self-employed or there is no existing cover – it's possible to get this as an add-on to some policies.
Business travel insurance is useful if you're going to be away for work, and it should offer extra cover for additional items or circumstances that include:
Company money, in case your company cash is lost or stolen

Business materials and equipment, which could include company computers, phones or other gadgets that get lost or damaged

Alternative travel if your meeting is disrupted or there are changes in personnel

Courier cover in case items or documents are damaged, lost or stolen when being sent to your location
Be careful of exclusions
It's important to know that exclusions generally apply to your travel insurance policy, so you can avoid invalidating your insurance. These vary by insurer, but the following are common:
Unattended belongings: If you've left your possessions unattended and without proper protection

Undeclared medical conditions: If you fall ill from a pre-existing medical condition that you hadn't declared when buying your policy

Risky activities: If you're planning on doing anything risky or extreme, such as skiing or white-water rafting, and you haven't told your insurer

Reckless behaviour: If you injure yourself or lose something while behaving recklessly or under the influence of drugs or alcohol

Travel recommendations: If the government has advised against travelling to particular locations, possibly due to high risk of terror attacks or natural disasters

Change of heart: You can't make a claim if you want to change your plans or come home because you aren't enjoying your holiday
Tips for buying travel insurance
When you're comparing travel insurance quotes, it's important to make sure the policies on offer provide enough protection for your travel needs. The following represent the minimum levels of cover you should seek:
Medical treatment: The recommended minimum amount of cover for medical treatment is £5 million

Single item limit: This is the maximum your insurer will pay out for each item, and you may find that your mobile phone or camera exceed it, so be sure to specify what your valuables are worth

Legal fees: You may need legal fee cover if an incident isn't your fault, or personal liability cover if it was. You should look for a minimum of £1 million in cover for this

Cash: Check the cash limit; £250 is a good amount. Don't carry more than this on you because it won't be insured

Cancellations: Check what the maximum amount insured for cancellations is, and make sure it covers the whole cost of your trip
How to make a travel insurance claim
If you need to make a claim while travelling, here's how to make sure the process goes smoothly. Most of all however, have your policy to hand or backed up online so you can access it at any time.
This is what else you need to remember:
Contact the authorities, if relevant. If you've been the victim of a crime, you need to report it to the police first – and get a police report. Some insurers may not cover you if you fail to do so within 24 hours

Contact your insurer ASAP. They may have an emergency contact number which you can call from anywhere at any time if you need to make a claim. They might also have a number for medical emergencies, which you could have to call before going to the hospital to receive treatment

Support your claim. Insurers are likely to require evidence to support your claim. This might include a medical note or form from a hospital or GP, a police report with a reference number or receipts to show proof of ownership.
The process of making a claim can vary according to who you're insured by, so it's advisable that you check what you need to do before you travel.
Compare travel insurance
One of the best ways to find an affordable policy is to shop around and compare travel insurance quotes. When you do this on MoneySuperMarket, you can compare factors such as the level of cover provided or the maximum excess you'll have to pay when you claim.
All you need to do is put in a few details, like whether you'll need cover annually or just for a single trip, where you're travelling, when you need the cover to start, who you're going with, and any special cover you might require. Within minutes you'll be able to look through quotes from a list of different providers, so you can find your ideal coverage at the best price.