How to ask for help with money problems: with social scripts
When you're facing money problems, it gets to a point where you need to ask for a helping hand. But who can you ask – and what do you say to them?
Some good news is that there is plenty of help available. There are debt repayment plans, expert advisors, special accounts and loans, and assistance from government schemes.
And even better news is that most of it is only a phone call away. But of course, the downside of that is… you have to make a phone call. And when you're stressed out, it may be tough to work out exactly what you need to say.
That's what this guide is for. Read on, and we'll take you through exactly what you can say to any helplines, lenders, suppliers, or friends when you need a helping hand – right down to the words you can use.
If you're unsure though, let's make a couple of things clear first.
There's no shame in asking for help. You have a problem that needs solving, and what you're doing now is reaching out to the experts with the solutions.
In fact, the people you'll speak to on the phone in all the below scenarios spend all day finding solutions to money problems big and small. They know the course of action – or the best direction to point you in – whether the problem is a few hundred quid or several thousand. Frankly, they've seen it all before.
And remember that the sooner you reach out, the better – it's best to find a solution as soon as possible.
Where do I even start?
That's the question you may be asking yourself. Finances are complex, and issues can compound other issues, until it all gets a bit jumbled up.
Instead of trying to untangle everything, focus on: Where am I at right now?
What is your current situation, and what do you need help with? The answer to that may include statements such as:
'I am £____ in debt'

'I owe £_____ on this credit card, and £____ on that loan'

'I am behind on my ____ bill, and I don't have the cash to pay it right now'

'I have £____ in my bank account'

'I'm barely earning enough to cover my bills and outgoings'

'I am really stressed out about money'
You'll also get the best out of your conversations if you know exactly how much you owe, how much you have in your accounts, what your income is, and roughly what your monthly outgoings are.
Once you have a solid idea of what your finances look like right this minute, you're in a good place to zero in on the main problems and find solutions.
It's also advisable to check what your rights are before picking up the phone. You can find these by checking places like the relevant ombudsman, or StepChange for debt.
And finally, if you have a disability or mental illness that makes these conversations particularly challenging, you may be able to engage an advocacy service. Take a look at the resources from Disability Rights UK or MIND.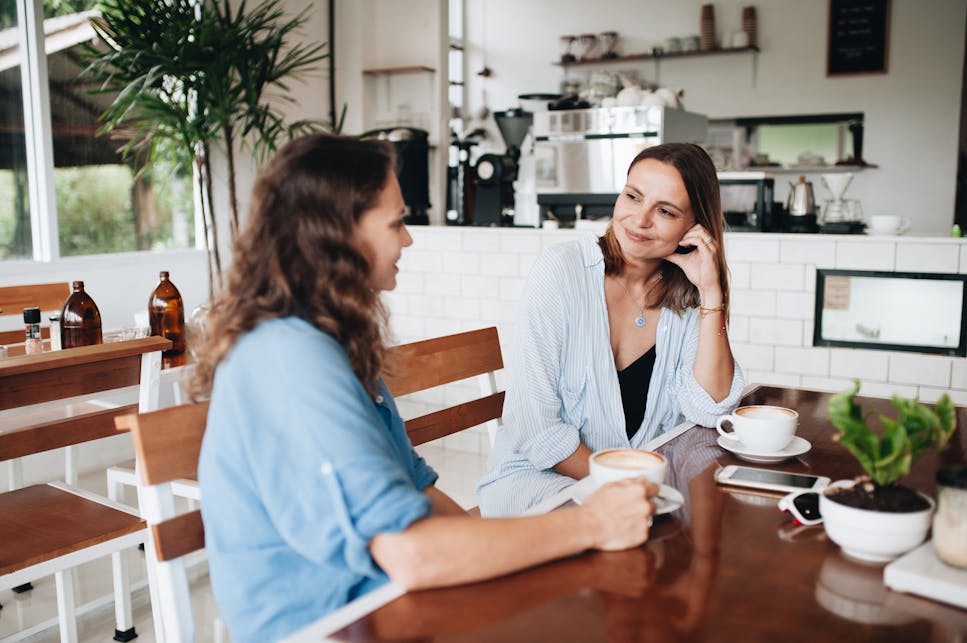 How to ask for help… with debt
Free debt helplines, run by the government or non-profits, include those by Citizens Advice, MoneyHelper, StepChange, and National Debtline. They can offer you tailored advice on debt and what your options are, and point you towards the right resources for your situation.
You can call them about any debt, whether you're worried about a few hundred pounds, or you're drowning in thousands of pounds of debt.
Depending on the service, they can help you arrange debt management plans, debt arrangement schemes, bankruptcy, equity release, and more, as well as signposting any entitlements you can claim. Some also have sample documents and letters that you can send to your creditors.
Not sure how to start the conversation when you call? You can say something like:
'I'm calling because I'm £_____ in debt and I'm not sure how to resolve it.'

'I'm struggling with debt repayments, and I need advice as to what I should do.'

'I've got stuck in a debt spiral and want to get out.'
They'll ask a few questions about your situation, and help you understand the options available to you.
How to ask for help… from a lender or creditor
You may be advised to contact your lender, credit card provider, bank, or whoever else you're in debt to, in order to work out a new plan. When you do so, you can say something like:
'I'm experiencing financial difficulties, and I'm struggling to keep up with my payments at their current rate. Could we work out a temporary plan?'

'I'm currently behind on my payments. Right now, I'm not able to consolidate them. Could we work out a plan?'
They're allowed to ask for more details on your finances, so have a quick idea of numbers in mind.
At the end of the conversation, if a plan has been proposed, ask for the details to be sent to you in writing. You don't have to agree to it yet if you're not sure.
How to ask for help… from your energy, water, or broadband supplier
Another conversation you may need to have about money is with a utility supplier. Energy, water, and broadband providers all have options in place if you're facing money troubles – including reduced rates, social tariffs, repayment plans, and even grants, depending on the supplier.
When you call, you can say:
'I'm experiencing financial difficulties, and struggling to keep up with my bills right now. Is there any way that [supplier] can help me?'

'I'm currently behind on my bills, and I can't pay them in full right now. Could we work out a payment plan?'
They're allowed to ask for more details on your finances, so again be prepared with an idea of your income and outgoings.
At the end of the conversation, if a plan has been proposed, ask for the details to be sent to you in writing. You don't have to agree to it yet if you're not sure.
How to ask for help… from friends and family
Ironically, the people who care about us the most can be the most difficult to talk to about big problems. But your loved ones can provide invaluable support.
Even if you aren't asking them for cash, there are a number of ways that friends and family can help you with money troubles. They could:
Go through your bills with you and help you understand your situation

Do the maths, and help you create a budget you can stick to

Research the things you can't get your head around

Sit with you for support and a second set of ears while you phone helplines

Help you sign up to or switch financial products

Find cheap or free activities so you don't need to spend to socialise, and encourage the rest of your family or friend group to choose those options too

Keep an eye out for bargains and resources
So how do you ask for that help? Here are a few scripts you could try…
'Money has got a bit sticky for me right now. Would you mind helping me make a budget/figure out my outgoings/call the debt helpline?'

'I'd hate to miss out on seeing you but money is tight at the moment. Could we do something free or cheaper instead?'

'I've been pretty stressed out about money recently. I think I need a hand sorting it through in my head.'
Remember that the cost-of-living crisis has affected pretty much everyone, and a lot of it is out of our control – you won't be the only person whose situation has got worse.
How to ask for help… from CALM
Our charity partners CALM – the Campaign Against Living Miserably – are there to help if you're stressed out, feeling low, anxious about your situation, or just need to have a good, confidential vent.
You can call their helpline on 0800 58 58 58.
Other services you can try include Samaritans and Shout. You can also contact MIND to learn about the mental wellness resources available to you in your area.
You could say:
'I'm calling because I've been feeling _____.'

'I'm really stressed out about money.'

'My finances are in a difficult place, and it's been making me feel ____.'
It's also completely fine to say: 'I don't even know where to start.'
The counsellor at the other end of the line helps people out who are struggling with every issue under the sun. They're fully trained and know which questions to ask next.
You can call if you're just feeling a bit under the weather and could do with a chat – or you can call in floods of tears if you need to! In either case, that's what they're there for.