Driving home for Christmas
Hitting the roads this winter? Here's how to do so safely
With temperatures set to plummet, and heavy rain, thick fog, ice and snow on its way, now is the time to give some thought to winter driving.
You need to make sure your car is ready for harsher weather conditions, and you need to plan journeys over the Christmas period carefully. This will help make sure you – and your passengers – stay safe.
Give your car a winter once-over
Check your tyres are in good condition, inflated to the correct levels, and with the minimum legal tread of 1.6mm.
If your tyres wear down below this level, you could face a fine of up to £2,500, as well as three penalty points.
If you are going to be driving a lot in wintry weather, consider getting snow tyres as they maximise grip and provide better braking on snow and ice.
Check your car's oil using the dip stick, and get the battery checked.
Inspect your wipers for signs of wear and tear, and ensure the screen-wash is topped up to the correct level.
Make sure your lights are all in good working order.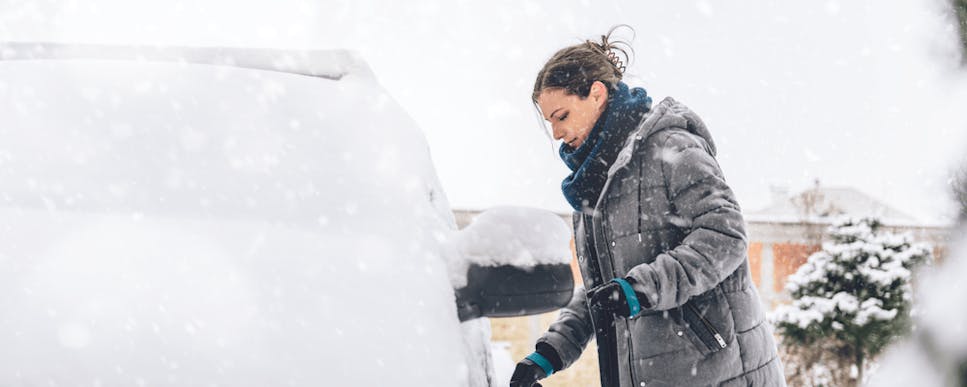 Plan long journeys carefully
If you're heading to visit friends and family over the festive period, give some thought to your route. Leave plenty of time for journeys in case you have to take a longer route, and allow for lots of breaks.
Check the weather forecast before setting off. If the weather is going to be particularly bad, consider delaying your journey, or finding an alternative means of travel.
Make sure your phone is charged up, and carry a charger – or, better still, an in-car charger – with you.
Tell someone where you're going, in case of an emergency. Also think about sharing your location via an app such as Waze, so people can keep track of your journey.
Make sure you've got enough petrol. Research where you can fill up along the way so you don't get stuck.
Pack a winter kit
Breaking down in winter can be dangerous, so you need to be prepared.
Make sure you have the right emergency kit in your vehicle in case you find yourself facing a long wait in the cold.
Pack warm clothing and a rug, along with a torch, spare batteries, shovel, ice scraper and de-icing fluid. Also stock your car with a first aid kit, hazard warning triangle, jump leads and tow rope. Make sure you've got a high-vis vest in case you or a passenger need to leave the car.
Carry food and snacks with you. Think about packing a flask with a hot drink.
Get breakdown cover
Make sure you've got good breakdown cover in place.
If you're buying a new policy, be sure to shop around, looking for features such as roadside repair and recovery to the nearest garage, or any UK destination. Also check for cover for alternative travel and accommodation costs.
Once you've got cover, be sure to carry the number to call for roadside assistance with you on all journeys.
Think about what you're wearing
Tempting as it may be, don't drive in Uggs, wellies or other types of heavy winter footwear, as these can stop you using the controls properly.
If you need to wear gloves, make sure they are driving gloves.
Get your car ready
Allow time to defrost your windscreen. Don't drive away until it's completely clear. Fail to do so, and you could face a fine of up to £1,000 and get three points on your licence.
Always stay in the car while defrosting it. If you leave your vehicle unattended with the engine running to warm it up, it's likely your insurer will reject a claim if it is stolen, as you will have failed in your duty of care.
Take care to clear snow off your car. The same applies to fallen leaves and twigs.
Make sure your windows are clean, your mirrors are de-misted, and that your number plates and lights are clear and visible.
Drive with care
Always remember to switch your headlights on. Take care not to dazzle other motorists.
Regularly check and adjust mirrors.
Adapt your driving habits to stay as safe as possible. Keep your speed in check, and only drive as fast as conditions allow.
Allow extra space between you and the car in front when driving at night or in wintry conditions, as this gives more time to react to situations ahead of you.
In snowy conditions, pull away in second gear and ease off the clutch gently. This gives the car more grip and makes it much easier to get going.
Try not to brake or turn too suddenly, as this can cause the car to skid. If this does happen, take your feet off the pedal and steer into the skid. Don't accelerate until you feel some control return.
Be extra vigilant for pedestrians and cyclists during the darker months, as they may be less visible.