How to avoid a DIY disaster this bank holiday
Fancy yourself as a bit of a dab hand at DIY? Then check your home insurance before opening your tool box
Bank holiday weekends are a particularly popular time for people to indulge in a spot of DIY, with painting, decorating and tiling among the tasks on our to-do lists.
But before you grab your hammer, drill or paintbrush, it's vital to check you have the right cover.
Most home insurance policies do not automatically include cover for 'accidental damage' as standard, so if you drill through a water pipe or put your foot through the ceiling, you could find yourself out of pocket.
Here we take a closer look.
The cost of things going wrong
New research from insurer, Aviva, found that almost half of UK households who renovated their homes during the pandemic now regret their DIY decisions – with one in five running into serious problems like drilling through a pipe.
The most common renovation regrets included painting and wallpapering rooms, fixing loose floorboards or wobbly tiles and attempts at guttering maintenance. What's more, the average cost of putting these 'bodged' jobs right was £716.
All this shows that while doing things yourself can save you money, it's all-too-easy for your home improvements or grand designs to turn into a DIY disaster – which could end up costing you dearly.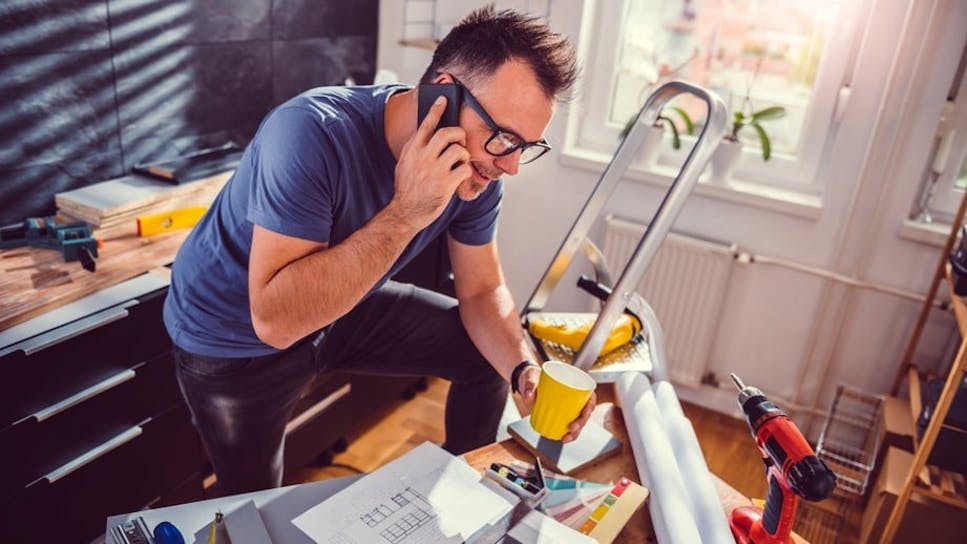 Why is 'accidental damage' cover so important?
Accidental damage is a part of home insurance that covers against mishaps that result from an unexpected and unintentional one-off event.
When it comes to DIY, common mishaps include banging nails through water through pipes, spilling paint on carpets, starting electrical fires and falling off a ladder – incidents which often go up on public holidays.
Crucially, you can't claim for a problem caused by a DIY mishap if you didn't pay for accidental damage cover in the first place.
If you don't have it, you could find yourself having to stump up hundreds – or even thousands – of pounds to fix a botched job or DIY disaster.
With this in mind, it's vital to have the right cover in place should things go wrong.
How do I buy 'accidental damage?'
In the first instance, you should give your insurer a quick call to see if it is included on your policy – though it's worth noting that most policies do not include it as standard.
If you don't have this cover, you should check with your provider to see whether they will offer it as an optional extra. The good news is accidental cover can be added to most policies for an additional premium. Generally speaking, it will only add a few pounds to your premium, but could save you thousands.
As a homeowner, you might want to consider getting accidental damage cover for both the contents and buildings elements of your policy.
The contents policy would pay if your belongings get damaged, while the buildings policy would kick in if, say, you flooded an upstairs room, and brought the ceiling down.
Note that if you're renting, then your landlord is responsible for the buildings insurance policy, so you'll only need accidental damage cover as part of your contents policy.
Getting a quote
You can compare home insurance quotes quickly and easily here.
Simply provide a few details about yourself, your property and the cover you need, and you can get a list of quotes tailored to your needs.
Tips before starting DIY
Preparation is key. Plan carefully – and for every eventuality

Make sure you've got the right tools for the job.  Read the instructions before using a tool for the first time

Do some research online to ensure you know how to carry out the task both correctly – and safely

Don't rush into a job. If a job's worth doing, it's worth doing properly

Start with a simple project, rather than a major renovation

Use a pipe and wire detector to check for wires and pipes before you drill or hammer

Take the time to cover your carpet, sofa, TV and other furniture and furnishings

Where possible, keep children and animals out of the way of the area where you're working
Know when to call in the professionals
When carrying out certain DIY jobs around your home, it makes sense to call in the experts.
While you may be fine tackling a simple task, you should get help when it comes to tasks that are beyond your limits, such as those involving electricity, gas or plumbing.
If you attempt this kind of job yourself, you risk causing serious damage not only to your property – but potentially to yourself and your family as well.
At the same time, you will probably also struggle to make a successful claim if something goes wrong.
This is because insurers may reject a claim if plumbing or electrical work has been carried out by someone unqualified.
If a task requires expert knowledge, leave it to the professionals.
Check your cover before getting major work done
If you are planning on undertaking more extensive home renovations – such as knocking through rooms, converting a loft into a bedroom, or digging out a basement room – you need to speak to your insurer.
That way, you can check whether any restrictions or special conditions apply, and ensure you don't void your policy.
If you are embarking on a big building project, your cover may need to be increased – meaning your premium may go up.
The key is to speak to your insurer before any major structural work commences.