The Great British Switch-Off: Are you ready to go digital?
By the end of 2025, the UK will be switching off its long-standing analogue telephone network, replacing it with a digital, internet-based service. So what does this mean for you? Read on for everything you need to know.
What's happening, exactly?
The UK's telephone network is going digital. The Public Switched Telephone Network (PSTN) is scheduled to be switched off on 31st December 2025, and your traditional landline connection will be replaced with Voice over Internet Protocol (VoIP) services.
Run by BT's Openreach, the PSTN is the copper cable telephone network that's been in use since 1876. As well as landline services, the PSTN also provides standard ADSL and fibre-to-the-cabinet (FTTC) broadband services via fibre optic cables.
The replacement, VoIP, is entirely digital and uses your internet connection to transmit voice calls and data. It's the same tech that's used for messaging and video call services like Skype and WhatsApp.
The existing copper and fibre optic cabling will still be there after the switch-off, but they'll be used to carry digital signals instead.
Everyone – both home and business customers – will be required to switch from PSTN to Internet Protocol (IP)-based services before the end of 2025.
Plus, anything that currently uses the old analogue phone network will need to move to an internet-based service. This includes alarms, door entry systems, CCTV, electronic point-of-sale tills, and fax machines.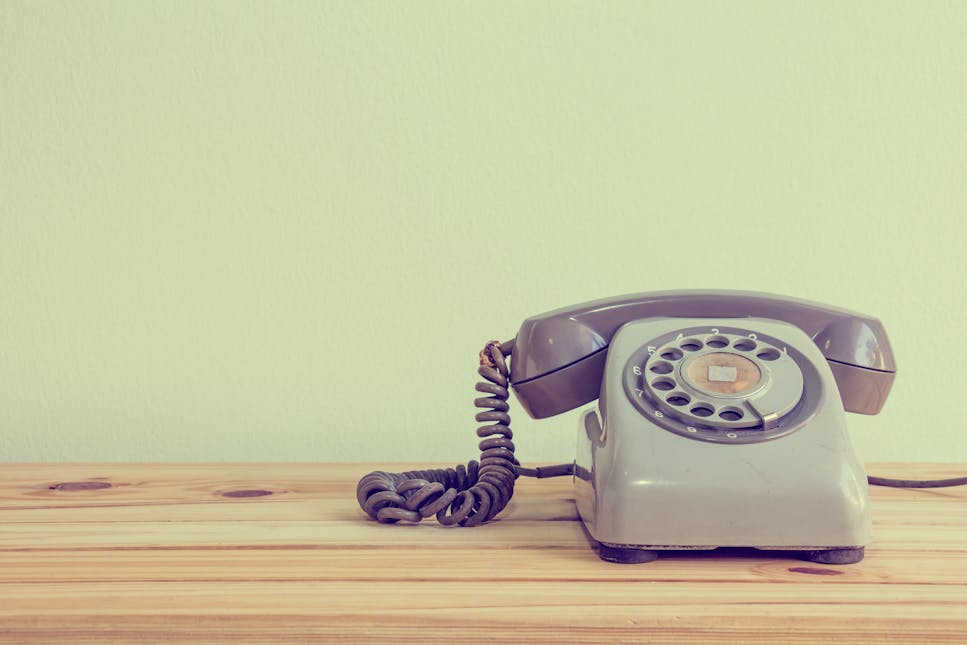 Why are landlines being switched off?
It's part of the ongoing effort to replace old, ageing copper telephone cables with newer fibre ones that are faster and provide a more reliable connection.
BT Openreach has been rolling out its full fibre infrastructure across the UK for quite some time now. According to the Summer 2023 update for Ofcom's Connected Nations report, 75% of UK homes are now able to get gigabit-capable broadband, while over half also have access to full fibre services. This will continue to grow, as Openreach and other broadband providers work to expand their full fibre networks.
So, the end of traditional landlines is linked to the country's shift to faster broadband services – which can better handle the demands of modern communication and technology.
Many countries are in the process of switching to a fully digital service, while some countries, including The Netherlands and Estonia, have already turned off their PSTNs.
When will the switch-off happen?
The PSTN is due to be completely switched off at the end of December 2025. So, if you haven't upgraded by then, any technology using the PSTN will no longer have service.
It might seem like a sudden change, but BT Openreach first announced its intention to switch off the PSTN by 2025 in November 2017. Since then, it's been steadily happening region by region.
The transition typically happens in two stages. First, there's a 'stop sell', where providers cease to sell legacy phone lines. You'll then be required to upgrade your existing services, while the existing PSTN experiences reduced service.
In September 2023, 'stop sell' came into effect across the whole of the UK. So, every broadband provider has stopped selling copper cable-based traditional landlines. This means you're no longer able to buy a traditional phone line or add features to your existing plan.
BT Openreach has since rolled out its new digital-only home phone service across East Midlands, Yorkshire and the Humber, and Northern Ireland. The next phases are as follows:
Autumn/ Winter 2023 – London and the North West

Spring 2024 – the South East, West Midlands, East Anglia and Wales

Summer 2024 – the North East, South West and Scotland
From 1st January 2026 onwards, all home calls will be hosted via the internet.
What does it mean for me – and will I need to do anything?
If you haven't already been migrated, at some point before December 2025 you'll need to move from PSTN to a digital, internet-based service. To ensure you don't temporarily lose service, you should do this ahead of the switch-off.
According to BT, customers will be contacted at least four weeks ahead of any switching over taking place in their region.
What should I do about my landline?
If you currently have a landline that uses the PSTN, you'll need to switch to a VoIP-based phone plan.
In general, this should be easy. Although some phones might require an adaptor, and older phones might need to be replaced, in most cases you'll be able to plug your existing phone into your router or a new socket.
Existing BT landline customers can easily switch to BT's Digital Voice plan by simply plugging their existing telephone into the back of their broadband hub. Other providers have their own version, such as Sky Voice and TalkTalk Voice.
You won't need to change phone number – you can keep your current one. And if you don't want a VoIP-based home phone, you can be transferred to a broadband-only plan.
What should I do about my broadband?
If you currently have an ADSL or FTTC broadband connection, you may be required to upgrade to a full fibre broadband plan.
Depending on your property, this might require an engineer visit to set up the service. It's still a fairly quick and straightforward process – our page goes through the full fibre installation process.
As part of the switchover, Openreach has been expanding its fibre network to more locations across the UK. So, if you live rurally and previously didn't have access to fibre, don't worry – you should be able to get it at your address within the next few years.
If your provider isn't using the BT Openreach network, which includes Virgin Media, Hyperoptic, KCOM and Community Fibre, it's likely that you're already on a non-PSTN service (whether that's full fibre or cable broadband). Otherwise, these networks are also in the process of migrating their customers to internet-based services.
It's easy to compare broadband deals and switch to a faster fibre service using our comparison tool.
What should I do about other PSTN-based devices and services?
If you're a business customer, check if there's anything else using your landline – such as payment terminals, CCTV, alarm systems, and more – and plan to move to digital services.
It's worth contacting your current broadband provider to see what solutions they can offer.
Will switching cost me anything extra?
If you're switching your current home phone plan to a VoIP-based one, it shouldn't cost more. According to BT, customers who already have a landline won't need to pay anything extra when switching to its Digital Voice plan (unless you want to upgrade your call plan to something more comprehensive).
If you currently only have a landline, you won't be forced to pay for a fibre broadband service you don't want. Instead, your new digital phone service will use a dedicated broadband connection and hub that will be provided at no additional cost.
BT has stated that landline-only customers will pay the same amount, and Virgin Media has also said its landline-only customers won't need to pay more when switching to its internet-based phone services.
However, if you're switching from a basic ADSL broadband plan to a faster fibre one, it may indeed cost more per month.
Nevertheless, entry-level fibre broadband is much faster than ADSL, and it's sometimes only a few pounds more per month. Plus, you can take advantage of discounts, incentives, and free gifts exclusive to new customers only.
If you want to stick with your current provider, get in touch with them to see what your options are.
I use my home phone for emergencies – what happens if there's a power cut?
In our mobile phone-obsessed world, there are still plenty of people who still rely on their landlines. If your home phone is your main point of contact, you may be concerned about what will happen when the PSTN is switched off. Will you be able to make calls during a power cut, or if your broadband is patchy?
VoIP-based telephone services require power for you to make and receive calls, as well as a stable internet connection. So providers are responsible for ensuring customers can get in contact with emergency services.
For example, BT is giving vulnerable customers a battery back-up in case of an outage. And Virgin Media offers a device with its own battery, which allows your home phone to connect to mobile phone services.
As for how reliable VoIP is, BT says its digital services run across multiple data centres. So, if one server goes down, that's not a problem – traffic will be seamlessly switched to another, and you'll still have service.
Other benefits of digital phone services include clearer calls, the potential to access your landline in other locations, and the ability to make multiple calls at the same time.