Cut the cost of going back to school
Worried that back-to-school costs could make a big dent in the bank balance? Here's our guide to help you keep bills to a minimum
The start of the new school year can be financially demanding at the best of times, and for many, it will be even harder than usual, due to Coronavirus having had a big impact on family finances in recent months.
Parents who have shelled out big sums keeping little ones entertained first during lockdown – and then through the summer holidays – may now be worried about the expenses they face ahead of the autumn term.
As any mum or dad will testify, the cost of uniforms, sturdy shoes, sports kit, stationery, rucksacks, lunchboxes and pencil cases doesn't come cheap – not to mention computing equipment and other gadgets.
But while ensuring your child has all the things they need for the start of the new academic year can mean a significant hit to the wallet, there are lots of simple steps you can take to keep costs under control.
Uniforms
As long as there's no requirement for you to buy official uniform from a specialist supplier, then when it comes to kitting your kids out ready for September, the supermarkets should be your first port of call.
They are usually significantly cheaper than school suppliers.
Aldi, for example, is offering a uniform bundle for just £4.50. This is for children aged 3-11, and includes two polo shirts, one round-neck jumper, and either trousers or a skirt.
There's also plenty of great value on offer on 'back to school' uniform ranges elsewhere, such as Asda, Sainsburys, Tesco and Matalan – while M&S is offering 25% off school clothing and accessories both in stores and online.
Many schools' Parent Teacher Associations run second-hand uniform sales, so find out about these. Also check out car boot sales and local Facebook groups. With Facebook Marketplace, you can filter by distance, price and latest posts.
Second-hand stuff not only saves you money, but also means you are doing your bit for the environment.
Shoes can be pricy, but don't be tempted to scrimp on footwear, as if you buy cheap, you could find yourself having to buy twice. A good way to lower the cost is by buying from outlet shops. Clarks, for example, has outlet stores where shoes are sold at substantial reductions. Also visit TK Maxx for cut-price footwear.
Be sure to label everything so your child doesn't lose stuff. Replacing lost items can cost a fortune.
Bear in mind that while iron-in name tags can save you time, stitched-in name tags are likely to last a lot longer.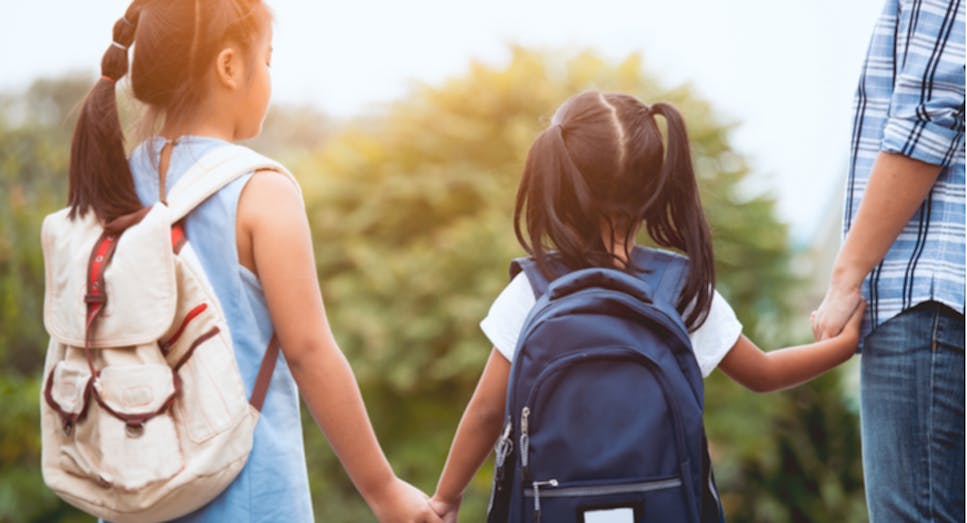 Stationery and other accessories
Don't rush out and spend a load of money on a trolley full of new back-to-school essentials until you've had a hunt around the house to see what you've got. You might be surprised at the number of pens, pencils, notepads and folders you already own.
If you do need to buy new stuff, check out supermarkets, pound shops, and other discount stores.
Remember you can often make big savings by buying in bulk.
If you're an avid collector of Tesco Clubcard points or Sainsbury's Nectar points, put these to good use when buying items such as schoolbags and lunchboxes.
Go online and you can find deals and discounts on all sorts of school essentials on the 'back to school' hubs at the likes of Vouchercodes and HotUKDeals.
Tech and computing equipment
Research carefully before splashing out on a laptop or tablet for your little one, as these items can be quite a big investment.
Some of the biggest bargains are likely to be found by shopping around online. Also check out cashback sites such as Topcashback and Quidco for good discounts on computing equipment.
Another good way to get a good deal is by browsing through the 'refurbished tech' on a site such as eBay.
And note, that if you're upgrading a laptop or other device, you may be able to save a few hundred pounds by 'trading in' the old model.
Packed lunches
Shopping for items to pack in your kids' lunchboxes each week can feel like a big expense, but paying for healthy snacks doesn't need to cost the earth.
Budget carefully and when you're at the supermarket, choose supermarket basics, rather than big-name brands.
Make further savings by looking for 'buy-one-get-one-free' deals and buying in bulk.
Also check if your child is eligible for free school meals. See here for more details.
The school run
If you're lucky enough to live close to school, you may be able to walk – or scoot or cycle – with your little ones.
But even if there's no choice but to go by car, there are still simple ways to keep costs down.
If you can find someone to share the school run with, you can reduce your spend on petrol – and also free up some of your own time, while reducing your environmental impact all at the same time.
You can also save on fuel by logging on to Petrolprices to find the cheapest place to fill up local to you.