Travel insurance for skiing
If you're planning a skiing trip this year, specialist skiing insurance is a must
Are you arranging your next trip to the mountains? If you plan on enjoying some skiing, you may want to consider taking out ski insurance. In fact, ski holidays come with an array of risks, from injuries to gear theft.
Ski insurance will keep you protected against unexpected mishaps, allowing you to hit the slopes with peace of mind. Learn more about the ins and outs of ski travel insurance with MoneySuperMarket's guide.
What is ski travel insurance?
Skiing holiday insurance is cover specially designed for ski trips. It includes protection for your equipment and medical treatment in case you're injured. It also covers specific costs, such as getting an injured skier off a mountain and safely home.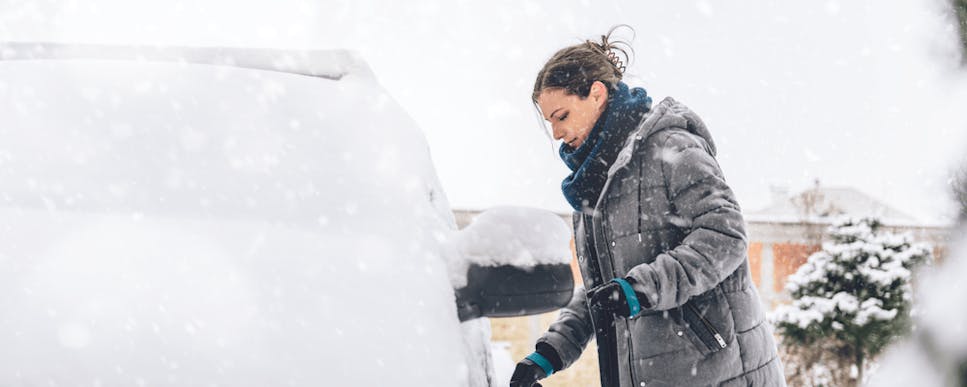 Do I need ski travel insurance?
Ski insurance is vital. A standard travel policy won't provide cover for any number of situations you might run into on the slopes.
For example, medical costs from skiing injuries are not often covered under standard insurance, as it's an activity seen as extra-high risk by insurers.
Likewise, your ski equipment won't come under standard personal possession cover. So if it's lost, damaged, or stolen, you'll need specialist cover to be able to claim.
What does ski travel insurance cover?
Ski insurance should cover you for the standard situations offered by normal travel insurance offers. This can include policies that cover delays and cancellations, medical costs (including pre-existing conditions), and personal possessions.
However, it also includes ski-related policies such as:
Equipment cover:

If you need to replace your equipment or hire alternatives when yours is lost, damaged, or stolen.

Medical treatment:

If you need to claim back the cost of medical treatment for ski-related injuries. This, though, is generally only up to a certain amount.

Cancellations:

If you have to cancel the rest of your holiday as a result of an injury on the slopes.

Ski pass:

If you need to purchase a new ski pass when yours is lost or stolen.

Piste closure:

If you're unable to ski when the piste is closed. This, however, might only apply if that's above a certain amount of time, usually between 12 and 24 hours.

Off-piste skiing:

Many insurers also offer cover for skiing off-piste. Usually, though, you'll need to be accompanied by a qualified guide or instructor.

Avalanche delays:

If you can't ski due to an avalanche.

Personal liability:

If someone else gets injured as a result of your skiing and you become personally liable.
Watch out for different types of skiing
Depending on the provider and policy you take out, you may or may not be covered for other types of skiing including:
Cross-country skiing

Heli-skiing

Ski acrobatics

Ski stunting

Ski touring

Ski bob-racing

Competitive skiing

Mono skiing

Ski fun parks

Off-piste skiing
Is ski theft a serious risk?
When it comes to ski holidays, people tend to be more concerned with injuries than theft. However, theft of skiing equipment is a much more serious problem than you realise. After all, skis are a valuable and expensive piece of equipment, and ill-intentioned people may take the opportunity to steal your items if you leave them unattended.
The best way to protect your skis is to mark them with a unique identifier. You may want to use paint or stickers so that you can clearly see and tell which skis are yours even from a distance.
That said, it is always wise to keep your skiing equipment somewhere nearby and fully visible at all times. Alternatively, make sure to keep them under lock and key to deter potential thieves.
European Health Insurance Card (EHIC) and the new GHIC
If you're planning to visit ski resorts in Europe, you should remember your European Health Insurance Card (EHIC). Alternatively, you should bring the new Global Health Insurance Card (GHIC), which replaces the EHIC.
Although the UK is no longer part of the EU, the EHIC and GHIC will continue to be accepted for emergency healthcare in State-run hospitals. The GHIC will replace the EHIC, as existing EHIC cards start to expire.
However, the EHIC/GHIC won't cover you for things like rescue and repatriation. Furthermore, it won't be of much use outside of Europe, where medical treatment can cost thousands or tens of thousands.
This is why it can be so important to take out a ski holiday travel insurance policy. This way, you'll have peace of mind in case things don't go to plan.
How often will I need ski travel insurance?
You can get ski or any other winter sports insurance for a single trip if you're only going for a one-off adventure. However, if you're a more frequent traveller, you might benefit from a multi-trip or annual policy.
Depending on the provider and policy you choose, you may be able to save money by purchasing a long-term policy.
Where will I need ski travel insurance for?
As with most travel insurance policies, you should also bear in mind where you're travelling. Different policies offer cover for:
Worldwide travel (excluding the USA, Canada, and the Caribbean)
A European policy would be enough for a holiday to France or Switzerland. But if you're planning on skiing in Canada, you'll need something more comprehensive.
However, you should always check with providers if they have restrictions on certain countries. The government will also provide foreign travel advice.
Do I need ski travel insurance if I'm skiing in the UK?
Ski insurance isn't only of use to travellers hitting the slopes on the Alps. If you are planning a staycation in the UK and want to enjoy some winter sport activities, you may still benefit from a ski travel insurance. Bear in mind that, if you already have a contents insurance policy, you may already have some cover for belongings that are lost, stolen, or damaged while out of your home.
Ski insurance, however, can keep you covered for other mishaps that may occur on and off the piste, such as accidentally injuring someone or causing damage to their ski gear.
What's excluded from ski travel insurance?
Aside from certain types of skiing that may not be covered, you may also find that ski holiday insurance also excludes cover for:
Being under the influence of drugs or alcohol:

If you injure yourself or lose your possessions while under the influence of drugs or alcohol, your insurer may refuse your claim.

Not wearing the right gear:

If you get injured without wearing a helmet or goggles, you probably won't be able to claim for medical treatment costs.

Leaving your things unattended:

If your possessions are lost, damaged, or stolen after you've left them unattended in a public space, your claim is likely to be rejected.
How much does ski travel insurance cost?
The cost of winter sports insurance, which generally includes cover for skiing, can depend on numerous factors.
Your age: Winter sports cover, like most travel insurance, is generally more expensive the older you are. This is largely because the chances of you having a pre-existing medical condition goes up as you get older. Not only that, but you're also more likely to sustain an injury.
Travel frequency: If you travel often, you're likely to pay more for cover, whether it's insuring each trip individually or all together under a multi-trip policy. If you plan on booking more than three trips in a year, even if only one involves skiing, you could still benefit from taking out a multi-trip policy.
Destination: Travelling to countries such as the USA, Canada, and New Zealand often costs more in travel insurance. This is due to higher medical costs, as well as potential repatriation and rescue expenses.
Should I rent skiing equipment or bring my own?
The question of whether to rent your skiing equipment or bring your own generally comes down to cost and experience.
For instance, if you're new to skiing, you may want to consider renting the equipment first. Ski equipment doesn't come cheap, so it may be worth having a go at it before making the investment. This way, you'll be able to determine whether you enjoy your new hobby and want to keep practising it or not.
What's more, the return airline baggage fee for snow sports equipment can be pricey at times. This means that hiring equipment at your destination might make more sense than buying brand new and bringing your own.
As always, though, it is wise to do your research beforehand. This will allow you to decide what's best for your needs and pockets.
When should I buy ski travel insurance?
You should buy ski holiday insurance as soon as you've booked your holiday, just as you would with any other type of travel insurance.
This is because it can be useful if you need to cancel your holiday before you leave. Also, with travel insurance in place early, you'll be able to claim back the cost of your trip if you cancel due to:
Illness or injury

Redundancy

Bereavement
Ski holiday travel tips
A skiing trip should be fun and exciting. But to make sure you stay safe and sound, follow these tips:
Bring the right equipment

: You'll need a helmet and protective clothing, as well as goggles and sunblock. In fact, the sun can be more intense at high altitudes.

Check the weather

: If there's too much or not enough snow on the slopes, or there might be an avalanche ahead, it's unlikely you'll be able to ski.

Respect other skiers

: Remember to be responsible when you're skiing. Safely enter and exit any ski runs you use and don't interfere with other skiers.

Know your limits

: Don't try any slopes or runs that you think might be too extreme or difficult, especially if you haven't got an instructor with you.

Keep people aware

: When you go out to ski, make sure someone who hasn't gone with you knows where you are and where you'll be going. This way, if you get lost or if something happens, someone will be able to find you.
Compare ski travel insurance
Comparing quotes on MoneySuperMarket is an easy way to find a better deal on ski holiday travel insurance.
All you need to do is tell us a little about your holiday plans, like where you're going and what activities you're planning. We'll give you a list of quotes tailored to you.
Once you've found the right deal, you'll be able to click through to the insurer and finalise your deal. Then it will be time to start thinking about those snowy slopes!
However, you should remember that the cheapest quote you find isn't necessarily the best. Go for a balance between cost and coverage, so that you get the best value for money without being over- or under-insured.