Don't panic: how to face your financial fears
Feeling overwhelmed by your finances? Not sure where to begin with tackling money worries? Our guide goes through how to manage your money and improve your financial and mental wellbeing in the process.
Money worries can have a big impact on your mental health, and the ongoing cost of living crisis has made this into a more pressing concern than ever before.
It's common to feel anxious, stressed or low when you're facing money worries. You might be dealing with debt or unemployment, or struggling with rising costs and stagnating wages. Negative mental health can affect your day-to-day life, whether that's at work or in your personal life. It can also have a negative impact on the way you deal with money, making it even more difficult to manage your finances.
You're not alone with your worries either. According to CALM (Campaign Against Living Miserably), 25 million adults in the UK are in debt or concerned about falling into debt, while two in five adults don't feel confident managing their money. Demand for CALM's helpline has been at an all-time high, with the organisation seeing a 43% increase in people contacting them about money worries.
It can feel overwhelming to begin tackling your finances, especially when so many things are out of your control. Nevertheless, there are some steps you can take to manage your financial wellbeing. And by taking it one bit at a time, you can regain some control over your finances and your life.
Understand your situation
If you're worried about finances, you might be avoiding having to deal with it. This could include avoiding opening bills, and not looking at payslips or checking your bank account. You may even be reluctant to think about money at all.
However, the best way to begin practicing financial wellbeing is by having a good idea of your personal finances. Though it might fill you with dread, understanding your situation is the first step to getting back on track.
Make a list of what's bothering you about your finances
Before tackling numbers, it might be helpful to spell out your worries. That way, you can see what's weighing on your mind. Although it can feel uncomfortable at first, putting it down on paper can help you begin to understand the root of your problems, as well as recognise any behaviours or emotions you may have around money.
It can also give you guidance on what aspects of your financial wellbeing you'd like to address: for example, you might wish to get out of debt, or stop living paycheque to paycheque.
You can continue keeping a money diary throughout your financial journey, too – it can be a useful way to keep you on track and accountable.
Get an overview of your money
By visualising all your accounts and debts, you can get a clearer idea of what's going on, as well as a starting point for what to do next. It can seem complicated, but you don't have to do everything at once – you can take it one step at a time.
First, take inventory of your income. As well as your salary, this could include things like pensions or any benefits you're receiving. List out any debts you may have – this could be unpaid bills, overdrafts, or credit card debt. You can gather all this information through your bills and account statements.
Next, take a look at what you normally spend in a month. This includes routine expenses, such as rent, mortgage payments and monthly bills, as well as essential and fun spending. You can use your banking app to help you here, as some apps have in-built tools that can monitor your expenditure.
By figuring out where your money is going, you can begin budgeting – more on that below.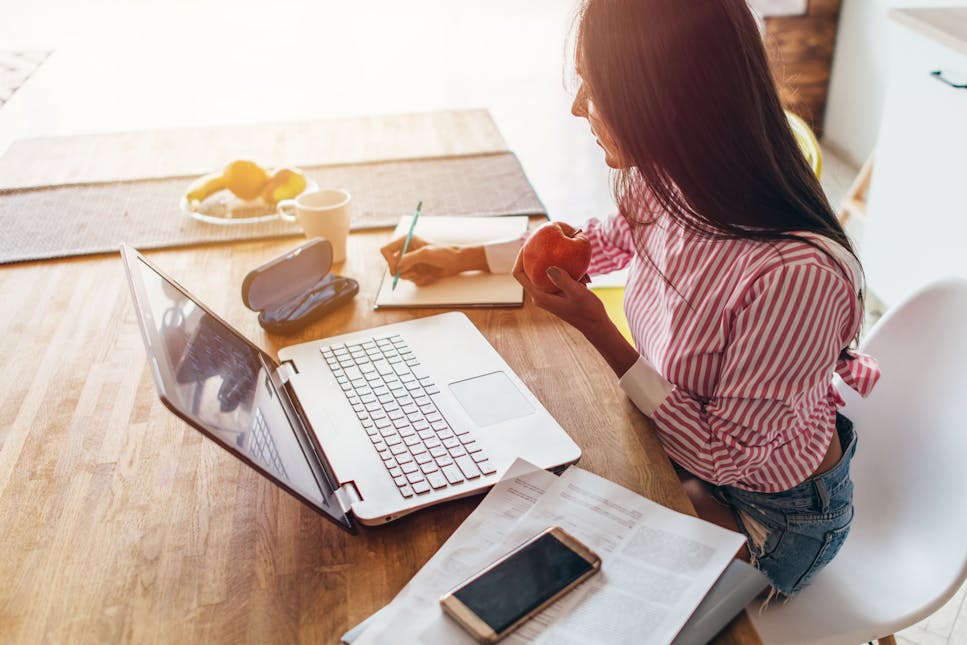 Work out how to make your money work for you
Once you've gained a clear idea of your situation and what's going in and out of your accounts, the next step is to figure out how to manage it going forward.
Work out a budget
A budget can clearly show you how much you spend every month, as well as where and what you're spending your money on. It can help you to keep track of your spending, maintain an overview of what's going in and out of your accounts, and begin saving.
When making a budget, make sure it's realistic, and that you'll be able to stick to it in the long term. By breaking your budget down into categories of spending, you can get a rough idea of how much you spend across different areas and allocate your money accordingly.
First up, you'll want to budget all the non-negotiable living expenses and essentials, such as rent, utilities, council tax, phone bill, transport, groceries and toiletries. But it's also important to factor in discretionary spending, such as entertainment, eating out and material goods.
There are many different ways to make a budget, whether that's writing things down, creating spreadsheets, or using online budgeting tools and apps.
Make small changes to start saving
If there's room in your budget, it's always good to put money aside and start a savings habit. Different methods work for different people – you can see what suits you best. Here are just a few examples:
Automate it – set up a direct debit to a separate savings account, so some of your cash is automatically moved into savings every week or month

Use your banking app – some apps have tools that can help you put money away in savings. For example, Chase and Monzo give you the option to 'round up' your purchases. So, if you spend £9.50, it gets rounded up to £10, and 50p gets sent to a savings pot. It might not seem like much at first, but it all adds up – and it's an easy way to save some cash without thinking about it

Do a savings challenge – you can find plenty of methods online and on social media

Participate in a low-buy or no-buy month – you might find you don't miss the buzz of spending money as much as you thought
Identify financial goals
As well as taking a look at your current situation, think about the reasons why you're doing this, and what you hope to achieve.
Of course, you'll likely want to address more immediate concerns, such as paying bills or getting out of debt. But you might also be looking to build a rainy-day fund, or saving for a bigger purchase in the future, whether that's a one-off treat, a holiday or a house.
Thinking ahead and looking at the bigger picture might give you more motivation to begin making small changes.
Talk about money and your worries
Even though it's a common problem, money worries may cause you to feel ashamed or embarrassed. You may feel like keeping any concerns to yourself and dealing with it alone. Not to mention, money can feel like a taboo subject, and it can be difficult bringing it up in conversation.
There's no need to suffer in silence, however. Often, the first step to confronting your fear is to say it out loud.
Talk to someone you trust
Whether it's with a friend, family member or someone else you trust, opening up to others can be a big relief. While they might not be able to fix your problems, they can provide emotional support and a space to vocalise your thoughts.
Having a frank and honest discussion about money can held shed some of the fear it may hold over you. It can also help put things in perspective, and you may discover that your worries aren't as insurmountable as you'd think.
Consider what you want from the conversation: are you looking for tips and practical advice, or simply someone who's willing to lend an empathetic ear? No matter what, it's important that they can listen to you and talk things out without judgement or criticism.
Get professional help
Perhaps you don't feel comfortable opening up to a friend or family member just yet, or you'd prefer to seek advice from an expert. Either way, professional help can provide both practical and emotional support.
There are many debt charities and organisations across the UK that specialise in providing free, independent money advice. For example, StepChange is a debt charity that provides free and confidential advice. If you need help applying for benefits or managing your money, you can contact Citizens Advice or Turn2us – both of which can help you deal with your finances.
If you need mental health support, there are resources available, too. You can:
Get in touch with a support worker or health professional – such as your local GP. The NHS has a webpage on how to access NHS mental health services

Visit CALM (Campaign Against Living Miserably) – as well as a helpline and live chat, they have plenty of online guides that cover different mental health problems

Contact the Samaritans – they also have a free and confidential hotline
Get practical help with your finances
As well as emotional support, you may be able to get practical help with your finances. Depending on your personal circumstances, you may qualify for certain benefits or help.
Support with debt
Dealing with debt can feel stressful and overwhelming, but there are steps you can take to get to get out of debt. In most cases, it's best to identify any debts by order of priority, and get in touch with the relevant companies to arrange a payment plan.
Debts you should prioritise repaying include council tax arrears, mortgage arrears and rent arrears, as well as energy bills, internet bills, TV licence payments and court fines, among others. These are called 'priority debts' because failing to pay them could result in you losing access to essential needs, like your home or energy supply.
Meanwhile, debts such as credit cards, overdrafts, unsecured loans, and 'buy now pay later' repayments are considered 'non-priority' and can be dealt with later. You can normally contact your creditors (the people or organisations you owe money to) to arrange lower monthly payments, as well as request them to freeze any interest accrued on your debts.
MoneyHelper.org has a debt advice locator webpage, where you can search for free debt advisors. Depending on availability in your area, you can get online, telephone and face-to-face support.
If you've talked to a debt adviser, they may decide that you qualify to apply for a debt respite scheme. These schemes – known as 'Breathing spaces' – give you temporary protection from any creditors you owe money to, as well as freezing most interest and charges.
Gov.uk has more information about debt breathing spaces, as well as the help you can get. Citizens Advice also has an informative Help with debt hub.
Support with bills
If you're struggling with paying bills, such as energy bills, rent or council tax, you should get in touch with the companies you owe money to. They may be able to offer some help, such as setting up a payment plan that gives you more time to pay.
There's no set rule on how organisations provide help, so it's always good to check with the individual company.
If you're on certain benefits, you may be eligible for certain schemes. For example, several broadband providers offer special tariffs for people on low incomes – visit our page on broadband social tariffs for more information. You might also qualify for grants that can help you with water or energy bills.
For more information, Citizens Advice has a detailed webpage on what help you can get with bills.
Help from your local council
You can contact your local council, as they may have a welfare assistance or Household Support Fund scheme in place. Furthermore, you don't have to be receiving benefits in order to get help from your local council.
The help they can provide may vary. Depending on what scheme they operate, they may help you pay for things like energy and water bills, food, or other essential everyday items.
As for council tax, you may qualify for a discount or reduction – for example, if you live alone, or you're on a low income. If you think you can't pay your council tax on time, get in touch with them to explain your situation. They may let you pay your council tax in smaller, more manageable amounts.
If you've missed a council tax payment and are in 'arrears', get in touch with your local council tax office as soon as possible. They can advise you on what to do.
Help from your employer
If you're currently employed, you should make use of any benefits or resources your company may offer.
For example, your company might provide a private healthcare plan. Depending on the level of cover, you could get money towards certain healthcare costs, such as eye tests, glasses, prescription medication, and GP visits. You can often extend your cover so that your partner or child can use your healthcare benefit, too. Speak to your employer to find out what's available and how to opt in.
Some companies might also have a dedicated mental health assistance programme. This could be a confidential helpline, or free online resources. Again, contact your employer to see what they offer.
If they offer a pension scheme and you're eligible, it's well worth checking this out – in most cases, you should already be auto-enrolled. Have a look at how much they contribute, as well as how much you can put towards your pension. You may want to weigh up how much you want to contribute with the effect it'll have on your take-home pay.
Check to see if you qualify for benefits
Depending on your personal circumstances, you may be eligible for certain benefits. Gov.uk's Help for Households webpage has more information on the support you could get to help with living costs.
You can use a free online benefits tool to see what you're eligible for – for example, both Turn2us and EntitledTo have a benefits calculator.
And if you find it difficult to navigate the system, you can also get help with applying for benefits. Mind.org has a detailed webpage on how to make a claim.
Practice self-care that works
When dealing with money worries, it's all too easy to focus on the practicalities and neglect your physical and mental health in the meantime – particularly if you have pressing problems, such as unpaid bills.
However, in the long term, it's equally important to focus on yourself. What's more, building healthy habits and looking after your finances can go hand in hand.
Look after your mental and physical health
While money may be feeling tighter than usual, you shouldn't punish yourself in the process. By taking care of yourself, you'll be better equipped to deal with any challenges you may face with money.
It's important to stay active, both physically and mentally. Take time to exercise, eat healthily, meet up with friends, and do hobbies or learn new skills. You can do these things for free or very cheaply – for example, going on a walk with a friend, or following tutorials on YouTube.
Of course, some activities will cost money. And that's completely fine – that's why factoring in discretionary spending in your budget can allow you to spend your fun money in whatever way you see fit, guilt-free. Remember, it's all about finding balance between fun and your finances.
The NHS has a webpage with practical tips on looking after your physical and mental wellbeing.
Saving as self-care
Conversely, poor mental health can cause you to overspend to make yourself feel better. Your brain releases endorphins and dopamine every time you make a purchase, which can lead to impulsive or compulsive shopping. While shopping can give you a temporary rush, it's a bad habit to get into and can be damaging to your finances.
First, try to limit any impulsive spending. Identify your triggers and take steps to eliminate them from your everyday life – for example, unsubscribing from marketing emails, or unfollowing certain social media accounts.
If you're looking for that burst of dopamine you get when you buy something, why not redirect that to your savings goals instead? Using the financial milestones you've set for yourself (both big and small), you can recreate the same dopamine rush when you've saved enough to hit a target amount. Many banking apps let you create savings goals, and it can feel rewarding to see the balance go up as you reach that goal.
You don't have to forgo treats completely, either. If you're set on making a purchase, you can incorporate that into your savings plan. Rather than buying it straight away, you could wait until you've saved enough money to pay for it. As well as curbing impulse buying, the act of delayed gratification when making a purchase can be just as satisfying.
Reframe your relationship with money
As with any good habit, maintenance is key. It's important to regularly monitor your accounts, and you should set aside time to review your budget. You can build this time into your daily, weekly or monthly routine – whichever works best for you.
Maintaining a budget can be a chance to reframe your relationship with money. Rather than being a constraint, it can be an opportunity for you to take back control and decide how to make the most of your money.
Of course, many external factors are out of your control. There's a limit to how much you can 'personal finance' your way to a better quality of life, particularly during a cost of living crisis. Not to mention, those on a lower income are disproportionately affected.
Still, no matter your income level or amount of money you have, getting to grips with your finances will serve you well. As well as being good for your all-round wellbeing, it can help shift your mindset about money to a more positive one – and you'll be better equipped to tackle any challenges you may face in the future.