Compare travel insurance for Japan
Japan is a stunning country and there's plenty to see and do – here's how travel insurance can help you enjoy your stay to the fullest
Why do I need travel insurance for Japan?
If you're visiting Japan travel insurance is vital in giving you peace of mind for your trip, as it can offer financial protection in a number of situations where things can go wrong.
With a solid travel policy in place, you'll be covered if:
You lose your belongings, so you can pay for replacements

You fall ill and have to cancel your holiday, so you can get a refund for your flights and accommodation

Your flight gets cancelled, so you can make new travel arrangements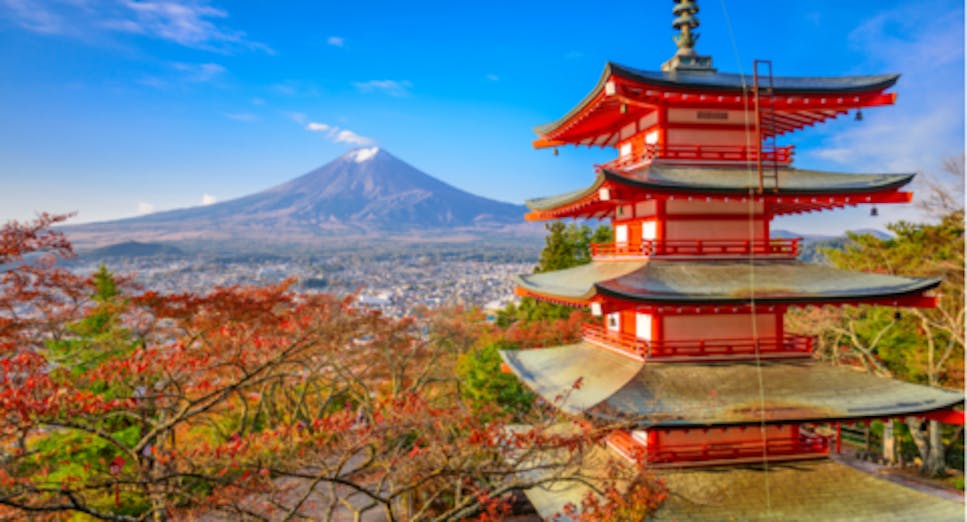 What should my travel insurance policy for Japan include?
When you build your travel insurance policy for your trip to Japan, you should aim to include the following cover:
Medical expenses: This pays for at least part of the medical treatment costs if you become ill or injured in Japan, depending on the amount you take out – we'd recommend around £5m worth

Cancellation or curtailment: For when an emergency causes you to end your holiday early or cancel it before you leave

Repatriation: For the cost of being flown back to the UK if something happens while you're away

Delayed and missed departures: If circumstances beyond your control, such as a car breakdown or adverse weather conditions, make you miss your flight

Travel abandonment: In the event you have to abandon your holiday due to extraordinary circumstances

Lost baggage: This covers the cost of replacing your possessions If any items of your baggage are lost or stolen

Lost passport: If you lose your passport – this can cause a big hassle when you're abroad, so it's definitely a policy worth considering

Personal liability: If while you're abroad you cause injury to someone else, or loss or damage to someone else's possessions, this will cover you for any costs you might face
Japan travel insurance: Exclusions and things
According to MoneySuperMarket partner data collected in 2018 and 2019to watch out for
Travel insurance policies often have exclusions that you won't be able to claim for, so watch out for:
Unexpected incidents: Not all policies will let you claim if it's resulting from unexpected incidents such as terrorism, war, civil unrest or a natural disaster

Government advice: It's worth checking if the Foreign, Commonwealth & Development Office (FCDO) has advised against travelling to certain regions you're planning to visit, and if they have it may void your ability to make a claim

Under the influence: If you want to claim for things like lost possessions or injuries that happen as a result of you being under the influence of alcohol or drugs, your insurer will probably refuse to cover you

Risky activities: Likewise if you want to claim for something that happens while you were participating in risky or dangerous activities, like adventure, winter or water sports, you might need a specialised policy in order to get cover

Pre-existing medical conditions: If you have a pre-existing medical condition, you'll need to declare it to your insurer in case you want to claim for treatment in the event that it flares up while you're away
Health and medical treatment in Japan
Cover for medical treatment costs is a vital part of travel insurance. Medical standards in Japan are very high, however often so is the cost of care – and the UK currently has no reciprocal healthcare agreement in place with Japan.
This means you'll either face the full costs of healthcare or you'll be denied treatment if you don't have adequate cover. It's also worth noting that some medicines commonly found in the UK are illegal in Japan, and their strict anti-stimulant laws means certain painkillers or flu remedies are off the table.
Top travel tips for Japan
Here are some useful tips to bear in mind when you're travelling in Japan:
1. Technology is your friend
There are a number of apps you can download to your smartphone that'll make your time easier while you're in Japan. Some that come to mind include:
Google Translate: This can even translate in real time by using your camera – useful for menus and signposts

Google Maps: Maps will help you find your way across Japan, and extras like Street View can be useful in helping you spot landmarks

HyperDia: This gives you timetables and train routes for getting around Japan – it even lets you know which platform number to go to
These apps are a big help for travellers in Japan, but they won't go far if you haven't got wi-fi or if they aren't available offline – which is where wi-fi hotspots come in. Public wi-fi isn't as common in Japan as it is in the UK, so a portable wi-fi hotspot is essential – they'll give you access to the internet even in many remote places across the country.
If you're planning on using the web to visit sites from back home, you might find many of them are blocked or unavailable – if this won't suit you, consider investing in a VPN.
Lastly, if you're a big fan of cleanliness, hate UK public toilets and appreciate advanced technology, restrooms in Japan will be a welcome change. Some of them even offer heated seats and sound effects like waterfalls or ambient music for your own privacy.
2. Etiquette is different
Japanese culture is significantly different to what we're used to in the UK, so it's useful to know how to conduct yourself. Keep the following in mind:
Shoes: If there are shoes by a building's entrance, it's a safe bet that you should take yours off – wearing shoes inside homes and some other buildings is rude and seen as dirty

Tipping: Don't tip; it's largely seen as rude as it implies the person you're tipping doesn't earn a lot

Bowing: Respect is a big part of Japanese culture, and bowing is especially important. You won't be expected to know what to do in every situation, but keeping your neck and back straight and bowing back to someone at the same angle as theirs is a good start

Manners: Likewise when you're in public you should try to limit the noise you make as sometimes visitors can earn a reputation for being 'loud'. For instance, if you're listening to music use earphones and keep the volume low

Smoking: Smoking on the streets is a no-no in some cities like Tokyo and Kyoto, and you could face a hefty fine if you do. There are designated smoking areas dotted around, but they're few and far between

Blowing your nose: Blowing your nose into a tissue in public isn't the done thing in Japan – it's more acceptable to sniff until you're somewhere private

Tattoos: Tattoos are generally regarded with suspicion due to their long-standing association with criminal gangs, so you'll want to cover up any ink before visiting public baths – and you may still be refused access

Purification: You will need to go through a purification ritual to wash your hands and mouth before entering shrines in Japan

Littering: Japan is, by and large, an exceptionally clean place – even though you won't find many public bins as part of an anti-terrorism measure from 1995. If you have litter it's best to carry it with you until you're at your hotel or in a shop

Eating: Going with the theme of cleanliness, eating while you walk the streets is also something to steer clear of – stick to shops and restaurants for your meals out

Chop sticks: Don't leave your chop sticks on or in your rice bowl, because it has funeral associations

Photos: You should also try to avoid taking photos of people while out and about – it's rude and generally frowned upon, unless you get permission

Pointing: Don't point at people either, or at anything really if you can help it
3. A not-so-cashless society
Japan is still reliant on cash in the main, so you should ideally come with plenty – and a way to get more. As per when abroad you should try to use a card without any foreign transaction fees, but when it comes to cash you'll also need a purse, as coins make up the currency between one and 500 yen.
You'll be able to withdraw cash from ATMs found at local convenience stores (there are plenty of 7-11 branches) and post offices.
4. Not all big cities and sky scrapers
Heavily urbanised cities like Tokyo, Kyoto and Hiroshima might make up a big part Japan's tourism industry, but in reality over two thirds of the country is covered in natural beauty. In the almost-3,000km stretch from north to south you'll see volcanoes, mountains, rivers, lakes, jungles, forests and beaches and an array of wildlife.
Places we'd recommend include:
Mount Fuji: Mount Fuji is the highest mountain in Japan and one of its national symbols Japan – a must for nature lovers

Mount Aso: Another beautiful mountain, Mount Aso also houses the Nakadake Crater at the centre of its still-active caldera

Jogasaki coast: The Jogasaki Coast is a stunning stretch across the Izu peninsula, offering attractive views and a 10km hiking trail

Kurobe gorge: A forested ravine located in the Northern Japanese Alps, the Kurobe gorge is one of the deepest in Japan – you can even hop on a sight-seeing train to take it all in

Akiyoshido cave: Japan's longest limestone cave, Akiyoshido stretches for nine kilometres and features underground waterfalls, streams and limestone pools

Nachi waterfall: Nachi waterfall is the tallest in Japan, and has a long history as a religious centre

Iriomote island: Iriomote island is another must-see, and you'll be able to take a cruise through the two longest rivers that pass through the landmass to see its dense jungle interior

Lake Mashu: Lake Mashu sits in a caldera in Akan National Park, and one of the clearest lakes in the world – so visitors aren't allowed to go close to the water
5. Try the food, but maybe not all of it
You'll find plenty of options for eating out in Japan, and some of it you might've expected – try the supermarket sushi for size, it's high-quality and isn't too expensive in most cases. The general rule of thumb is to eat sashimi with chopsticks, use your hands for nigiri – but only dip the fish part into soy sauce, which you should never mix with your wasabi.
Another highlight of Japanese cuisine is Ramen – a noodle and meat- or fish-based broth often served with meat, eggs and vegetables, and garnished with seaweed and green onions. Aside from these two, keep an eye out for:
Gyoza

Soba

Tempura

Tonkatsu

Udon

Japanese curry

Yakitori
You might also be tempted by some of the more niche food options, or you might not. Amongst these are eel liver soup, crab brains, fermented soy beans, bitter melons and beef innards stew. It's very different, but Japanese cuisine truly is delicious.
6. Transport is efficient
Japanese public transport is somewhat overwhelming at first – the greater Tokyo metropolitan area alone has over 150 lines and 2,000 stations – but when you get to grips with it it's actually incredibly well organised and efficient. As mentioned above the HyperDia app is a must for getting around, while you'll also want to take advantage of:
A JR Pass: A Japan Rail Pass is only available to travellers and foreigners, and while they can be costly they're often the cheaper option if you plan on moving around a lot. You'll have access to JR trains, busses and ferries, and even some Shinkansen (bullet trains), and you can choose between seven-, 14- or 21-day passes

An IC card: IC cards are prepaid cards you can use to pay for public transport tickets – but they also work in shops, restaurants and vending machines. Buy them at major train stations across Japan, top them up and tap away – you'll need a 500 yen deposit which you'll get back along with any remaining balance when you return the card to a station attendant