Returning unwanted gifts? Your rights
Christmas is a time for giving, but what should you do if you receive a gift you really could have done without?
If you've been given a present that you don't want or that breaks sooner than it should then you're not being a grinch by asking to return it. But you do need to know your rights so that you don't miss out on the full value of the gift.
This Christmas will no doubt be centred around spending time with our loved ones.
We don't give to receive, but when we do receive, there's a good chance we will be on the receiving end of at least one well-intentioned, but ultimately unwanted, gift this year.
So what are your rights when it comes to returning those unwanted items? Whether they were bought on the high street or online, here's all you need to know.
Can I return an unwanted gift bought on the high street?
Most of us assume we can return an item to a shop so long as we have proof of purchase and it's returned within a reasonable timeframe.
But actually, shops don't have to accept returned goods unless they are faulty, not as described, or not fit for purpose.
However, if you do want to return an item simply because you don't like it, most shops will offer to exchange or refund it as a gesture of goodwill.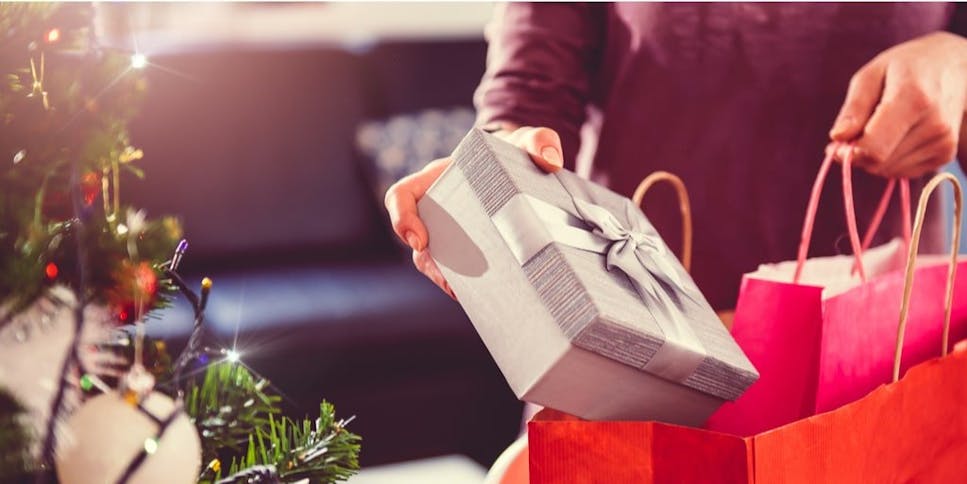 How long do I have to return my unwanted gift?
The retailer's returns policy (usually found on the back of the receipt or on the store's website) should tell you how long you have to return the item. Typically, this is between 28 and 30 days, but many retailers extend this period in the weeks after Christmas.
Shops aren't required to have a returns policy, but if they do, they have to stick to it.
Some retailers may offer a different type of refund depending upon when the item is returned. They might, for example, offer a full refund if the item is returned within a few days of purchase, but only an exchange or credit note after that.
What do I need to provide when returning an item?
There are a few things you'll need to have with you when returning an item. These are:
The receipt: if you can't provide proof of purchase, you may be turned away, so it's important to bring the receipt with you (or gift receipt which doesn't show the cost of the item). Once you've provided this you should be given either a refund or be able to exchange the item for something you want.
The card used to buy the item: if the item was bought on a credit or debit card then the refund will usually be applied to that card. If you don't fancy asking whoever bought the present to get the refund and give you the money instead, you'll most likely have to make do with an exchange or a credit note.
What if I don't have the receipt?
If you can't get hold of the receipt and you're taking an item back simply because you don't like it, the retailer is under no legal obligation to give you a refund – but the retailer may offer you an exchange or a credit note. Be warned that, if that item is now in the sale, your credit note will reflect that price.
What if the item is faulty?
If you have received a gift that's faulty, you can return it without a receipt and you still have the right to a refund under the Consumer Rights Act (previously known as the Sale of Goods Act). This must be done within 30 days.
Alternatively, you have six months in which to take the item to the retailer to be repaired. If that is unsuccessful, you are entitled to a full or partial refund.
The downside is these regulations only apply to the person who bought the item, so you may need to ask them to return it for you.
What if the item was bought online?
If the item you want to return was ordered online, over the phone or by mail order, you have even greater protection under the Consumer Contracts Regulations, which replaced Distance Selling Regulations.
Under these regulations, your right to cancel the order starts as soon as it is placed and ends 14 days from the day the goods arrive, giving you time to change your mind and get a full refund even if there's nothing wrong with the item.
Again, many online retailers extend their returns period following Christmas, but you'll need to find out when the person who gave you the gift placed the order and you may need to ask them to return it for you.
Bear in mind that, if the goods are unsuitable, you may have to pay the return postage fee, but if the goods are faulty or you're sent substitute items you don't want, the retailer must pay the return postage costs.
If the item was bought on an auction site, such as eBay, whether or not you can return it largely depends upon the individual seller and their returns policy. However, if the item is faulty, not as described or never arrives, you may have the right to a refund under the eBay buyer protection policy, or the PayPal buyer protection policy if the goods were paid for using its payment service.
If you've paid for a service your right to cancel starts the moment you enter into that contract and lasts for 14 days – this includes gym membership so bear that in mind for January.
You should get a full refund within 14 days of cancelling goods or services online, or within 14 days of sending the goods back to the seller.
If you've bought digital content and want to download it within the 14-day cancellation period, you'll have to agree to waive your cancellation rights.
And one final thing to consider is traders can no longer charge for additional items added by a pre-ticked box online, product insurance for instance.
Are there any items I can't return?
Most retailers' returns policies will specify you can return non-faulty goods so long as they are unused and in the same condition as when they were bought, including any packaging. However, there are some exceptions:
DVDs, music and computer software: many retailers will not accept returns on these items if the seal or packaging has been broken.

Earrings, make-up and toiletries: these items can't be returned for hygiene reasons and this may be extended to items such as underwear and swimwear.

Perishable items: such as food and flowers.

Bespoke or personalised items: if you have any made-to-measure or monogrammed items it's unlikely you'll be able to send them back.
What if the items were paid for by credit card?
Any items costing between £100 and £30,000 that are bought on a credit card are subject to an extra layer of protection under Section 75 of the Consumer Credit Act 1974.
This means that the card provider and the retailer are equally responsible for ensuring you're provided with the correct goods or service – if an item is faulty, doesn't arrive or if the retailer goes bust before you receive the goods or services, you can make a claim through the credit card provider.
Give to charity
Alternatively, you could always give your unwanted gift away and either make money for a charity of your choice or help make someone less fortunate that little bit happier this festive season.
And doing your bit won't even have cost you a penny.