Home insurance for damage caused by your neighbours
Even though it's almost always accidental, your neighbours can sometimes be the cause of serious damage to your property. This is how to make sure you're insured
Damage caused by neighbours is a common reason to claim on your home insurance. It isn't usually deliberate, but it's always frustrating – and because you have to live next door to them, the sooner you get it sorted, the better. 
You should also not always rely on their insurance company footing the bill because liability has to be proved for each claim.
What do I do if my neighbour causes damage to my property?
If your neighbour causes accidental damage to your home, the first step is to secure your possessions and prevent further damage.
Then safely gather as much evidence as possible before speaking to them. For example, if water ingress has caused your ceiling to collapse, you must first keep any pets or small children from the affected area and move anything that might be at risk of damage from a further collapse.
After that, contact your neighbour – especially so they can turn the water off – at the earliest opportunity. They may even be unaware that the damage to your property is their fault. After that you should contact your insurer.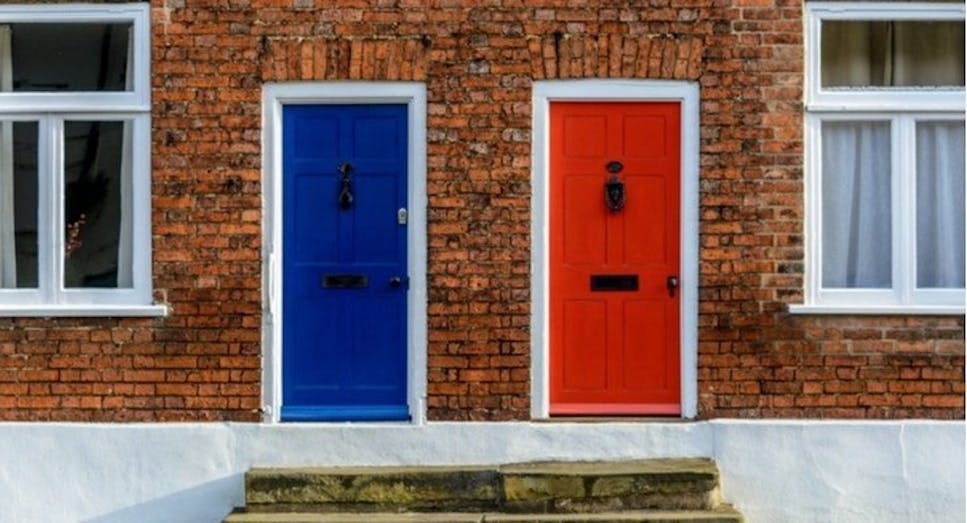 What counts as accidental damage?
Accidental damage, like the name suggests, is damage resulting from an unexpected and non-deliberate external action.
A classic example would be a stray football from next door's garden breaking a window. Another scenario is water leaking through the ceiling – a common hazard for people living in lower flats.
Next door's overgrown trees or hedges, or invasive plants such as Japanese Knotweed, encroaching onto your property and causing damage is also a common complaint, as are botched home improvements – especially if they damage the structure of your home or driveway.
Is my neighbour automatically liable for damage caused to my property?
In the ideal scenario your neighbour will admit responsibility and you'll reach an amicable solution, with a timetable for repair as a bonus. 
Your neighbour's home insurance would cover the damage to their property and to yours, and a quick claim would see the necessary repairs covered.
However, things aren't always so simple. Your neighbour may have no insurance, or their claim could be rejected by their insurance company.
Insurance claims are most commonly rejected if they haven't kept their home in an adequate state of repair. Your neighbour may well be reluctant to stump up personally for repairs, especially in the event of a collapsed ceiling. As a worst case, they may even refuse to accept responsibility at all.
What happens if my neighbour doesn't accept responsibility?
Disputes about payment in cases of accidental damage are unfortunately common. If you believe your neighbour is responsible and they disagree, or if they refuse to pay for repairs despite admitting responsibility, this impasse could end up costing you.
If talking the situation through won't solve it, further recourse is available. You may be able to make a claim on your own insurance, turn to mediation or even seek compensation in a civil court.
However, you may find that these options are more expensive than the cost of the repair, and that it makes more sense to fix things out of your own pocket.
If you take this route, and if things are still civil, it's sensible to talk to your neighbour about taking measures to prevent the problem from occurring again. If that's not possible, you might have to escalate the matter.
Should I claim on my home insurance for damage caused by my neighbour?
You should contact your home insurance provider first because it may be that you need to make a claim through them, and they will then recover their costs from your neighbour or your neighbour's insurance company. 
Whether they will be able to comes down to proving liability for the accident, so evidence such as photographs may be needed.
Claiming on your home insurance is not entirely without cost. You'll first have to pay any policy excess, and could lose your no-claims bonus – likely making future premiums more expensive.
How does mediation work for neighbour disputes?
Mediation tries to find common ground between two parties who have fallen out. An impartial legal representative acts as a referee and works to resolve the dispute.
There may be a fee to pay, but it can be cheaper than going to court, even if your home insurance includes legal expenses cover.
While it can prevent legal action it can also stop the dispute escalating, which can be helpful moving forward given you're likely to still be neighbours.
Can I use my home insurance to take my neighbour to court?
If you take out legal assistance cover with your main home insurance policy, you can use it to take your neighbour to court. In this circumstance, your insurance will likely cover all your expenses – minus the excess – but your insurer will want to be certain you have a more than reasonable chance of winning the case first.
Be advised that taking a neighbour to court is a decision not to be taken lightly, and it would almost certainly have repercussions for the future of your relationship.
Can I enter someone else's property to turn off their water?
You should never break into someone else's property to turn their water off.
If your neighbours have left a tap running that is responsible for flooding your home and you cannot get in touch with them, you can ask the police for help.
They can gain entry under the Police and Criminal Evidence Act on the grounds of 'preventing serious damage to property'. 
Whose fault the leak is depends on what action your neighbour has taken. If they've adequately looked after their property, it's likely they won't be liable for the damage, and you'll need to claim from your home insurance. 
However, if they have known about the leak – or should have addressed it previously – they could be held responsible. Contact your insurer to find out the correct steps to take.
Are landlords responsible for repairing damage caused by a neighbour?
If you're a tenant, your landlord is legally responsible for making sure the property is safe and in good repair. As such, they should have their own landlord insurance policy.
For example, if a water leak is caused by your upstairs neighbours, the responsibility for rectifying the damage falls to your landlord, who should act as quickly as possible. 
While you should still inform your neighbours about the issue, once your landlord is aware of the damage the necessary repairs to your home won't depend on whether upstairs' insurer pays out first.
What happens if workers in my home cause damage?
Your home insurance is unlikely to cover you if damage is caused to your home while work is being carried out.
Instead, tradespeople should be covered by their own liability insurance. All reputable firms should have this cover, but it's worth asking them what policies they have in place before you contract them to work on your home. Cowboy builders often don't buy sufficient cover, and you'll end up with a significant bill to foot.
If builders do damage your home, make sure the relevant area is first secure and then gather evidence before discussing next steps with the tradespeople.
Does my home insurance cover damage to my neighbour's property?
If the boot is on the other foot and you inadvertently cause damage to your neighbour's property, will it be covered by your home insurance?
The most common cause of claims for damaging someone else's property is through a leak known as 'escape of water'.  
Your home insurance should cover the damage caused to your own property, but for it to pay out for your neighbour's repairs it needs to be established that you are legally liable for causing the damage.
Generally, the neighbour should first claim on their own home insurance, and the company can recover it from your insurer (or yourself, if you don't have cover). However, it will need evidence to prove what caused the leak and who is liable.
Factors such as whether the boiler wasn't serviced, whether the property was left unoccupied and whether the heating was turned off in freezing conditions can all play a part here.
Compare insurance for damage caused by neighbours
If you're worried about damage to your property, getting a home insurance policy with legal cover added on is a wise choice. 
MoneySuperMarket compares dozens of leading insurers, and to find the best deal all you need to do is supply us with a few details about your home and your circumstances, and we'll show you a list of quotes tailored to your needs.
You'll be able to compare deals by the overall monthly and annual cost, the level of cover you'll get and the excess you'll need to pay. Once you've found the right policy, just click through to the provider to finalise your purchase.
As with any kind of insurance the cheapest product on offer won't always be the best. It's recommended you look for a balance between the cost and the cover offered – this way you won't end up over- or under-insured.