Compare cheap shed insurance quotes
When it comes to insuring your home, it's all too easy to forget about your shed – but the chances are it contains valuable items. This guide explains why it is worth insuring your shed, how to secure your belongings and how to make sure that your contents are adequately covered.
Should I insure my shed or outbuilding?
Sheds can be attractive targets for burglars, because we often store valuable items in them, including bicycles, patio heaters, power tools and other gardening equipment. They are also often less secure than the main house, and hidden away in the garden.
An increasing number of people are even converting sheds into summer houses or home offices, increasing the likelihood that there might be valuable equipment stored within.
The contents of these outbuildings can easily run into the thousands of pounds to replace, so it is definitely worth having the right insurance to cover your shed.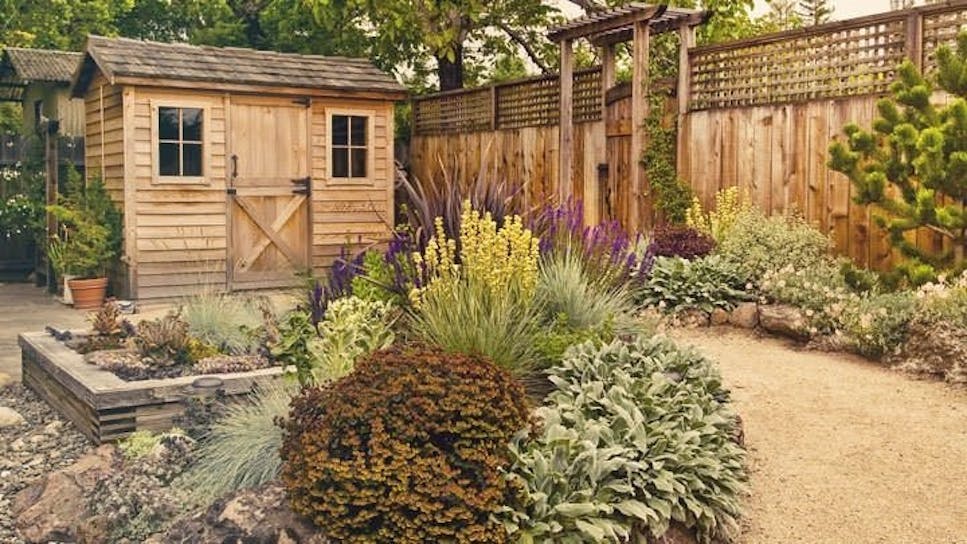 What does my home insurance cover in the garden?
Most home insurance policies will cover your shed, and the items within it, as long as it is located on your property – for example, in your garden. However this is not always the case, so make sure you have read your policy details carefully and know what is and isn't covered.
Buildings insurance for sheds
Many domestic buildings insurance policies extend cover to outbuildings (including greenhouses and summerhouses) as standard, so as long as your home insurance is up to date, you should be covered against weather damage to the fabric of the shed.
It is all –too easy to overlook your shed when you're calculating the rebuild cost of your property, so remember to factor that in when you take out your buildings insurance so there isn't a shortfall should it be damaged and you need to make a claim.
Contents insurance for sheds
From lawnmowers to bicycles, and work equipment to golf clubs, the value of the contents of your shed could add up to a hefty amount. Luckily, contents insurance will usually help cover these items against the cost of repair and replacement costs caused by theft, malicious damage, fire and flood.
Remember to include the contents of your shed or outbuilding when estimating the value of your home contents and to note high-value items. Your home insurance policy will have a single item limit, so if there is anything worth more than this in your shed you will need to declare it.
Also bear in mind that any high-value items, like a bike, which are damaged or stolen when you take them off your property won't be covered unless you've opted for cover away from home (sometimes called personal belongings cover).
How can I calculate the value of my garden shed contents?
It's important to be as accurate as possible when calculating how much your contents are worth. If you underestimate the cost and need to make a claim then you could find that the payout is not big enough to cover the true cost of repairing or replacing your items.
To work out the value, make a list of everything you store in your shed or outbuilding and estimate the cost of each item. This needs to be the amount it would cost to replace the item today, which may not be the same price as when you bought it.
If any of your items are worth more than your policy's single-item limit, often around £1,500, you may need to add extra cover to your insurance policy or declare it. The usual maximum coverage for contents stored in your shed is around £5,000 – so if your belongings are worth more, you may want to consider moving some things into your home.
Should I make special provision for expensive items?
If you have any particularly expensive items, it's worth making sure they're covered. If you have any possessions worth more than your policy's single-item limit, you'll need to list them separately.
If you intend to take the item out and about with you, make sure you've opted for cover outside your home.
Are greenhouses and summer houses covered by shed insurance too?
Greenhouses and summerhouses are a type of outbuilding, so they should be covered under a standard home insurance policy – but make sure to check your policy details for confirmation. If you have expensive items in your outbuilding like furniture, art or a big TV, you may need additional contents insurance. Check the policy details to see what's covered.
What isn't covered by home insurance?
While most contents you keep in outbuildings would be covered, there are a few exceptions. Cars or motorbikes wouldn't be covered and you will need to get separate insurance for them. Sometimes bicycles would not be covered, depending on how valuable they are.
Also, if you rent out your outbuilding to a tenant then it is unlikely to be covered by your standard home insurance. You can get landlords insurance to cover you.
Are allotment sheds covered by shed insurance?
Not usually. Home insurance typically only covers outbuildings that are situated at your home, usually meaning your garden. This means they don't tend to cover outbuildings elsewhere like an allotment. You may be able to get cover through your local allotment association, so check to see what they can offer
However, you may be able to cover gardening equipment you keep at an allotment on your home insurance if you've taken out personal possessions cover for portable belongings outside the home. However, it is still better not to leave anything of value in your allotment shed overnight. The National Allotment Association also advises locking your shed overnight, but many gardeners choose not to as they believe that locked sheds are more likely to be broken into, which could cause damage.
What if I want to use my shed as an office/bedroom/yoga studio?
If you want to use your shed or outbuilding as an office, your normal home insurance policy may cover you for working from home, but you'll need to check. You might be able to extend your existing policy to cover having business guests at your home, but if not then you may need to look into public liability insurance which would cover you in the event that someone is injured at your home.
If you employ anyone you may also need business insurance.
If you're using a shed or outbuilding recreationally as a bedroom or yoga studio, you'll probably need to check building regulations. If your outside space will permanently function as an additional home living space, you may need planning permission.
What are the most effective ways to keep sheds and outbuildings secure?
If you don't make any effort to secure your outbuilding then it is possible that your insurer could refuse to pay out should anything be stolen. So it's important to keep your shed or outbuilding securely locked to deter burglars. Here are some other ways to secure your outbuilding:
Keep your shed well lit: Outdoor security lighting is an excellent deterrent for burglars, especially when fitted with a motion sensor light

Get an extra lock: Your shed must be locked for your insurance policy to be valid. In addition a decent padlock could make your shed a less attractive target for thieves

Install an alarm: Having an alarm will give you the assurance of being immediately alerted to any break ins as and when they happen

Keep valuable items hidden: If you keep high-value items in your outbuilding, try and make sure they'renot visible from the outside. Blinds or frosted window film can do the trick

Security mark any tools: This can help you recover stolen tools and could also act as a deterrent
What do I need to get a quote?
You can avoid paying a shedload for your shed or outbuilding contents insurance when you compare home insurance with MoneySuperMarket. Simply give us a few details about your home and circumstances, and we will provide you with a range of options from our partner providers.
When you are calculating the cost of items in your home, or your rebuild cost, in order to get home insurance, many people forget to include their shed or greenhouse. But not doing this risks a shortfall if you need to make a claim or any valuable items you keep in an outbuilding not being covered. Take the time to consider your shed and, crucially, make sure you keep it secure. - Sam Meadows, Journalist.