Our guide to business credit cards
A business credit card could make your financial admin easier and offer benefits, from travel insurance and cashback, to 0% on purchases for a time
What is a business credit card?
Business credit cards in the UK are designed to be used by a business rather than an individual – although they will need the name of someone from the company to be printed on the card.
They work in the same way as standard credit cards. You can make purchases for goods and services using the card – paying it off at a later date. Some business credit cards also offer extra benefits such as cashback and travel insurance.
Business credit cards are available to companies of any size, from start-ups and sole traders to big corporations. They can be used to help build a credit profile, as well as manage employees' expenses.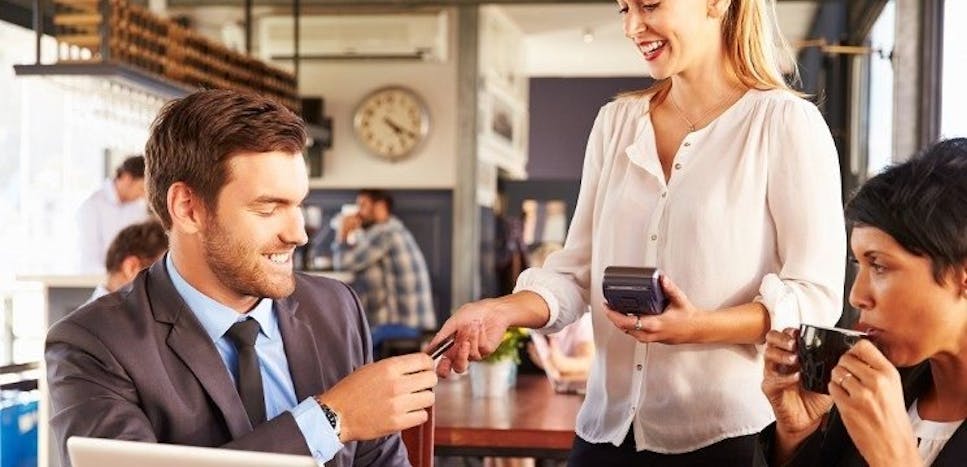 What to consider before getting a business credit card?
There are a number of things to weigh up before getting a business credit card.
How do company credit cards work?
Business credit cards provide companies with easy access to a line of credit – up to a set limit. They can be used to make purchases and can help your company manage cashflow. In some cases you may be able to switch a card balance to a new business credit card (balance transfer) to take advantage of better rates.
Business credit cards often come with perks, such as cashback, rewards and travel insurance. But be aware that some will charge an annual usage fee.
In the same way as personal credit cards, businesses can avoid paying interest on their card borrowing if they repay the debt on the card in full each month. If this isn't possible, you should pay at least the minimum monthly repayment to avoid extra fees and charges. The minimum monthly repayment will be printed on your credit card statement.
The interest rate on your business credit card is sometimes based on the type of transactions you make with your card. Cash withdrawals usually have higher interest rates, for example. Read the provider's terms and conditions so you know how much interest will be charged and when.
Be aware that if you fail to pay off the business credit card and you're the primary account holder it can negatively affect your credit rating. Most small business credit card issuers include a personal guarantee into the agreement to hold you liable for repayment of any debt accrued with the card, even if the charges were for your business.
If you're an authorised user on your employer's small business credit card, it could still affect your credit score – although less significantly. This can work both negatively or positively depending on how the card is managed.
What types of business credit cards are there?
Business credit cards are similar to personal credit cards and can be used in the same way. Here are some typical examples:
Rewards business credit card
Many business credit cards offer rewards such as cashback or other perks when you spend. While not always, they may also come with a fee, which is sometimes waived for a fixed initial period. But if there are fees it's important to make sure any benefits will outweigh these charges.
Purchase business credit card
You may be able to get a business credit card that allows you to spend for a fixed period, such as three or six months, without being charged interest. You must still make your minimum monthly repayments on the card. But this could help company cashflow.
Balance transfer business credit card
While there is nothing to stop you shifting your debt to a business credit card through a balance transfer, balance transfers are most appealing when there is an introductory offer with low or 0% interest for a set period, such as six months or a year. It is rare to see specific balance transfer business credit cards available.
What rewards can I get with a company credit card?
Different types of business credit card offer different benefits, with many offering a mixture of perks. These can include:
Cashback: Some cards will return a proportion of your card spend as cash. For example, up to 5% cashback on your bill at selected restaurants, or cashback on payments for tax returns, courier or printing services.
Shopping discounts: Some business credit cards offer discounts or vouchers for shopping in certain stores.
Rewards: Other cards offer reward points (that can be exchanged for cash or vouchers) or air miles, which can then be spent on flights or other travel-related purchases.
Insurance: Some business credit cards offer travel insurance as a free perk.
Fee-free transactions abroad: If you do a lot of business travel it may be advantageous to have a card that offers fee-free spending and free cash machine withdrawals overseas.
0% interest on purchases: Some cards offer zero interest on purchases for a set period, typically this could range anywhere from three to 30 months depending on the card. If this is important to you seek out those cards with the longest low interest or interest-free purchase offers.
What are the pros and cons of business credit cards?
Whether you're a director of a company or a sole trader, there could be plenty of advantages to getting a credit card for your business. But there could be some disadvantages too.
Advantages
Disadvantages
How to choose the best business credit card?
When thinking about which credit card might be best for your business there are a number of considerations, such as:
What will you need from a card – a permanent low interest rate, rewards and perks for example, low rates and charges for overseas use?

Look for cards offering great introductory offers. These might be business credit cards without fees, offering initial perks, or a card that offers 0% interest for a fixed period.

Estimate your likely monthly spend and where you'll spend. You can then calculate what perks and rewards will work best for you, and whether they will outweigh any monthly or annual fee charged on the card.

Overseas use. If you want to use the card abroad look for deals with fee-free transactions overseas and competitive exchange rates. Additional perks might even extend to travel insurance.

Interest rate and APR: If you're worried you won't clear the balance every month, seek out cards with the lowest interest rates and APR - to be sure you pay as little as possible for your borrowing.
What are the alternatives to a business credit card?
If a business credit card doesn't meet your requirements, there are alternative business finance products available. These include:
Other useful guides
We have a wide range of useful guides about business finance, including:
Compare business bank accounts
Compare credit cards with MoneySuperMarket
While MoneySuperMarket does not compare business credit cards we can show you personal credit cards from our leading panel of UK providers.
We'll just ask you a few quick questions about your finances and what you're looking for, then show you the cards that are most suitable to your needs.
It's a soft search so won't affect your credit rating at all. We'll also show you your chances of being accepted and if you're pre-approved for any card deals.
MoneySuperMarket is a credit broker – this means we'll show you products offered by lenders. We never take a fee from customers for this broking service.
Frequently asked questions
How do you apply for a business credit card?
To apply for a business credit card you'll need to be a director of a business or sole trader. You need to have registered your business and started trading. You can apply either in a bank or online. Lenders will do a credit check and look at your business finances. In some cases, particularly if your company has a short trading history, they may also check your personal credit score.


Can I use a personal credit card for business?
You can use a personal credit card for business expenses, although it may be better to use a dedicated business credit card for the following reasons:
Liability. If you use a personal credit card there's a risk you'll be held personally liable – rather than the company – for any debts

Privacy. If an employee is entering expenses on your behalf from a personal credit card, they'll be able to view your other, personal expenditure, which you may prefer to keep private

Credit profile. If you use a business credit card you can start to build up a credit rating for the company – useful if you want credit, such as a business loan, in the future. Plus, if you put business expenses on your personal credit card and then miss a repayment, your own credit score will be damaged
What costs and fees are associated with business credit cards?
The main costs of a business credit card are potentially an annual usage fee and the interest charges on your borrowing. There will be higher rates for any cash withdrawals and overseas use.
There may also be charges if you miss a card repayment and sometimes providers can charge a dormancy or inactivity fee if you don't use the card for a time. Always read the small print of your card and contract terms before signing up to ensure you won't be hit with any nasty surprise charges.