How much does home insurance cost?
Find out how to calculate your home insurance cost before comparing quotes with MoneySuperMarket
There are two types of home insurance cover: buildings insurance and contents insurance. You can take each out separately or get both from the same company in a combined home insurance policy.
How much does house insurance cost?
The cost of combined home insurance fluctuates across the country, averaging at £299* per year, according to the latest data from ABI's Household Premium Tracker. It showed the average price paid for buildings insurance was £228* per year, while contents insurance averaged £116*.

 The amount you pay depends on factors such as:
Where you live

The size of your home

Whether you live in a house or a flat

How much your belongings are worth
To get the best deal, you will therefore need an accurate idea of the value of your home and its contents. Overestimate this figure, and you'll pay more than you need for home insurance. Underestimate it, and you won't have the necessary protection should something go wrong.
*Q2 2022, ABI's Household Premium Tracker, accurate as of August 2022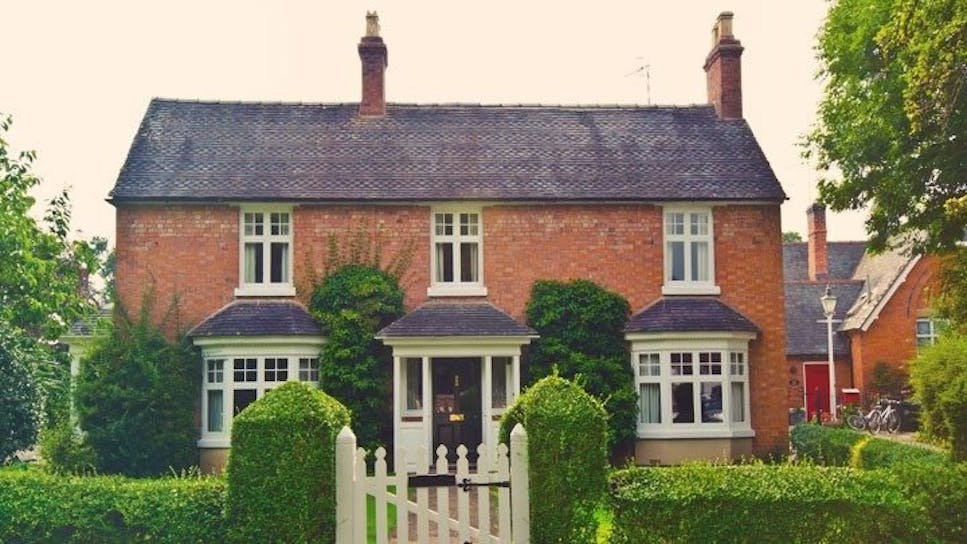 What does home insurance cover?
Home insurance covers two main areas:
Buildings insurance is designed to pay out for structural damage to your home, including the cost of rebuilding it if necessary

Contents insurance is designed to protect the belongings you keep in your home, from electronic items such as your television to carpets and clothes
The two types of cover can be bought separately or as part of a combined home insurance policy. Either way, insurers calculate the cost based on factors such as the location and size of the property and/or the value of your belongings.
What affects the cost of buildings home insurance? 
Factors that affect the cost of buildings insurance include:
Where you live

The floorspace of your property

The property age and type
But the most important factor for insurers is the rebuild value, or the amount it would cost to completely rebuild your home if it were destroyed beyond repair. 
This will depend on its structure, as well as its size, and is often considerably lower than the market value. However, it still needs to be enough to cover the cost of all the labour and materials required. That's why you should let your insurer know if you make changes likely to increase the rebuild value, such as building an extension. 
What affects the cost of contents home insurance cover?
As a rule of thumb, anything you could physically remove from your home will be covered by your home contents policy, including: 
Carpets and curtains

Electrical appliances 

Furniture
High-value items, such bikes, gadgets and jewellery worth more than say £300, should be mentioned separately, but everything else can simply be included in the total.
Should I get separate policies for home insurance?
Not everyone needs both buildings and contents cover. If, for example, you own a flat, buildings cover may be included in your annual management charges.
However, if you do need both contents and buildings insurance, it's worth shopping around for a combined policy before comparing this with the cost and cover provided by separate policies. 
Many insurers offer discounts when you buy home contents insurance and buildings insurance cover as a package. But if you have a large home or lots of valuables, two policies may prove a better option.
Do I need to know what my home and contents are worth?
Yes, it's important to have a good idea of both the value of your home contents and how much it would cost to rebuild your home. 
If these figures are too high, you will pay more than you need for your home insurance. If they are too low, you could be left out of pocket if you need to make a claim.
How to calculate home buildings insurance?
You can calculate the rebuild value of your home by:
Hiring a residential property surveyor 

Answering the questions on the MoneySuperMarket comparison tool, which uses Building Cost Information Service (BCIS) data to give you an estimate based on the information you provide
How to calculate home contents insurance?
You can calculate the value of your home contents by:
Going from room to room noting down everything worth insuring

Doing an online search or – for valuables such as antiques – getting an expert valuation to work out how much they would cost to replace 
The total is the amount of contents insurance you need to be fully covered. Once you have this, you can find a great deal quickly and easily by comparing quotes from more than 55 insurers with MoneySuperMarket.