Compare family travel insurance today
Keep your loved ones safe on holiday with the right family travel insurance policy. Read our guide to find out what's covered and what to look out for
What is family travel insurance?
Family travel insurance typically covers one or two adults and up to eight children, all of whom must live with you and be under-18 to be included on the policy.
If you travel with your family on a regular basis, you may want to consider an annual travel insurance policy. Otherwise a single trip family holiday insurance policy might be the most cost-effective option. You can choose cover for travels in Europe, worldwide, or worldwide excluding the USA, Canada and the Caribbean.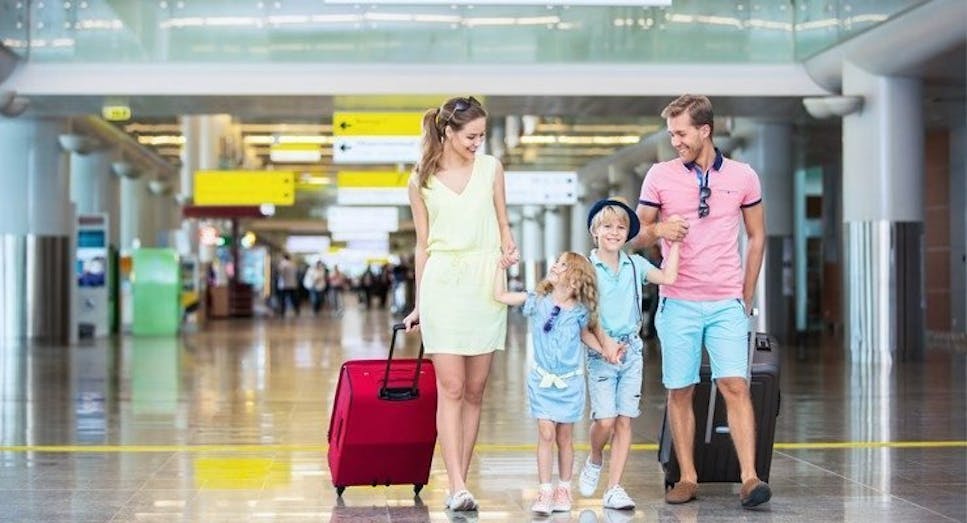 What does family travel insurance cover?
Family travel insurance will provide you and your kids with cover for:
Lost luggage: Losing your luggage on holiday can be stressful, particularly when travelling with young children. Making a claim with an insurer is easier than with an airline and typically you can claim a larger amount with your insurer

Disruptions and cancellations: This could help if you have to cancel or cut your holiday short. Reimbursement for disruptions to your travel or living arrangements, such as involuntary abandonment or missed departures, delayed flights, cancelled flights or accommodation, or a curtailed trip

Medical treatment abroad: If you don't have insurance and you or a member of your family falls ill or has an accident, you'll be expected to pay for the cost of treatment yourself – and healthcare costs abroad can spiral out of control

Some activities: If you're an active family and enjoy water sports for example, some activities will be covered by your travel insurance. Check your policy though as some activities will need special adventure sport insurance

Legal cover:  For if you have to pay legal fees for an incident that wasn't your fault. If you have to pay personal liability if an incident was your fault, your insurer may also pick up the cost
Whatever your situation, make sure you read the small print of your policy for any restrictions. Some family policies won't cover family members travelling independently, or children travelling with a non-family member. If your child needs to travel without you, you'll need to take out cover for them separately.
If you have one child, a couples travel insurance policy and a separate policy for your child might be cheaper than family cover. It's worth comparing the two and seeing which works out best value for money.
What are the benefits of buying family travel insurance?
Choosing a family travel insurance policy can be cost-effective, as well as being less time consuming for you. Having one policy that will cover the whole family is much easier than buying individual policies for each family member.
Some benefits of a family travel insurance policy include:
Cheaper: Buying a family policy can work out cheaper than buying each family member's policy separately

Kids go free: Some family policies provide free cover for children under a certain age

Kid-free travel: Some annual policies allow you to travel without the children within the year
When should I take out family travel insurance?
It's a good idea to take out travel insurance as soon as you've booked your holiday. That's because if you need to cancel for any reason, such as an illness or injury, your travel insurance could cover the cost.
This is especially important for family holidays, as the cost of booking travel and accommodation can be more expensive. Not all insurers include a policy for cancellations, so check the terms of the policy carefully before investing in it.
How much does family travel insurance cost?
The cost of family travel insurance is affected by several things, including:
Size of your family: How many people in your family will affect the price of insurance

Your activities: If you're planning on any adventurous activities like skiing, scuba diving, rock climbing or hiking, you may need to pay extra to get covered

Your level of cover: Any additions you require on top of your standard level of protection, such as gadget or equipment insurance, will raise your premiums

Your destination: Local factors, such as the price of medical treatment and repatriation, can make your policy more expensive

Your holiday duration: The longer you're away, the more you're likely to pay

Your medical conditions: If you have a pre-existing medical condition, it may raise your premium. However, don't be tempted to hide it to drop down costs, as this would invalidate your insurance

Belongings: If you're taking any valuables away with you, like expensive jewellery, you may want extra protection
Compare family travel insurance
You can compare family travel insurance quotes with MoneySuperMarket. All you need to do is fill out a few details about your holiday and the family members you want to cover, and you'll be able to view quotes from a number of leading providers.