Unoccupied home insurance – do you need it?
Whether you're on holiday or planning to sell, here's how to cover your home when it's unoccupied
What is unoccupied home insurance?
Unoccupied home insurance covers you when your home is empty for longer than your standard policy will allow. You only normally get cover if your home is empty for up to 60 days – and if anything happens outside this period you won't be covered.
When your home is empty for an extended period, the chances of theft go up. An unoccupied home also carries a higher risk of structural damage – for example, if a pipe bursts and there's no-one there to handle repairs, the effects could be even more damaging.
Unoccupied home insurance is not included in a normal home insurance policy, so you'll need to take out a separate policy/add-on.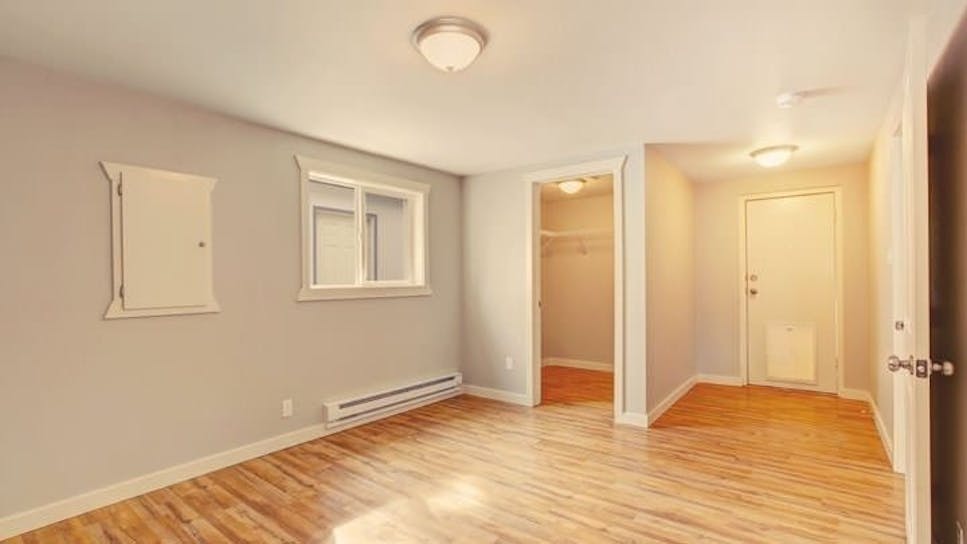 When do you need unoccupied home insurance?
There are a few common situations when you might need empty property insurance. These include:
When doing renovations or building work that involve moving out

Waiting for a property sale to complete

Going on holiday or travelling for an extended period

It's a second property or holiday home you don't normally live in

You're a landlord and your property is between tenants.
MoneySuperMarket's home insurance expert, Michelle Jones, said: 'We would definitely say don't risk leaving your home uninsured if it's left unoccupied for an extended period of time. It's a good idea to double-check with your home insurance provider whether you'll be covered past a certain period of time and to what level. If it's not enough cover for you, consider unoccupied property insurance.
What does unoccupied home insurance cover?
If you're taking out unoccupied home insurance, you should find a policy that covers:
Escape of water or oil: If a pipe bursts or there's a leakage somewhere in the house

Theft and/or attempted theft: If someone successfully breaks in or attempts to break into your home and steals your belongings

Vandalism: If criminal damage occurs in your absence

Legal expenses: If you need to pay legal fees for the removal of squatters, for trespassers or for personal identity theft

Public liability insurance: If damage is caused by a property that you are responsible for; for example, if a roof tile falls and breaks a car window
Insurance policies can vary between providers, so they won't all provide the same levels of cover. Read the policy documents carefully before buying.
What isn't covered by unoccupied home insurance?
Your home insurance provider might not pay out for a claim for the following reasons:
Unforced entry: Leaving your doors and windows unlocked or open is a sure-fire way to void a home insurance policy, because thieves and squatters can get into your property without forcing entry

Major works: Some insurers might even refuse to cover incidents that happen during major works such as an extension or repairs to the home's structure

Contractors: If you've hired contractors to work on your home while it's unoccupied, you might not be covered for any damage they cause. Contractors should have their own insurance to cover the damage.
Who is unoccupied home insurance for?
There are many reasons why a home may be temporarily unoccupied. For example, your property may be empty if:
It's for sale and you've already moved into a new home

It's not your main place of residence, but a holiday home or a home you've inherited

You've just bought it but don't plan on moving in for a while

You're travelling for a long period

You're a landlord and you're between tenants

You've been taken into long-term medical care

The building is being renovated and isn't safe to live in

You're waiting for a probate.
How much does unoccupied home insurance cost?
The cost of insurance for unoccupied homes can vary between providers and policies. Insurers consider things like:
Property value: Expensive properties and belongings cost more to repair and replace, so you'll have to pay more to cover them

Property location: If your property is in an area with high crime rates or a high risk of flooding, the price of cover will go up

Property security: Improving the security features of your home when it's empty will help prevent burglaries

Property maintenance: Ensuring your water pipes are insulated during winter months will prevent escaped water from damaging your home – the consequences of which can be severe if left untended

Level of cover: The more extra policies you add and the higher the level of cover you take out, the more you'll pay in premiums.
How long is your home going to be unoccupied?
While standard home insurance generally comes in year-long terms, unoccupied homes don't always stay empty for 12 months. This is why insurers usually offer unoccupied home insurance in policies lasting for three, six, nine or 12 months.
If you think you'll be away for longer, or if your absence is sudden, you'll normally be able to extend your policy as well. For example, if you're stuck abroad on holiday and flights are grounded, or if your house sale is taking longer than originally planned.
What if you fail to tell your provider your home is unoccupied?
You risk invalidating your home insurance policy if you need to make a claim and you fail to tell your provider that your home is unoccupied for longer than the time set out in your policy details.
Claiming on unoccupied home insurance
You should check if your insurer has any specific terms about how to make a claim – for example, if you need to contact them instantly or if you need to file a police report.
There are also some things you should consider before claiming:
No-claims bonus: Insurers often offer discounts on premiums if you haven't claimed for a long time – but if you do make a claim, you'll lose this bonus, meaning your premiums will likely go up

Excess: Excess is the initial amount you pay towards a claim before your insurer picks up the remaining cost. It can be steep in some cases, so it's worth considering whether it's cheaper to preserve your no-claims bonus and pay for the damage yourself.
Compare quotes for unoccupied home insurance
If you're going away and you know your home will be empty, comparing unoccupied home insurance can help you find the right policy for you – so you're insured for the right amount of time for all the things you need cover for.
You can browse different quotes from a variety of insurers with MoneySuperMarket and compare them by their price, the quality of cover, the excess they need, and the feedback each policy has received from customers.
All you'll need to do is enter a few details about your home and its occupants, your area, and the details about your trip away. You'll then be able to search through different deals so you can find the policy that best matches your needs.
You should also keep in mind that the cheapest deal isn't always the best – you'll be better off looking for unoccupied home insurance that ticks every box you require, including the time you're away and the things you want cover for. It's important to check the policy documents carefully before confirming your choice, so you know the specifics about what's included.