Ten financial resolutions for the new year
Concerned about how the cost-of-living crisis is affecting your household budget? Take steps now to get on top of your finances in 2023
Many of us will be feeling the pinch this winter, as we cope with sky-high energy bills and a more expensive weekly shop that's seen everything from pasta to potatoes go up in price.
And with mortgage rates on up after years of historic lows and interest rates on credit cards and loans going the same way, it's vital to make savings anywhere you can.
The good news is that we're here to help. Read on and we'll help you take stock of your finances and see how you can do things differently in 2023 to put you back in control.
1. Deal with your debts
When it comes to your debts, your priority should be on paying down accounts with the highest rates of interest, such as overdrafts or credit cards.
Equally, if you've got lots of balances lingering on different pieces of plastic, make the start of 2023 the time you take action.
Shift card debts to a 0% balance transfer card to give yourself some much-needed breathing space to pay off what you owe.
Be sure to check out our eligibility checker tool before you apply, to see your chances of getting accepted, without leaving a mark on your credit file. Also remember to find out about balance transfer fees.  
Once you've got your card, be diligent about sticking to the repayment plan. You also need to be disciplined about doing all you can to clear what you owe before the 0% deal comes to an end, as at this time, interest costs can soar.
Another good way to consolidate debts in the new year is with a low-rate personal loan.
To compare personal loan deals, head here.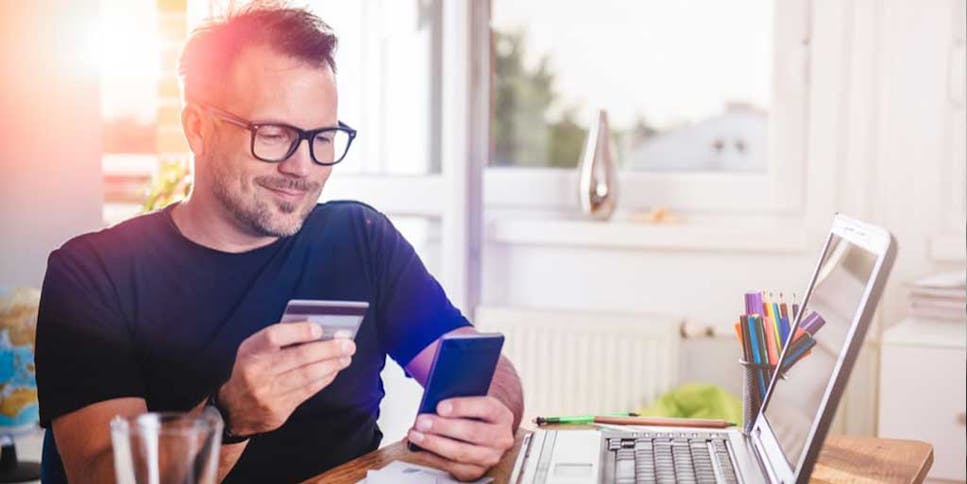 2. Move bills to cheaper deals
With the cost of living on the up, now is the time to review all your outgoings to see where you could make savings. 
Dig out your motor, household and travel insurance policies, along with your mobile, broadband and digital TV subscription. See if you can get a better deal with your current supplier and if you can't, then switch.
It should only take you a few minutes, and you could end up saving hundreds of pounds.
3. Get a rainy day fund in place
If building an emergency fund has been sitting on your 'to-do' list for as long as you can remember, don't just keep talking about it: take action.
One of the biggest things the pandemic has taught us is that we don't know what's around the corner, making it vital to have a safety net to fall back on.
As a rule of thumb, you should aim to have enough to cover between three and six months' worth of essential expenses in a competitive easy-access account.
This will help you pay your bills in the event of the unexpected, such as a cut income, or losing your job.
A good approach is to set up a direct debt so the money leaves your account the day after payday, and goes straight into a savings account. Before you know it, you'll find you're starting to build a nice little nest egg.
For more tips, read: How to get into the savings habit.
4. Switch your savings
Savings rates had already started to rise in recent months, and should continue to do so now the base rate has gone up.
But be warned that banks can be very slow at passing on a rate rise to savings customers.
So, even though you may be tempted to sit and wait for more rate rises over the next 12 months, this isn't a sensible game to play if you have money languishing in an account paying just 0.01%.
Seize the opportunity to see what better rates you can find. To compare savings deals, head here.
5. Move your mortgage
If you're sitting on your lender's standard variable rate (SVR), make the start of 2023 the time you take action.
Now that the base rate has reached levels not seen since before the financial crisis, those on an SVR could see their rate rise within the next few months. This means your monthly mortgage repayments will go up.
While they won't shoot up overnight, costs could steadily increase given this is unlikely to be the last of the rises.
The best approach is likely to be remortgaging to a fixed-rate deal – and doing so as soon as possible.
While fixed-rate mortgages have risen slightly in recent months, there is still plenty of competition between lenders, and you should be able to make some savings by moving from a variable rate to a fix. But if you leave it too long, mortgages are likely to get gradually more expensive.
Equally, if you're on a fix with less than six months left to run, you can book in a new rate now – you don't need to wait for your current deal to expire.
To compare mortgage rates, head here.
6. Improve your credit score
If your credit score is not where you'd like it to be, seize the opportunity now to get things back on track.
A higher credit rating will mean you have more choice when it comes to taking out cards, loans and other types of credit. It will also mean you get access to better rates, and preferential promotional offerings.
While some steps will be quick to implement, such as getting registered on the electoral roll, correcting errors on your file, and closing down accounts you no longer use, others will take time. This could include things such as reducing what you owe.
To find out your score and read about other ways to boost your rating, check out our Credit Monitor tool.
7. Be more energy efficient
Energy bills have reached an all-time high, and while our usual recommendation would be to switch to a new supplier to make savings, this isn't the case at the moment.
For that reason, your best best is to stay put – and we promise to let you know as soon as this guidance changes.
In the meantime, there are plenty of other steps you can take this month – and throughout 2023 – to bring bills down by being more efficient.
Small steps include improving draught-proofing around doors and windows, turning your thermostat down by one degree.
Bigger steps include investing in a new boiler, paying for roof and wall insulation, and getting double glazing.
For more tips on ways to cut energy usage, visit the Energy Saving Trust.
8. Reduce your water consumption
There are plenty of simple steps you can take to reduce the amount of water you use as part of your daily routine – and thereby, cut your water bills.
This includes turning off the taps when you brush your teeth, or taking a shorter shower.
You can also invest in water-saving devices, such as water-saving showerheads, and bags that save water with every flush.
It's also worth checking if you can save by moving to a water meter. As a rule of thumb, if your home has more bedrooms than people living in it, you may be able to make savings by moving to a meter.
Check out the free calculator from the Consumer Council for Water to see if you would potentially be better off.
9. Sort out protection
For peace of mind for you and your loved ones, make 2023 the year you get serious about getting protection policies in place, including life insurance, critical illness cover and income protection.
Equally, if you've already set up policies, make this the time you review them to check you still have the right cover in place – and are not paying more than you need to.
10. Write a will
You might think that writing a will is something you don't need to do until you're older, but in reality, you should get it drawn up as early as you can – as none of us can predict the future.
By having a will, you can ensure the right people benefit from your estate; if not, your assets will be divided according to what are known as 'the rules of intestacy' which may be contrary to your wishes.
At the same time, having a will makes the administration much easier for loved ones left behind.
While you're at it, get a Lasting Power of Attorney (LPA) in place, too. This documentation means a family member or friend can properly look after you and your finances if you are no longer able to do so yourself. There are two types of LPA: one is health and welfare, the other is property and financial affairs.