Compare cruise insurance quotes
Cruise insurance is a special type of travel insurance or travel insurance add-on that will cover travel on cruises. Find out what makes it special in our guide.
What is cruise insurance?
Cruise insurance is a type of travel insurance that's designed specifically for cruise holidays. These policies take into consideration the typical activities and risks associated with cruise travel, and tailors cover to meet those needs.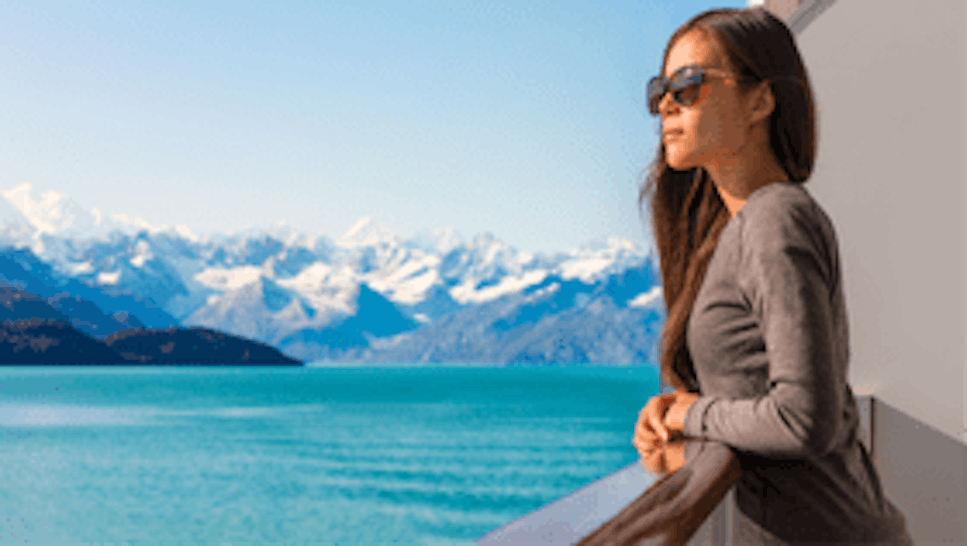 What does cruise travel insurance cover?
Cruise travel insurance policies can cover a lot of what a standard travel insurance policy covers plus some cruise specific cover. 
Medical cover 
Most travel insurance policies will offer some level of medical cover to protect you if you suffer a medical emergency while you are travelling. This cover can also include emergency transportation back home. It's important that you proclaim any pre-existing conditions you may have when you purchase your policy, or you may risk a claim for medical cover being rejected.  
Trip cancellation, curtailment, and interruption 
Some medical problems require more than just a few days in bed. It may be the case that you need to cancel your cruise entirely or need to cut your cruise short to receive medical treatment on land. If this is the case, travel insurance with cruise cover will pay out to cover the cost of the cruise you've missed out on. 
Lost, damaged, or stolen baggage 
Travel insurance policies will also usually cover the cost of replacing your belongings that are lost, stolen, or damaged while on your trip. Some cruise insurance policies may offer extra cover for your belongings because some cruises can last longer than a standard holiday and so require you to bring more belongings to last the trip. 
Missed departure and port 
Special insurance for cruises should cover you if you miss your departure or if there are changes in itinerary that means you miss a port. This cover will usually come with a few conditions, the most obvious being that providers will only cover missed departure for certain circumstances that aren't your fault, such as your car breaking down.  
Cabin confinement and unused pre-booked excursions 
If you are ill or injured during your cruise, you may be confined to your cabin for a portion of the trip and miss certain parts of your trip. If that happens, cruise insurance may reimburse you for the cost of the things you missed while you were unwell. Otherwise, they may give you general compensation for the time you missed out on enjoying your cruise. 
Extra cover options 
Some cruise insurance policies will also have optional extra cover that you can add, such as gadget cover to protect your electronics or special cover for dangerous activities like scuba diving and winter sports.  
What is not covered by cruise insurance?
Certain types of cruise cover have certain conditions that have to be met in order to make a claim. Some common cruise insurance exclusions include: 
Cancellations and alterations due to inclement weather 

Cancellations made by the cruise line 

Medical cover for pre-existing medical conditions that were not disclosed to your provider 

Medical cover for injury or illness acquired while under the influence of drugs or alcohol 
It's important that you read your policy documents carefully to find these exclusions and instances where you are not entitled to a claim. There are also certain limits to how much you can claim for certain things. Baggage cover, for example, has a limit for how much you can claim for each item or each bag that's been lost. So, if you bring expensive valuables or equipment on the trip, you might want to consider getting additional gadget cover as your cruise insurance may not cover you for the full value of the items. 
What countries are covered by cruise insurance?
Cruise insurance policies will cover your travels to most countries, with policies being priced different depending on if you're travelling inside and outside of Europe. However, not every country will be covered. 
While each provider will have their own list of excluded countries, it's normally the case that providers will not offer cover if your cruise ship is travelling to countries that are high risk. This can include countries experiencing civil unrest or war, countries affected by natural disasters, or countries that the FCDO have advised against travelling to.
How long does cruise cover last?
One of the reasons why specialised cruise insurance is preferred to standard travel insurance when going on a cruise is because standard travel insurance won't always over you for the full length of your trip. Most single-trip travel insurance policies will cover you for only a couple of months at most, with a common maximum time period being around 60 days. Multi-trip travel insurance policies also might be problematic because they tend to have cover limitations for individual trips. 
Cruises can vary a lot in length, some lasting only a weekend and others lasting as long as a whole year. For that reason, it's important that you pay attention to how long your travel insurance policy will cover you for. 
Can I get insurance for a cruise if I have a pre-existing condition?
Most travel insurance providers will cover a wide range of medical conditions with their cruise cover, so having a previous or existing diagnosis for a medical problem shouldn't get in the way of your holiday.  
However, in order to get travel insurance for pre-existing medical conditions, you need to disclose any pre-existing conditions to your provider. If you don't, your insurer may deny you cover if your condition disrupts your cruise holiday. Depending on the condition and the severity, your provider may increase your premiums or exclude medical cover for the condition when you apply for your policy. 
Is there an age limit for cruise insurance?
Whether your cruise insurance will cover older travellers will depend on your provider. Some travel insurance providers will have an upper age limit of around 65 years old. However, some travel insurance providers don't have an age limit at all while others may even offer special travel insurance for over 65s. 
How much does cruise insurance cost?
Travel insurance for a cruise depends on several factors: 
Your age 

The length of the cruise 

The cost of the trip 

The destination/s 

The number of people covered by the policy 

Your medical history 
Adding any optional extras to your policy will also influence the cost, as well as adjusting the level of cover. Some specialist policies – such as over 65s travel insurance or travel insurance with pre-existing conditions – are also likely to be more expensive than a standard policy.  However, you can decrease the cost of a travel insurance policy by increasing your excess. Your excess is the amount that you are willing to contribute to cover costs before your travel insurance kicks in.
Is cruise travel insurance worth it?
Cruises can be an expensive holiday choice and it's possible for a lot of things to go wrong. If you are bringing valuables with you on a cruise, travelling for an extended period, or are at all concerned about the cost of medical treatment while on your travels, cruise insurance can give you peace of mind. A cruise insurance policy will make sure you don't end up having to pay out of pocket when things go wrong or losing out on the money you invested on your cruise holiday.  
Get great deals on cruise travel insurance with MoneySuperMarket
If you're thinking about taking out cruise insurance for your next holiday at sea, why not compare travel insurance quotes with us? We'll help you find great deals from top UK travel insurance providers to give you valuable protection on your next cruise holiday. All you need to do is answer a few questions and we'll fetch policies tailored to your needs for you to browse at your leisure. It's quick, easy, and could save you time and money on your next travel insurance policy.