Family finance: money management for parents
Making a few small changes to how you manage your family finances can have a huge impact on how much you have left at the end of the month
To make it easy, we've come up with a six-point master plan to better money management for families.
1.  Work out your monthly household budget
The first step towards taking control of your household finances is to work out how much you have coming in and going out each month.
Start by working out how much money you have to spend as a household each month. To do this, add up how much you and any other adults receive in:
Salary

Benefits

Dividends from investments
Then work out how much you spend on:
Rent or mortgage payments

Household bills

Everyday living costs (grocery shopping etc)

Financial products (insurance et)

Leisure activities (restaurants etc)

Travel (petrol etc)

Treats (holidays etc)

Friends and family (presents etc)
Once you know the totals, it's a lot easier to see where savings can be made.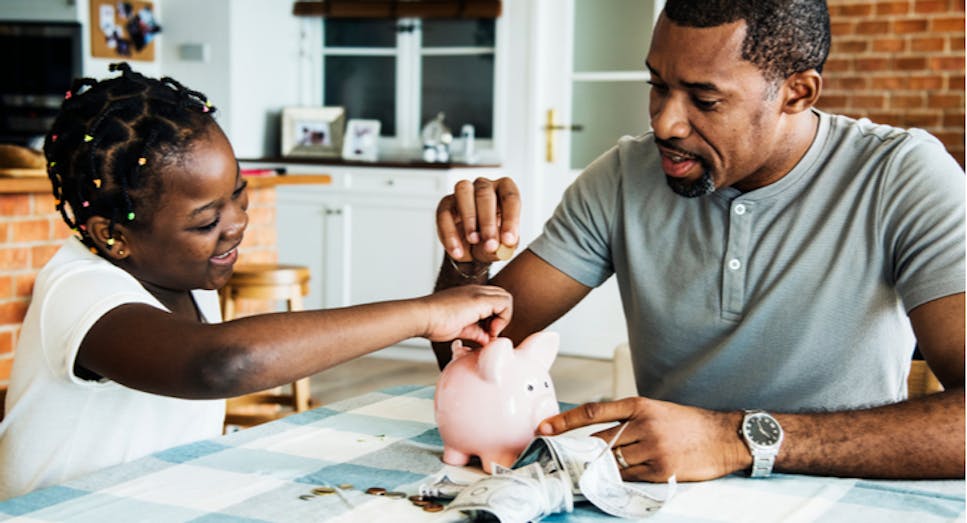 2.  Reduce your household bills
Thousands of UK families pay more than they need to for services such as gas, electricity and broadband.
But the good news is, it's easy to compare deals and switch to something cheaper.
Switching energy tariffs through MoneySuperMarket could save you at least £302*, for example.
Switching is straightforward and only takes a few minutes, making reducing your household bills one of the easiest ways to make your money go further.
3.  Check your benefits
There are a number of benefits available to families with children, so it's a good idea to check you're claiming for the ones you're entitled to.
The main ones are:
Child Benefit

Tax-free Childcare

Child Tax/Universal Credit
Child Benefit
You can claim Child Benefit for each child you're responsible for, regardless of whether you're working or not.
The current rates are £20.70 a week for your first child and £13.70 a week for any further children.
However, if you or your partner earns more than £50,000 a year, you'll pay at least some of that back in extra income tax.
Top tip
If you have stopped working to look after your child, claiming Child Benefit will protect your State Pension rights because it entitles you to credits in lieu of National Insurance Contributions.
Tax-free Childcare
Under the Tax-free Childcare scheme, the government will pay £2 for every £8 you spend on childcare, up to a maximum of £2,000 a year per child under the age of 12.
It's open to employed and self-employed parents who earn between the minimum wage and £100,000 a year.
However, you can only use it to pay for "approved childcare".
Child Tax/Universal Credit
If you are on a low income and have three or more children, you can also claim Child Tax Credit.
Eligible families with one or two children must now claim Universal Credit instead.
4.  Lower school costs
Uniforms, computers, clubs… Sending a child to school is an expensive business.
But there are ways to save, including shopping around for everything from shoes to laptops, buying second hand uniform where possible, and looking for after-school clubs and activities that qualify for the Tax-free Childcare scheme.
5.  Protect your family
It's important to think about how your family would survive if you were to pass away or fall ill and become unable to work.
Life insurance, which pays out a lump sum if you die within the set term, is a good idea for anyone with dependants (children or adults who depend on your earnings). 
It will help ensure your family would be able to manage financially if you were no longer around.
Other types of insurance to consider include income protection, which provides a regular income if you are unable to work due to illness or disability.
And critical illness insurance, which pays out a lump sum if you are diagnosed with one of the illnesses covered and may even cover your children against the same diagnoses for no extra charge, but with a smaller payout.
6.  Set yourself a savings goal
It can be hard to get into the savings habit, but setting a goal such as a family holiday or a new car can help.
If possible, savings experts also advise having an emergency fund of at least three months' salary.
The best savings account for you will depend on your goal, and how long you plan to save for.
If you want to be able to access some of your savings, an easy access account can be a good option.
But if you want to lock away a lump sum, you could earn
earn more interest in a one or two-year fixed rate bond. Just be aware you won't be able to add to your savings or access them during that time.
Alternatively, a regular saver account could help you save towards a car or holiday, as you can pay in a set amount each month, but you'll need to leave those funds untouched for 12 months.
*10% of customers that applied to switch via MoneySuperMarket could save at least £302.05, November 2018.