It's a good idea to check your broadband speed to make sure you're getting the connection you need. We're confident that our speed test tool is the most accurate around – here's why.
What is a broadband speed test?
The MoneySuperMarket broadband speed test is a free service that lets you test your internet connection in seconds. The results are sent straight to your inbox, so you can see if you're getting the broadband speed you're paying for.
Our speed test works on a range of connection types, including:
What does a broadband speed test measure?
Broadband speed tests measure how fast information is transmitted between your device and a test server, using your internet connection.
There are two speeds that are checked:
Download speed – how fast it takes for data to be transferred from the internet to your device
Upload speed – how fast it takes for data to be transferred from your device to the internet
These speeds are measured in megabits per second (Mbps). The higher the number of Mbps, the faster your internet speed. 1Mbps is equivalent to 1,000 kilobits per second (Kbps), while 1,000Mbps is equivalent to 1 gigabit per second (Gbps).
It only takes a few seconds to run a speed test, and you can use the results to check you're getting the speeds advertised by your provider.
How do broadband speed checkers work?
When you start the broadband speed test, it identifies your location and connects to the nearest server. It then runs a ping (also known as latency) test, which involves sending a small piece of data – a ping – to the server and back. The latency refers to the time it takes for your information to travel to a server and return to you, and it's measured in milliseconds (ms).
The speed test then measures your download speed by downloading some data from the server. It measures how long it takes to transfer the data, as well as how much can be downloaded.
Next, the speed test measures your upload speed in the same way, but in reverse. It tests how long it takes to transfer some data from your device to the server.
What do my results mean?
| Broadband download speed | Typical use |
| --- | --- |
| 0.5Mbps | If speeds are consistent, this should be sufficient for audio streaming, email and very basic web browsing |
| 1Mbps | Basic video streaming should work, alongside standard web pages |
| 2Mbps | Standard definition (SD) video via BBC iPlayer should be possible |
| 5Mbps | Should allow high definition (HD, 1080p) video streaming to run smoothly |
| 8Mbps | Should be able to support video streaming and other activities at the same time without buffering |
| 15Mbps | This connection will support a few video streams as well as other activity at the same time |
| 25Mbps | Should be able to stream pre-recorded ultra-HD video (UHD, 4k) smoothly |
| 40Mbps | Should be able to stream live Ultra HD video (UHD, 4k) smoothly |
| Broadband upload speed | Typical use |
| --- | --- |
| 0.1Mbps | Adequate to send simple text emails |
| 0.4Mbps | Online gaming should be possible, though remember gaming is very latency sensitive |
| 0.8Mbps | Webcam video streams over Skype or other video chat services should be of reasonable quality |
| 2Mbps | HD webcam streaming may be possible |
| 10Mbps | Uploading 200MB of video to the cloud will take around four to five minutes |
Why is my broadband slower than expected?
It's likely that your broadband isn't hitting the maximum speed advertised by your provider. This is because the advertised speeds don't take into consideration the number of devices connected to your internet, or the number of users in your household.
Not to mention, many other factors can affect broadband speed, such as your location, congestion (the number of people using the internet in your area) and how you're using your broadband at home.
What's a good broadband speed?
A good broadband speed depends on the speed of your current package, and how you use the internet.
Download speed
Download speeds refers to how fast data is sent from the internet to your device.
Most of the stuff you do online involves downloading, whether that's simply opening a webpage, online gaming or streaming video. When providers refer to their average speeds, they're usually talking about download speeds.
Providers offer broadband packages with download speeds that can range anywhere between 10Mbps to over 1,000Mbps.
The faster the download speed, the better and smoother your experience will be.
Upload speed
Upload speed refers to how fast you can send data from your device to the internet – for example, when uploading files to the cloud, video calling and sharing photos on social media.
Upload speeds are usually slower than download speeds. This is because most activities we do online require downloading, rather than uploading. So, most broadband packages have upload speeds between 1Mbps and 30Mbps.
Some full fibre packages even offer symmetrical speeds – this means download and upload speeds are the same.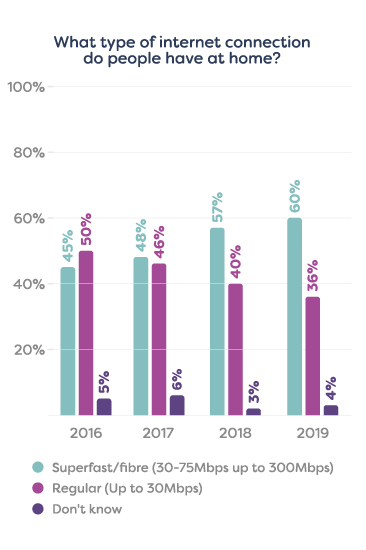 Date collected by Lightspeed/Mintel in January 2019, accurate as of May 2019
Is it worth switching provider if my broadband speed is low?
Not necessarily. Many things can affect the broadband speeds you're getting, so it's best to see what you can do to boost your broadband speed yourself.
However, if you're regularly experiencing problems with your broadband and you're not getting the minimum guaranteed speeds, you should get in touch with your provider.
If the issue is on their network and they haven't done anything to fix it within 30 days, you're allowed to leave your contract early, penalty-free. Plus, switching provider means you can take advantage of special deals and rewards on offer to new customers.
Are broadband speed tests accurate?
While we do everything we can to make our broadband speed test accurate, it will only offer you a result based on your connection speed at the time of taking the test. The tests won't always represent a conclusive result about the general performance of your broadband.
So, if you want a more accurate idea of your broadband speed, you can carry out multiple tests at different times of the day. You could also try plugging in your device with an Ethernet cable, which offers faster speeds and lower latency.
Why should you check your broadband speed?
Checking your broadband speed is quick and easy to do. Here are some reasons why it's worth checking the speed of your internet connection:
You might not be getting the advertised speeds you signed up for
You can see how your speed compares to neighbours' and friends'
You could shop around for a better broadband deal available in your area
There may be something you can do to improve your broadband speed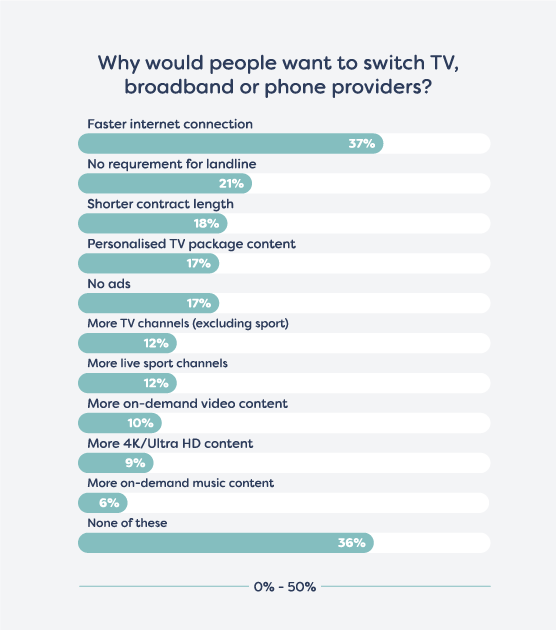 Data collected by Lightspeed/Mintel in January 2019, accurate as of May 2019
What is the Voluntary Code of Practice on Broadband Speed?
The Voluntary Code of Practice on Broadband Speed is a scheme set up by the regulator, Ofcom, to help users get a better estimate of the speed they'll get with their broadband deal when they sign up. It also holds providers responsible for making sure the customers have access to the speeds they're promised.
If the provider you've chosen have opted in to the Voluntary Code of Practice on Broadband Speed at the time you sign up or renew your contract, it will give you two figures:
The estimated broadband speed you can expect during peak hours (the busiest time on the network)
A guaranteed minimum broadband speed
If your broadband speed isn't meeting the minimum your provider has guaranteed, you can make a complaint – and if the problem isn't resolved in 30 days, you'll be able to leave your contract without paying a penalty.
Compare tariffs with MoneySuperMarket
If you're looking for a new broadband provider, comparing tariffs with MoneySuperMarket is the best way to find a cheaper deal. All you need to do is enter your postcode and tell us what you want from your package, and we'll show you a list of deals available in your area.
You'll be able to compare them by factors like broadband speed, monthly cost, usage limits (if any), and whether you get home phone, TV and any freebies. Once you've decided on a deal, just click through to the provider to finalise your purchase.
Frequently asked questions
What affects broadband speed test accuracy?
If you run our speed test multiple times, you might find that your results vary. This is because your broadband speed can be affected by many factors, including:
Current downloads: If you're downloading anything through your connection, this could be taking up bandwidth – which means your speed may likely seem slow
Intensive programs: Likewise, if you're running software that's using your internet connection, this may be slowing it down
Other users and devices: If you have a few people in your home using your Wi-Fi then the extra usage is probably affecting your internet speed
Network coverage: If you're testing a mobile connection, you might find that the speed varies depending on your location, especially if you're on the move. It's best to run the test in a single location for a more accurate result
Your router setup: If your computer is a long way away from your router, or you have lots of thick walls in the way, your connection will probably be slower as it's harder for signals to reach you
Time of day: During peak times, speeds are likely to drop for everyone on the network. This is usually between 6pm to 10pm, when more people are using the internet
Distance from the exchange: If you have ADSL broadband, the distance between the exchange and your house can affect your internet connection
Weather: Rain, wind and extreme weather conditions can affect the speed and quality of your internet connection
How can I improve the accuracy of my broadband speed test?
To achieve the most accurate result from your broadband speed test, you should try the following before you run the test:
Avoid downloading anything in the background or on any other devices connected to the same network
Stay as close to your router as you can
Make sure all wires and cables are connected properly
Ensure there's nothing blocking the path between your router and the device you're running the test on, such as a case or another device
Switch off any devices that can affect your Wi-Fi that you don't need, such as microwaves, baby monitors and any smart home devices
If you're testing a mobile network, make sure you can remain stationary for the whole time
Why do other broadband speed tests give me different results?
You might get varying results if you're trying several different speed testers.
While this can be down to a number of factors (see above), if you've made sure the conditions are the same for each test, it might just be that the software or technology used by the tests is different.
Some tests are even adjusted to perform well on certain sites and poorly on others. So, it's worth using a variety of tests to get a more complete picture.
How do I complain about my broadband speed?
You can always go to your broadband provider directly if you aren't happy with the speed you're getting. If they haven't resolved the issue, you can also escalate the issue to the ombudsman.
You can usually use your speed test results to back up your complaint, which can be particularly useful if you took out your broadband agreement after 1 March 2019 and your provider is signed up to Ofcom's Voluntary Code of Practice on Broadband Speed.
Will switching providers actually improve my speed?
In some cases, yes. If you currently have a standard ADSL broadband package and you're switching to fibre optic, you'll have a bump up in speed.
Even if you currently have fibre broadband, when comparing broadband deals, you may find that you can switch to a faster package and get a speedier connection at your address. So, it's well worth using our postcode checker to see if there are any faster services in your area.