Decorating your rented home: How much can you get away with?
Read our guide on the dos and don'ts of redecorating a rented property – without losing your deposit.
When you rent a flat or house, you may want to make it feel like your own, but how much can you change before you risk not getting the deposit back?
Decorating and furnishing your rented home can be a way of making it feel like yours.
Depending on how long you plan to live there, you may want to change certain easy fixes, like painting the walls or furnishing the front room with a decent sofa.
But you might find that your landlord has stringent rules about how you can decorate the property. So how do you get around these rules without jeopardising your security deposit?
Ask the landlord
First things first, ask the landlord or letting agency if you can decorate, and how much you can change. This not only gets you the permission to update things, but they might even offer to pay for the materials.
Then budget accordingly. Keep in mind it's a waste of money to pay for someone else's home improvements if you are only going to live there for a year.
Understandably, big things like the kitchen cabinets or the bathroom suite aren't going to change, but painting, hanging pictures and building bookcases shouldn't prove too damaging.
Plus, a splash of colour in a bright white room can make the house feel like your own – a creative rebellion even if you have to repaint the wall on the way out. Or if you don't want to rebel too much, then colourful paintings, bright cushions and vibrant rugs can add to a room's ambience.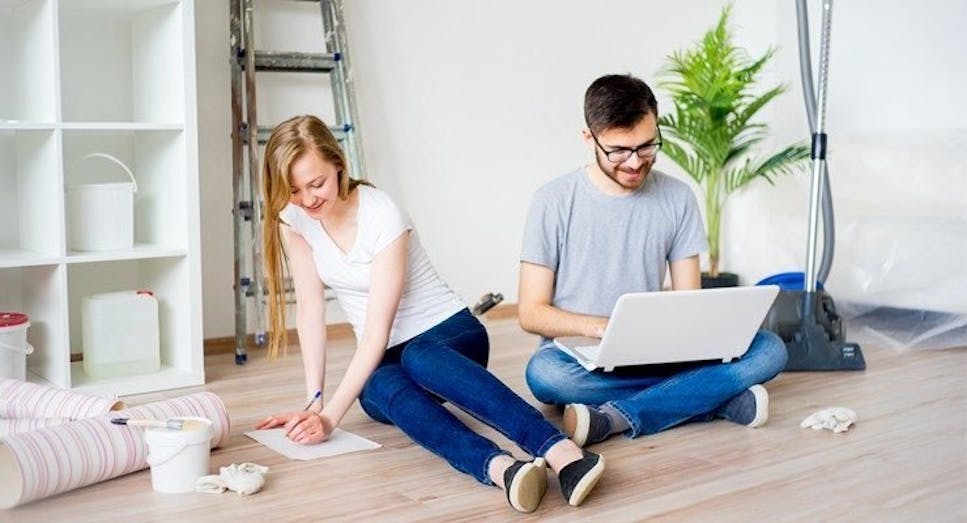 Painting and decorating
Bear in mind that the landlord should redecorate the property every three years in the name of good practice. So, why not suggest that you do the redecorating, and ask the landlord to pay for the paint? This means they property will get a refresh, without the landlord having to pay for an expensive decorator.
If the landlord agrees, then the easiest way to make a place feel like your own is to change the colour scheme. Most landlords will paint the flat or house a neutral white to start with, as it's both cheap and aesthetically pleasing, but adding a bit of colour or a creative design can put your stamp on it.
Be wary of painting the whole room a bright pink or dark purple, as it is very difficult to re-paint over when you move out without the colour shining through the white. Subdued tones and lighter colours are much easier to cover up.
If you use wallpaper, bear in mind that you'll probably need to take it down and re-paint or re-paper so it might not be worth the effort and expense. That said, a feature wall of wallpaper could be a nice addition to any living room.
Furniture
Many properties come furnished, giving you less room for manoeuvre when trying to personalise your home. However, if the flat or house comes unfurnished, then you can make some impressive changes.
Armchairs, bookcases, chests, drawers, sofas, and sideboards all make a huge difference to a room, giving you a sense of ownership. Plus, if you go to second-hand shops and car-boot sales you can often pick up sought-after retro furniture for a bargain.
If the property doesn't have carpets, then a rug can keep the room warm in winter and provide a bit of additional colour. And indoor plants make rooms feel fresher and have a calming effect – but be wary of making carpets wet or muddy, as you may have to clean or replace them if damaged.  
Pictures, prints and posters are also a great addition to any living space, but some landlords will charge you for drilled holes in the wall. So either use the picture rail (if the room has one) and wires, or use sticky-back picture hooks. These are surprisingly durable and can take a decent bit of weight – but maybe don't hang a mirror on them, just in case.
Functional storage spaces
Ask your landlord if they mind you putting up a few wall shelves. Many are fine with this as long as you ask first, and you may have to fill in any holes when you leave. But adding some wall storage will mean you can put your mark on the house by storing books, pictures, DVDs, and more.
However, if your landlord says no, you could always buy some free-standing shelves or cabinets, which you can then take with you when you move out. Be careful if you buy taller shelving units though, as they will need to be attached to the wall for safety, especially if you have children running around.
Make your home your own with these handy tips. Be creative with space and furniture and add a splash of colour, and your rented property will soon start to feel like home.
Did you enjoy that? Why not share this article