Compare travel insurance for Turkey
Our travel guide will help you have a great time on your Turkish holiday – just make sure your insurance is up to date before you go
Turkey stands at the crossroads of the world, where East meets West – it's the only place on Earth where you can walk across a bridge from Europe to Asia. It's a modern country with an exotic flair, where you can see whirling dervishes or dance the night away in one of Istanbul's super-clubs, relax in a medieval Turkish bath or at a beautiful beach resort, and get in some holiday shopping at a charming oriental bazaar or a luxury boutique.
Whichever side of Turkey you choose to explore, you're sure to have an unforgettable holiday. Just remember your travel insurance before you head off. That way, you can relax and enjoy your trip – safe in the knowledge that your insurance has you covered.
Do I need travel insurance for Turkey?
If you're planning a holiday in Turkey, you should always make sure you have travel insurance before you set off. That way, you'll be protected against many common travel problems while on your trip. For instance, travel insurance can cover you against illness, accidents, lost baggage and theft while you're on your Turkish getaway.
Travel insurance also means you'll be able to reclaim your costs if you have to cancel or cut short your trip in an emergency – so you can relax and enjoy your holiday.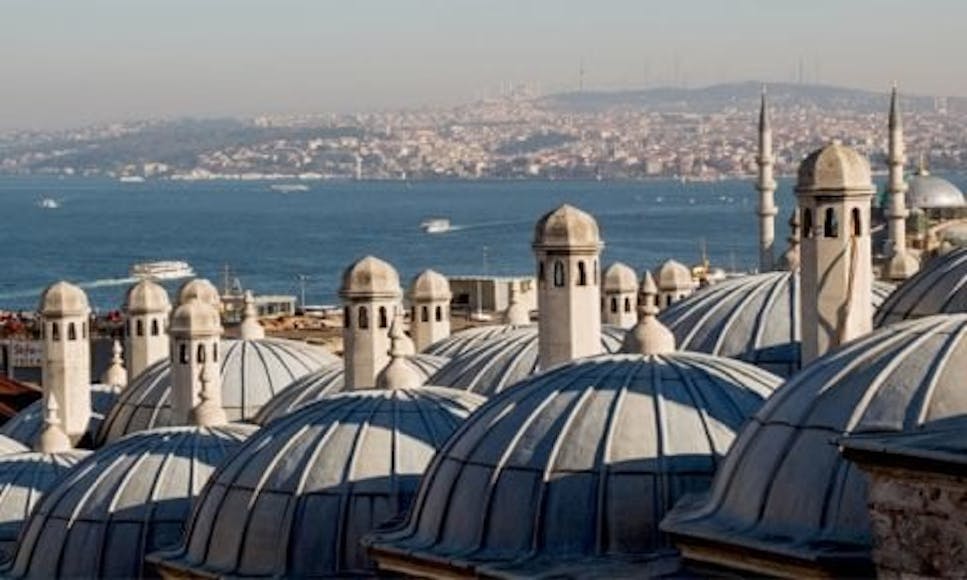 What type of travel insurance do I need for Turkey?
Although most of Turkey is in Asia, your trip should be covered by most European travel insurance policies. However, it's important to double-check before you buy your insurance – different providers might have different lists of countries that they include in their European packages.
There are many different types of insurance that might suit your holiday. When you find the best travel insurance deals through MoneySuperMarket, you'll be able to tailor your insurance to your needs. Some categories to look out for:
Single-trip insurance: If you only want to cover your trip to Turkey, select single-trip travel insurance, and type in Turkey as your destination.

Annual multi-trip insurance: If you take two or more holidays a year, it might save money to buy an insurance policy for the entire year. You can choose from a policy that only covers trips within Europe, or policies that will cover you across the world. (If you're planning to visit the USA, Canada or the Caribbean, you'll need a specific policy for these countries.)

Backpackers' insurance: If you're visiting Turkey as part of a backpacking holiday, you can find great deals on backpackers' insurance, which can cover you for longer trips or if you'll be visiting several different countries.
What should my Turkey travel insurance include?
When you're choosing a travel insurance deal for your Turkish holiday, watch out for these important features your cover should include:
You should also keep an eye on your policy's excess – that's the amount you'll have to pay yourself towards any claim. A higher excess usually means your premium is cheaper – but make sure it's an amount you'll be able to pay.
The full details of your insurance will be in your policy document, so make sure you read it in full before you choose a travel insurance deal.
What won't be covered in my Turkish travel insurance?
There are some features that may not be included in your insurance for your trip to Turkey. These are known as exclusions. Make sure know what you can and can't claim for before you make your holiday plans.
Some insurance policies might not cover you for accidents or injuries you sustain during dangerous sports like jet-skiing, or even hiking or kicking around a football on the beach. MoneySuperMarket's insurance comparison tool allows you to quickly find out what activities will and won't be covered in any travel insurance policy. If you plan on enjoying any physical activities while on your Turkish getaway, check that they're included first.

If you have a pre-existing medical condition, or you've had one in the past for which you've received advice or treatment, you may be charged a higher premium. If this is the case, it may help to take out a special policy for pre-existing conditions

You may not be covered for incidents related to civil unrest, war or terrorism. The political situation in Turkey has been known to get volatile, so exercise caution.

If you suffer an accident or injury that can be linked to you drinking too much or using illegal drugs, insurers are likely to refuse your claim.

Your insurance will be invalidated if you go to areas of Turkey that the Foreign, Commonwealth & Development Office (FCDO) is telling British travellers to avoid. In particular, you should avoid regions near the border with Syria. Make sure you check the government's travel advice before planning your trip.
When should my Turkish insurance policy start from?
When you choose an insurance policy, make sure you're covered from the day you book your trip, not the day you actually leave. That way, you'll be covered in case you need to cancel your holiday before you set off.
Health and vaccinations
The quality of healthcare facilities in Turkey varies by region. If you're in the bigger cities or near major tourist resorts, you should find that the standard of public healthcare is around the same that you'd expect in the UK. However, if you stray off the beaten track, public clinics and hospitals might not be up to scratch. You can get private healthcare, which is usually of a higher quality, but this can be expensive – so it's crucial you have travel insurance.
There's some risk of diseases from biting insects in Turkey – especially mosquitoes, which can carry malaria or dengue fever. The risk is low, and you won't need to take anti-malarials – just take sensible precautions, such as using insect repellent.
You won't need any special shots for Turkey, but it's important to make sure you're up to date with all your ordinary vaccines before you set off.
The legal status of some medicines might be different in Turkey. If you're travelling with prescription medicines, it's best to check in advance to make sure they're not controlled. You should also bring a copy of your prescription with you.
Turkey fact file
Travelling to Turkey: Key Information

Language

Turkish

Currency

Lira – compare travel money

Dialling code

+90

Plug sockets

Plug sockets type C and F – adapter needed

Emergency services phone number

Medical: 112

Fire: 110

Police: 155

Vaccinations:

See the National Travel Health Network for latest information

Embassy address and contact details

Telephone: +90 312 455 33 44
Top travel tips for Turkey
Turkey is full of beautiful sights and exciting things to do. Use our Turkish travel tips to help you make the most out of your holiday:
Sense of scale: If you're planning on exploring Turkey's highways and byways, you should keep in mind that Turkey is a much bigger country than many people assume – six times bigger than its neighbour Greece. Plan accordingly – and remember that internal fights are plentiful, and pretty cheap to boot

Dress to impress: Dress standards in Turkey vary wildly depending on your location. In seaside resorts and most major urban areas, anything goes – but if you're travelling to some more rural areas of the country, it's better to dress a little more conservatively. Men should avoid shorts, and women should keep arms and shoulders covered. There's no need to cover your hair unless you want to visit some of Turkey's beautiful mosques – but it's a good idea to pack a scarf or shawl, just in case

Passport checks: Under Turkish law, foreigners have to keep their passports with them at all times – and tourists have been known to get in trouble if they don't have an ID. Sadly, a photocopy might not be enough, so it's best to keep your passport handy whenever you're out and about – if you're worried about pickpockets, keep it in a secure money belt

Take a bath: No trip to Turkey is complete without a visit to one of the country's famous hamams, or Turkish baths. There's one in just about every town – but some, like the magnificent Cağaloğlu Hamam in Istanbul, are not just a great place to relax after a busy day sightseeing – they're architectural marvels all by themselves

Error 404: Travellers in Turkey don't always get full internet access. Wifi coverage can be spotty, especially if you're headed inland. Just concentrate on your amazing experiences – you can post all about them when you get back. In addition, some websites might be restricted. Wikipedia was banned in Turkey for almost two years until January 2020, and some other sites, like Twitter, are sometimes unavailable depending on the political situation

More than just hot air: Cappadocia in Turkey might have more hot air balloons than anywhere else in the world – over 100 take to the skies every morning. Ballooning is the perfect way to experience the region's fairytale volcanic landscapes, and it's an unmissable romantic experience. Some operators will even provide a luxury champagne ceremony when you land

A bite of baklava: Whether it's being sold from a tray in a bazaar or in a high-end pastry shop, you can't go far in Turkey without seeing baklava: layers of wafer-thin pastry stuffed with pistachio and drenched in syrup. Try it with a strong Turkish coffee – and if you can stop yourself eating it all, Turkish baklava is a great gift for loved ones back home

Tipping tips: Tipping is expected at most bars and restaurants in Turkey – around 5 to 10% is usually appreciated, rising to about 15% in more high-end spots

Pamukkale: It's only a few hours' drive from the beaches of the Aegean, but the hot springs of Pamukkale look like something out of another world. These thermal pools sit in incredible white natural terraces – the name means 'cotton castle' in Turkish. This place has been enjoyed since ancient times – you can also see the ruins of the Roman spa town of Hierapolis nearby

Don't get political. Turkey can be quite politically volatile. It's highly unlikely that you'll be caught up in any disturbances, but make sure you exercise caution, and avoid any large demonstrations
Get the best price on travel insurance for Turkey
Travel insurance for Turkey is essential to keep your protected, but not all policies are the same. To find the cheapest Turkish travel insurance that meets all your needs, it's important to compare before you buy.
MoneySuperMarket's comparison tool asks you a few simple questions about you and your holiday: where you are going, how long for and what you want your policy to cover, and in just a couple of minutes you can compare prices from a range of leading travel insurers.