100 days till Christmas: Get ahead of the game by getting organised now
Guilty of always leaving everything until the last minute? Make big savings by being prepared
It may feel as though autumn's only just kicked in, but there's no escaping the fact there's less than 100 days to go until December 25.
As many households have been hit hard by the pandemic, it's more important than ever to think about how you're going to finance the festive period this year, without landing yourself in a lot of debt.
Aside from the obvious presents, cards, trees, decorations, food and drink, you mustn't forget to factor in other expenses, such as work parties, Secret Santa gifts, travel and increased energy costs.
The cost of Christmas can soon add up, but you can make things a whole lot less stressful by planning ahead.
We've come up with lots of simple tips to help you get ahead of the Christmas craziness.
Buy one present a week
An easy way to spread the cost of Christmas is by being organised and buying one gift – or a handful of gifts – each week, between now and the big day.
That way, you won't be faced with having to purchase a big pile of presents in early December.
Before you start shopping, check out credit cards which allow you to earn cashback or rewards each time you make a purchase.  
Equally, only opt for a cashback card if you can be sure about being able to pay off your balance in full each month. If not, any cashback or rewards you get could end up getting wiped out by the interest you'll end up having to pay.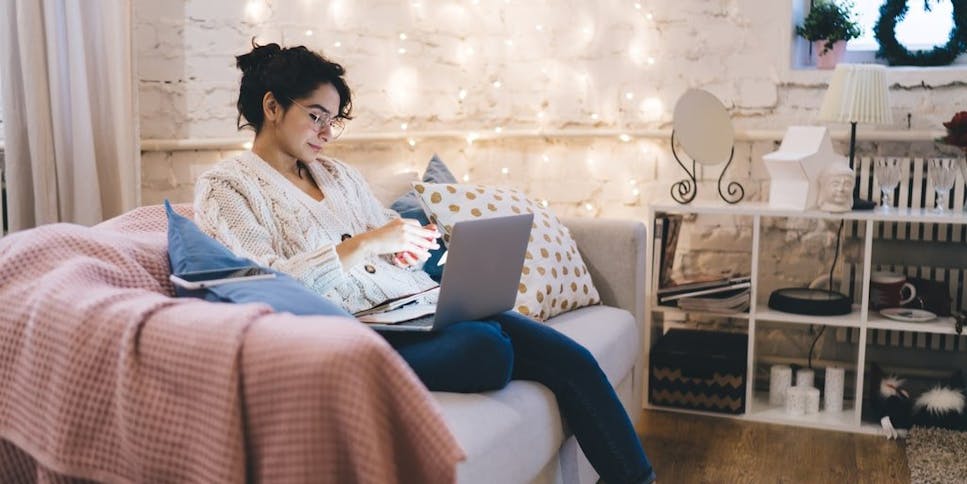 Take advantage of Black Friday
A good way to make savings on your festive spend is by buying presents on Black Friday when many stores cut prices by up to 70%.
Black Friday falls on November 26 this year, though many shops start offering deals a few days earlier.
Prior to the event, spend time researching the items you want to buy, then start comparing prices to find the cheapest. Always check for discount codes and check out cashback sites, such as Topcashback and Quidco, where you get paid a percentage of what you spend when you buy via tracked links.
Budget carefully before you start shopping on Black Friday, and remember: it's not a saving or a bargain if you hadn't planned on buying it in the first place.
Spend your points
If you've got a pile of unused points with a loyalty scheme – or a wallet full of money-off coupons – the run-up to December 25 is a great time to cash these in.
Points and coupons can help your festive budget stretch that little bit further.
Start buying festive food and drink now
Take advantage of deals on prosecco and other non-perishable items you can buy weeks ahead of the big day.
Shop around online for flash sales on food and fizz.
Buy in bulk to make additional savings.
Book your train tickets early
While none of us can quite predict what Christmas 2021 will look like in terms of travel, it still pays to be organised.
The very cheapest 'advance' train tickets are usually released around 12 weeks before travel.
So, if you're hoping to see family and friends around the UK over the festive period, a little forward planning could mean some big savings on the cost of your ticket compared to waiting until the day itself.
You need to get your skates on though once tickets get released, as the very cheapest ones get snapped up very quickly.
Squirrel money into savings
With 14 weeks to go until the big day, that's plenty of time to tuck a bit of money away into savings.
Slot away £20 every week between now and December 25, and you'll have built a nice little nest egg of £280 to help cover Christmas. Increase this to £50 each week, and you'll have a pot of £700.
As you're going to need to get your hands on your money, you'll need to keep savings in an easy-access account. Be sure to shop around for the best rates you can find.
Alternatively, with three pay days to go, why not set up a transfer for a small sum of money to go into a savings account the day after you get paid? That way, the money will come out of your account before you are even aware it is there.
Equally, don't forget to check out apps such as Chip, Plum or Cleo which use nifty algorithms to analyse your spending habits and work out how much you can afford to save. They then sweep money from your current account into a separate savings pot, usually a few times a month.
Spread the cost with an interest-free purchase card
In an ideal world, it's best not to borrow to fund the festivities, but if you do need to pay for some gifts, food or travel on plastic in the next few weeks, there are currently some great purchase cards available – offering up to 22 months at 0%.
If you do want to apply for a new card, do so sooner rather than later to ensure your card arrives in good time.
Also be disciplined about making the minimum repayments on your card each month – and more if you can.
Do all you can to clear what you owe before the interest-free offering comes to an end, to avoid costly interest charges. Find out more here.
Switch your energy tariff
There's a lot to be said for moving to a competitive energy deal now, before the really cold weather kicks in over the winter months, and you start cranking up the heating.
This is particularly important given many households could see energy bills soar from October when the new energy price cap kicks in. This will see bills increase by an average of £139 for millions of customers on default tariffs.
Big savings could be up for grabs by switching to a cheap fixed tariff, compare and switch in just a matter of minutes.