Here's what happened when I had full-fibre broadband installed
When I moved house recently, I had the opportunity to switch to a high-powered, ultrafast, mega-reliable full-fibre broadband connection. But one thing held me back: wasn't it going to be complicated to install?
Most broadband switches are straightforward. Providers like BT, Sky, TalkTalk, Vodafone, and EE all use the Openreach network – meaning they all use the exact same lines and cables to connect your home to the internet. Switching can be as easy as plugging in a new router.  
But with full fibre, or fibre-to-the-premises (FTTP) broadband, it's not quite that simple. When I looked it up online, I saw mentions of drilling through walls and running cables around the flat and connecting funny boxes, and installations that take hours.  
As it turned out, I needn't have worried.  
Those hours-long installation affairs with miles of cable are rare, it seems. For most of us, getting connected to full-fibre broadband takes no more than half an hour – and is barely disruptive at all.  
Here's how the installation went in my flat.  
Step 1 – Sign up to a deal 
My first port of call for broadband was, of course, the MoneySuperMarket broadband comparison tool. I entered my postcode, picked a deal, and signed up.  
For my household, that ended up being Hyperoptic – a small, independent provider that specialises in FTTP broadband, generally rolled out building by building. My whole estate is connected, so I nabbed a 150Mbps package for £19.99 per month… in other words, even cheaper than some standard fibre broadband packages at much lower speeds.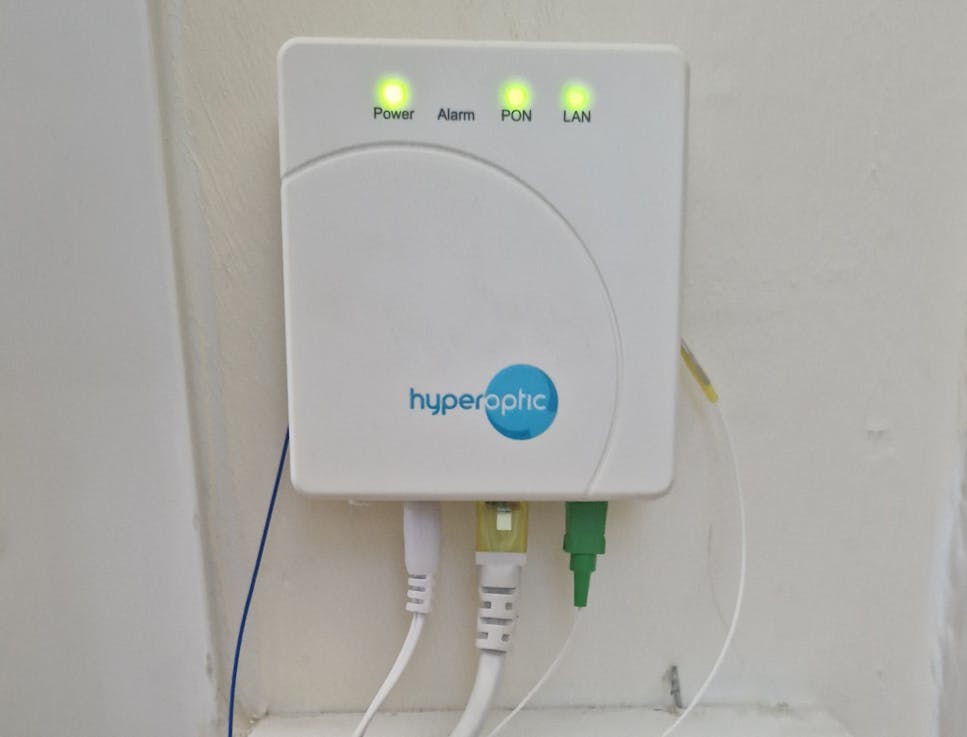 Step 2 – Get your calendar out 
Some time after signing up, I got communications from Hyperoptic asking me to book an installation date.  
The next available slots were in around two weeks' time, which is fairly standard when signing up to a new broadband provider. I chose a day and a timeslot that worked for me, and the booking was locked in.  
Step 3 – Greet the engineer 
On the much-anticipated installation day during my chosen timeslot, I got a phone call from the engineer. He was on his way, he said, and wanted to let me know he'll be there in about 15 minutes. And it clearly wasn't his first rodeo, because he also asked about where he'd be allowed to park on the estate.  
When we looked around the flat, my partner and I had noticed that a BT Openreach cable came in near the front door, and snaked around to a phone socket by the staircase. Being the extremely clever people that we are, we figured that's probably where the Hyperoptic cable will need to go as well. So we got to work clearing the area of furniture, moving boxes, and all the other bits and bobs that had accumulated in the move, to make sure the engineer had room to work.  
He arrived, and of course said, 'I think I could see the Hyperoptic cable out the back door, by your balcony.' 
Obviously he was right. He'd scoped the joint. We all poked our heads out and there it was – a clearly labelled Hyperoptic cable worming its way up the building.  
We also saw all the furniture, moving boxes, and bits and bobs that accumulated in the move, which we had moved from the front door to the back door.  
Cue a mad flurry of my partner and I shifting everything back, so the engineer could work. Listen closely and you'd have heard the Benny Hill theme.  
The engineer explained that he just needed a good place to run the cable inside, and a free plug socket somewhere nearby. Together, the three of us easily found a suitable spot by the window.  
'Right, well,' the engineer said, 'I'll just get on with it then.' So we left him to it and busied ourselves with some more unpacking.   
A few minutes later, the loudest drill I have ever heard in my entire life reverberated through the flat. And a few minutes after that, it reverberated again.  
And around 20 minutes after he'd arrived, the engineer called, 'Hello?'  
He'd finished. Just like that, I had full-fibre broadband.  
Here's what he'd done. He'd used his terrifyingly powerful drill to create a tiny hole in the balcony door frame. Then he'd connected a fibre optic cable to the main Hyperoptic one outside, ran it through the hole, and hooked it up to a little white box which was plugged into a socket. That white box was then connected to a brand-new router.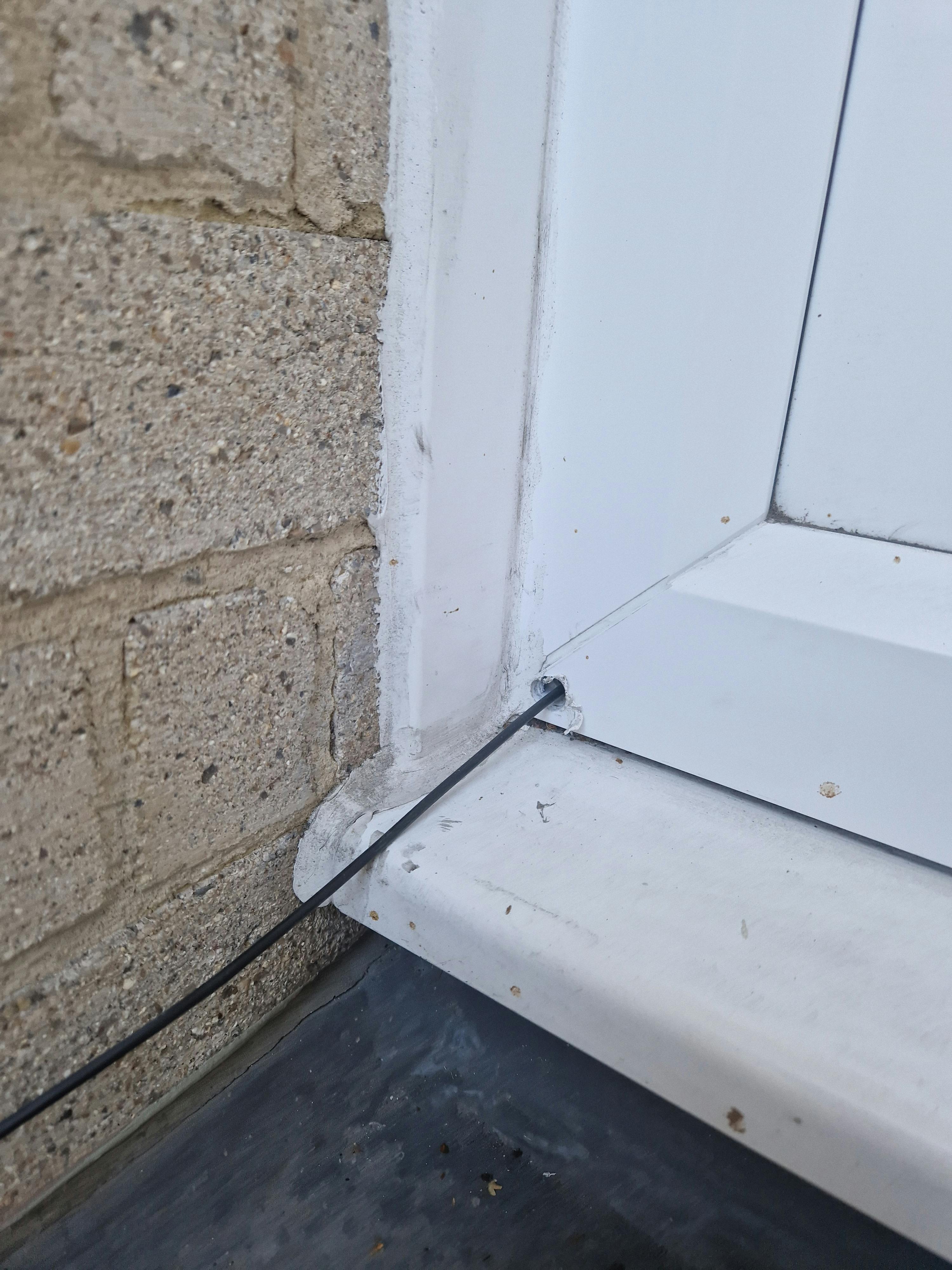 All that drilling for such a tiny cable.
A more full look at the balcony window frame. You can barely see the cable at all.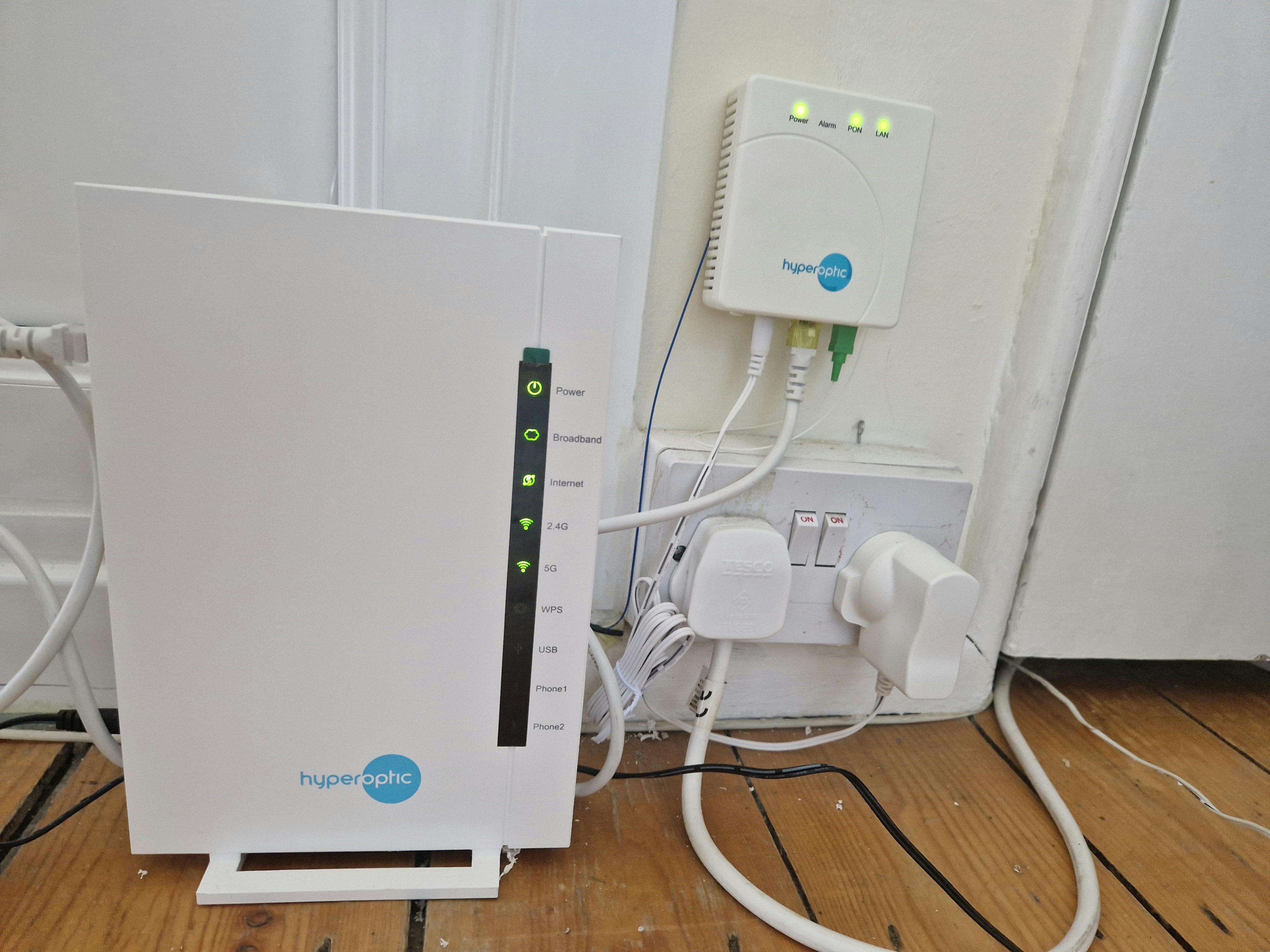 How it looked inside immediately after installation (and before I'd done a tidy-up). You can see the newly installed Hyperoptic box, router, and the socket they're both plugged into. The router has a nice long cable, so I'm free to move it a little farther away from the socket.
He handed me some stickers with the router's login info, and explained how to connect to the Wi-Fi. I'd be able to do so in about an hour's time, he said – I just needed to wait for a red light on the router to start flashing green instead.  
Step 4 – Wait for that red light on the router to start flashing green instead 
Even though the engineer warned us that this could take up to an hour, it actually only took about 10-15 minutes.  
I used the passcode on the little sticker to connect my phone, and bingo: 150Mbps in the palm of my hand.  
I'm quite cybersecurity conscious, so I also changed the Wi-Fi's name (SSID) and passcode pretty swiftly. This means it's now more secure, not to mention easier to remember. 
Step 5 – Get downloading 
Huge files download in minutes. Online gaming isn't beset by lag. My video calls are crisp and clear.  
It's taken a couple of weeks for the broadband to stabilise – again, something very standard when you switch broadband provider. In my case, that's meant the odd moment when the internet dips or slows for a minute or two.  
But that stabilisation period soon passed. Now, I've got ultrafast, reliable FTTP broadband powering all my devices.  
If you've got a unique property, such as walls that are difficult to drill through or a house that happens to require very long cabling, be warned that FTTP installation may not be quite as quick and easy for you as it was for me.  
That said, you can still get connected in the space of an afternoon. And for most of us, especially in buildings or estates where other homes have already signed up, full-fibre installation is a breeze.  
If you ask me, it's worth it.  
It takes roughly the same amount of time to install 1Gbps (1,000Mbps) broadband as it does to download a 200GB game on that very connection – that is, 20-30 minutes. You can't say fairer than that.