Budgeting tips for students
Worried about making your student loan last the distance? We show you how.
The start of the new university term is fast-approaching, and many young people will soon be heading off to embark upon student life.
For lots of undergraduates, this will be the first time they've had to manage their own money. For some, it will be a brutal crash course in finance.
But if the idea of making loan payments last the whole term feels pretty daunting, fear not. We're here to show you how to budget so you won't risk running out of cash.
What loans are available?
As a student, you can apply for both a Tuition Fee Loan and a Maintenance Loan.
If you are a full-time student, you can apply for a Tuition Fee Loan of up to £9,250 (for the 2021-2022 academic year). This is paid directly to your college or university.
The other type is a Maintenance Loan which covers living costs. When applying, you may need to give information about your household income, as this will determine the size of the loan offered.
For example, if you are living away from home outside London, you may be able to get up to £9,488.
To find out more about how much you can borrow, head here.
Don't forget that loans will need to be repaid. Find out more here.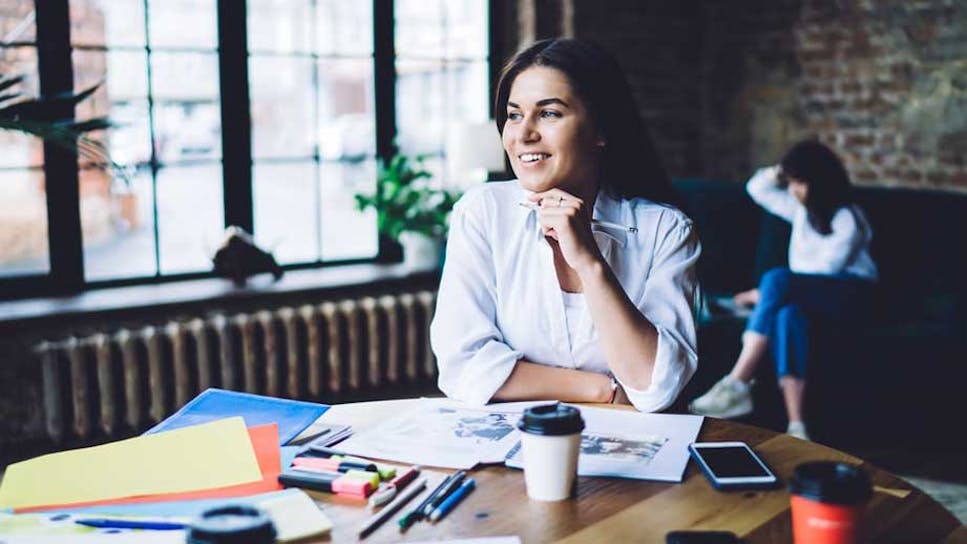 Make a budget
As the Maintenance Loan is paid into your bank account in three instalments at the start of each term, knowing how to budget properly is key to ensuring your money lasts until the end of term.
Begin by writing down how much you're likely to have in total each term. This should include any money from loans, plus any financial help you might be lucky enough to get from your parents.
Divide this figure by the number of weeks you'll need it to last for.
Work out how much you will need for all your guaranteed outgoings, such as rent, bills, new books, laptop, mobile, food and so on. Once you've done this, you'll have an idea of how much you have left over for fun things such as socialising.
By budgeting on a weekly basis, you can reduce the risk of overspending at the start of each term.
Signing up for online banking and checking your balance regularly are both helpful ways to stay on top of your finances. Another good solution can be to track your spending by using a mobile banking app. This can make it easier to see where and what you are spending on.
Plan ahead if you're living out
If you are renting in a shared student house, you will be responsible for the gas, electricity, water, and broadband bills, as well as things such as the TV licence. You will need to work out carefully who pays for what to ensure all bills are paid on time – and that no-one ends up out of pocket.
You may want to think about opening a joint account for communal costs – but be aware this will mean you become financially linked, which could have an impact on your credit rating. If one of your housemates runs into financial problems, this could affect your ability to get credit in the future.
With this in mind, it's worth keeping a close eye on your credit record. You can check your score for free with our Credit Monitor tool.
Choose your current account carefully
Banks are well aware that once a student has signed up to a current account, there's a good chance they'll stay loyal for life. That's why they often offer a wide range of freebies to try and win your custom.
But don't be swayed by the incentives. The key decision maker is likely to be the overdraft offering.
Used sensibly, an overdraft could provide a financial buffer if you find yourself short – or in an emergency.
But bear in mind that advertised limits are not guaranteed, as you will usually be credit checked.
To compare student current account offerings, head here.
Understand your overdraft
If you are likely to find yourself in the red, it's important to familiarise yourself with the fee-free limit on your overdraft. You should then strive to do all you can not to breach that, or costs could soon rack up.
Also be aware that an overdraft is a loan – and that it will need to be paid back eventually. To avoid paying interest, you may need to clear it within one year of graduating. Check with your provider.
Steer clear of credit cards
While you may be able to get a credit card as a student, you need to tread very carefully. Cards may look appealing, but can come with hefty rates and fees. Unless used very wisely, you could find yourself trapped in a spiral of debt.
Get a part-time job
A good way to boost your bank balance during your time at university is by getting a part-time job. This can also look good on your CV. Check out ads around campus as well as sites such as StudentJob.
Take care not to take on too big a commitment, though, as you need to fit the job around your studies.
If you work alongside your studies, you can earn up to £12,570 in the current tax year (2021-22) without having to pay any tax. Find out more about student jobs and tax, head here.
Cash in on offers
Make your money go further by taking advantage of deals and discounts on tech, clothing, food and drink via websites such as Student Beans and Unidays. Also get yourself an NUS Totum card.
When making purchases online, see if you can earn as you spend via a cashback website such as Topcasback or Quidco.
Buy second-hand
Don't feel the need to buy all your books and equipment brand new. Pick up books for a fraction of the price second-hand. A good starting point is students in the year above you. Make use of the campus library as much as you can.
Also check out items for sale on sites such as Facebook Marketplace, Gumtree, eBay and Preloved.
Further tips to help you budget
Only take cash with you on a night out so you have a limit on the amount you can spend

Invest in a 16-25 railcard. It costs just £30 a year, but with a third off train fares, you'll soon recoup the cost

Save on transport costs locally by biking
Ask for help
If you find yourself getting into financial difficulty, don't ignore the problem as it won't go away.
Speak to your bank or building society as they may be able to help.
Also speak to money advisers if your university has them.
And don't forget there's free debt help available from organisations such as StepChange and National Debtline.