Get cheap quotes for student home insurance
If you're a student living away from home, it's worth thinking about students contents insurance to ensure your belongings are properly covered while you're studying
What is students contents insurance?
Students contents insurance is cover you can take out to protect your personal belongings while you're living away from home – usually in rental, student accommodation or halls of residence. It means you'll be able to claim for the cost of repairing or replacing your items if they're lost, damaged, or stolen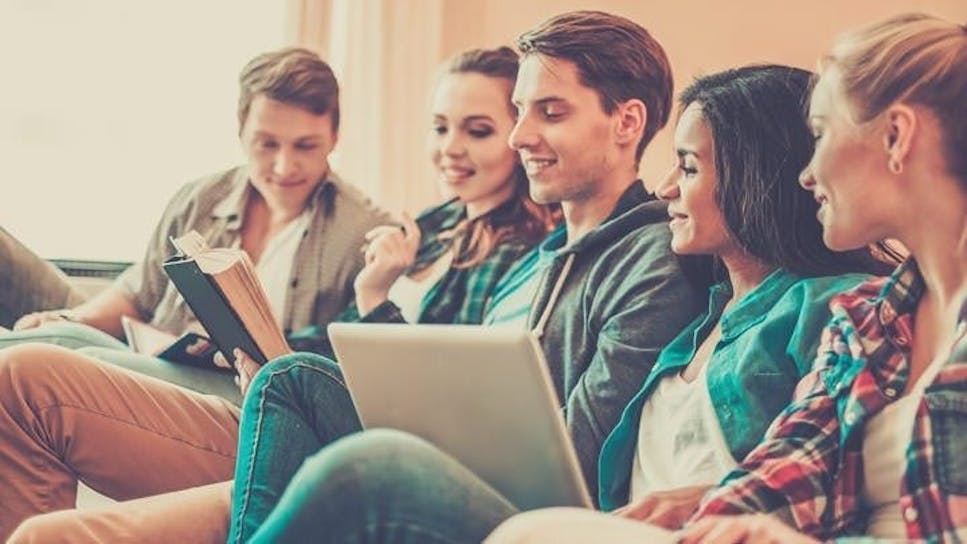 Do students need contents insurance?
Students are likely to have valuable gadgets, laptop or equipment – and even textbooks – that are vital to completing their degree, so it's always worth ensuring these are covered in case of an emergency. 
In addition to this, you may find that students living away from home usually reside in shared accommodation – often in areas with high crime rates where the rent is cheaper. This means they may be particularly susceptible to theft – so having contents insurance in place can be a big help.
Do I need student contents insurance if I live at home?
If you live at home your belongings should be covered by your parents' home insurance policy. However, limits on expensive items will still apply, so be sure you've listed anything particularly valuable.
Are my contents already covered?
It's worth checking if your contents are already covered by an existing source:
Your parents or guardians' home insurance policy may already provide cover for items away from home – it's not always guaranteed, so you should check with your insurer to be sure

You might have contents insurance as part of a packaged bank account or mobile phone contract

You could have existing insurance policies for each separate item – for example, if they were taken out at the time of purchase 
How does contents insurance work?
Most items are covered by a general policy – you estimate the total value of the contents of your room in halls or shared housing and notify your insurer. Try and be as accurate as possible – if you underestimate what your stuff is worth, you won't have the full value reimbursed, and if you overestimate it, your premiums will be too high.
Many student insurers provide additional cover options for other eventualities. This cover can include lost keys, or even tuition fees and rent protection. You could also buy tenants' liability cover to protect your landlord's property if you accidentally cause damage to its fixtures and fittings.
Gadget insurance covers your gadgets against theft, loss, accidental and liquid damage. Not all insurers cover all these risks automatically, so it's worth double-checking.
When should I buy students contents insurance?
You should buy your contents insurance policy as early as possible once you know where you'll be living, so it can cover you from the day you move in to the day you move out.
What does students content insurance cover?
This depends on which insurance provider you choose but most policies will cover you for any damage or theft of your personal belongings that takes place within your accommodation. Items typically included are:
Gadgets (e.g. smartphones, laptops, watches)

Furniture

Clothes

Books (including your Uni textbooks)

Cash
Are my expensive items covered by students contents insurance
Most content insurance policies have limits on how much you can claim for each item, but this can be avoided if you mention your most valuable items separately. This includes things like:
Expensive gadgets like some phones, cameras and computing equipment

TVs

Musical instruments

Sporting equipment
Standard contents insurance will replace items affected by fire, flood and theft. You can also buy add-ons to protect against loss or accidental damage.
What doesn't students' contents insurance cover?
Each provider will have their own set of exclusions but there are some that most providers will have in common.
Insurance providers will usually set a limit on how much they will pay out for a single item. This means that you may not get cover for the full value of some of your expensive possessions. Most insurers, however, will offer you separate cover for expensive items if you declare them when applying for your policy.
Insurance providers will also typically limit how long your belongings will be covered when you can leave your accommodation unoccupied. Usually this is set at 30 days.
Other common exclusions include accidental damage or theft outside the home, although providers may offer cover for these instances as an optional extra in exchange for increased premiums.
How much does students contents insurance cost?
The cost of your contents insurance policy will depend factors including:
Your location: If you're living in an area with high crime rates, this will likely make your premiums more expensive due to the higher associated risk

Your property: It can make a difference whether you live in a house or flat, as each comes with different risks 

The cost of your belongings: More expensive items will usually cost more to insure – and keep an eye out for single item value limits if you have any particularly valuable items
How can I save money on student contents insurance?
If you're a student then saving money will be quite high on your priority list – consider the following ways to reduce your contents insurance premiums:
Home security: Ensuring your room/flat is always locked is the minimum, but extra security like padlocks and safes may be able to bring down your insurance costs

Value accurately: Try to value your belongings as accurately as possible to ensure you get the right amount of cover – over-estimate and you'll pay over the odds, but under-estimate and you might not be able to claim for the total cost

Pay annually: If you can afford to pay your entire annual premiums in one go, you might end up paying less overall than if you were to spread the cost over 12 months

Volunteer a higher excess: Likewise if you can afford to increase your voluntary excess payment, it shows insurers you're less likely to make a small claim as it wouldn't be worth the cost. Just be sure it's an amount you can afford to pay if you do need to claim
Do students need buildings insurance?
Buildings insurance isn't necessary for students renting accommodation. Your landlord or university are responsible for what happens to the building - not the students - so they will be in charge of taking out and paying for buildings insurance.
How do I claim on my student contents insurance?
Before anything happens you should be prepared. If you make any big purchases or have any new items, you should keep some evidence of how much you paid for them to show your insurance provider if anything happens to them. You should either keep the receipt somewhere safe or take a photograph of it as well as the item in its original, undamaged state.
If anything happens to your belongings that is covered by your insurance policy, the first thing you should do is collect evidence. When you contact your provider to make a claim, they'll want evidence of any damage or loss. You should photograph or video any damaged items or, if your belongings have been stolen, you should have a police report.
Once you have all of your evidence, you can contact your insurer. You will have a limited time to do this after the event, so keep this in mind. Your insurer will instruct you on what evidence they need to assess your claim and how to send it to them. After that, they will either approve or deny your claim. Any pay-out you're then entitled to will be sent to the account you gave details of when you applied for your policy.
Compare student contents insurance quotes
Comparing renters insurance quotes with MoneySuperMarket is a quick and easy way for students to find affordable cover for personal belongings. Just tell us about yourself, the items you want to protect, and the type of cover you need, and we'll search the market for deals that meet your requirements. 
You'll be able to compare policies by the overall cost, the cover you'll get and the excess you'll need to pay to make a claim. Once you've found the one you want, just click through to the provider to finalise your purchase.