How to plan the perfect self-driving holiday
Who doesn't love the freedom of the open road?
Fancy something a little different to a package holiday this year? Chris Moore, from camping trailer specialist
With a self-driving holiday, you'll be able to go where you want, when you want, without having to worry about rushing to catch a flight or train. A driving holiday is also a great option if you really want to take in the scenery as you travel, and it's certainly much more comfortable than sitting on a cramped commercial flight for hours.
But, a self-drive holiday offers more than just a comfortable ride and spectacular views: it can also be much more economical than flying. Even after you factor in the cost of fuel, ferry transport, and any tolls you encounter, it's still likely to be much cheaper than catching a plane — especially if you'll be travelling as a group or family.
Plus, there's no need to worry about exceeding the baggage allowance, and you won't face expensive extra charges for bringing along your bike or other bulky equipment.
If all this sounds like your kind of holiday, read on to learn my essential rules for planning the perfect self-driving getaway.
Pick a destination
The first thing to consider when planning your trip is where you'd like to visit.
If you're feeling adventurous and want to see as many places as possible during your trip, you could plan to visit multiple locations and stay in several different hotels across the course of your holiday.
Because you'll be driving, you won't need to choose destinations that are reasonably close to an airport, so it's great if you fancy getting off the beaten track, or just want to avoid touristy hotspots in favour of quieter destinations.
Or, if you really want to experience the great outdoors, you could opt for a camping trip: the south of France, Belgium and the Netherlands are all brilliant choices for camping holidays, with plenty of sites to choose from, and lots of beautiful scenic routes to enjoy as you drive to your destination.
Plus, you can reach all three countries by ferry or the Eurotunnel, so it's easy to bring your own car with you.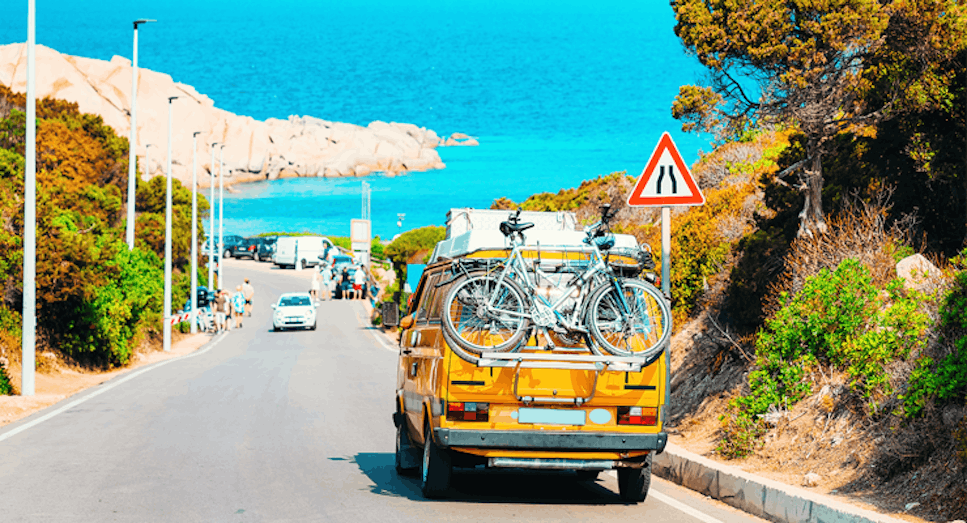 Plan your route
Next, you'll need to plan every aspect of your journey in detail.
Map out your entire route from start to finish, marking out petrol stations, tolls, and rest points.
Satnavs are helpful, but don't be completely reliant on yours for directions, as you could lose reception during remote stretches of your journey. Be sure to bring detailed road atlases with you as a backup, so you'll have something to fall back on should your tech fail you.
Get your car ready
Once your route is planned out, it's time to get your car ready for the journey.
You're likely to cover hundreds of miles over the course of your trip, so it's wise to get your car serviced before you set off: after all, it's better to spend a little extra money at this stage than to break down on a foreign motorway.
Even with a service under your belt, breakdown cover that extends to your chosen itinerary is a sensible purchase.
If you're travelling with a full car, you might want to add some extra luggage space with a box trailer or roof rack. If some serious shopping is on the cards for your break, don't forget to leave yourself a generous amount of space in your boot, trailer, or roof rack, so you'll have somewhere to stow your new purchases on the journey home.
Make sure your car insurance is valid for the destinations you have chosen (including the countries you pass through en route). Some policies include European cover as standard, at the same level as in the UK - so if you have a comprehensive policy, you'll still have comprehensive protection on the continent.
Others, however, only provide third party cover in Europe unless you pay extra, so check your policy documents or give your insurer a ring and decide what you want to do.
Either way, check how many days' cover you have - it will normally be limited to 30, 60 or 90 days per year, perhaps with another limit for each separate trip.
Make sure you have all the right documentation
When driving in certain European countries, you'll need to bring some extra documentation along with you.
For example, when driving in major French cities such as Paris, Lille, Grenoble, and Lyon, you'll need to display a sticker known as a Vignette Crit-Air on your windscreen. This is a legal requirement for all vehicles in these areas, as it displays your car's emissions rating: you can apply for one on the government portal. Other countries may have their own required documents, so be sure to do your homework and find out what you need to bring before you set off.
If your driving holiday will take you beyond the boundaries of the EU, you might also need to apply for a Carnet de Passage en Douane.
This is a document that will let you drive into a country that normally requires a deposit to be paid on imports, and you'll need one in order to drive in certain countries in Asia, Africa, Australia, and the Americas. To learn more or apply for a Carnet de Passage, visit the CPD website.
Do some research into the laws in your destination
Driving in a foreign country can be surprisingly different to driving in the UK, so you should brush up on the rules of the road in the country you'll be holidaying in.
Street signs, drink driving laws and speed limits are all likely to be different from the rules you're used to in the UK, so do some research. If you'll be driving through several countries on the way to your destination, don't forget to check the different road laws for each one.
If it seems like a lot to take in, stop before you cross the border and take a few minutes to revise the rules.