Staycations: Your guide to a UK holiday
Staycations are a fun and convenient way to enjoy a holiday and see more of the United Kingdom – here's our guide to building the best staycation you can
Do I need travel insurance for a staycation?
Even if you're staying in the UK for your holiday, a travel insurance policy can still provide a safety net should things go wrong. You might not need cover for medical treatment thanks to the NHS, but staycation insurance will offer protection for:
Your transport and accommodation:

You'll be covered for the cost of alternative transport or accommodation if your bookings are cancelled

Cancellation or curtailment:

If you need to cancel your trip as a result of an illness, injury, redundancy, or bereavement, you'll be able to claim for the cost of your bookings

Personal liability:

Personal liability protection offers cover for any legal costs you might face because of you injuring someone or damaging their belongings

If your belongings aren't already covered by your home contents insurance, you can cover them under your travel insurance policy – usually up to a certain amount

If any of your belongings are over a certain value, you may be able to insure them as separate valuable items – though this will increase the cost of your policy

Risky activities:

You'll still need cover for risky activities such as snowboarding and skiing if you're in the UK – it'll be useful if your expensive equipment is damaged or stolen, or if you can't hit the slopes if the piste is closed

Business travel: If you're travelling for work, a standard policy might not offer coverage for things like company cash, work devices, and alternative travel arrangements for staff
Other types of cover that aren't part of travel insurance that you could still benefit from include:
Contents insurance: If your home contents insurance policy includes away-from-home cover, then some of your possessions may already be protected – though you should check with your insurer first.
Car insurance: If you are driving but you aren't taking your own car, you'll still need insurance if you're driving another person's car or hiring one out.
You should also consider that if you have multi-trip cover, this is likely to cover holidays in the UK as standard.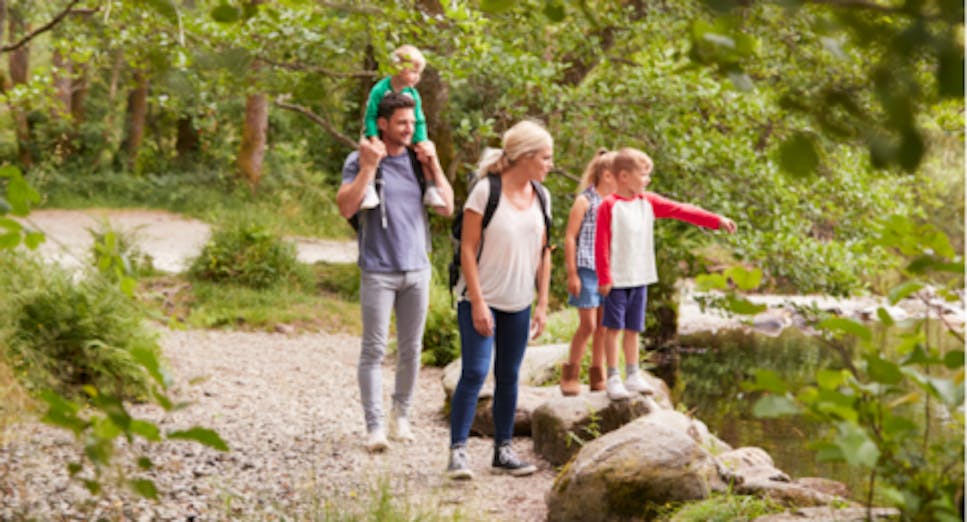 Why take a staycation?
From extreme sports like scuba diving, city adventures, and coastal breaks, the UK's got it all.
Taking a staycation can be a fantastic way to save money on your holiday, as well as immersing yourself in exciting activities on your doorstep. There are loads of things to do in the UK, and each region has its own distinctive history, culture, and natural beauty.
What should I do on a staycation?
Albeit small in size, the UK sure packs a punch when it comes to the variety of staycations on offer. Cities across the country offer holidaymakers everything from coastal breaks to mountain hikes, walking tours to fine dining. Here are some of our favourite types of staycation.
Hiking and nature holidays
There are ten national parks in England, three in Wales and two in Scotland – all providing varied but equally beautiful views of the UK's natural scenery. They're fantastic places for leisurely strolls, intense hikes, and adventurous running routes, as well as offering biking and swimming spots.
Tips:
Find a map and plan your routes in advance

Prepare for the physical demands of hiking – and take the right gear

Bring plenty of food and drink
Culture trip
The UK also boasts cities with cultural and historical significance – from the centuries-old architecture of York, Cambridge, and Bath, to the museums and galleries in London, Edinburgh, and Belfast. Spend your lunches in cafes or local green spots, and evenings in bars or restaurants.
Tips:
Prioritise what you want to see, as you might not have time for everything

Avoid eating at museums and galleries, as food can be quite pricey
Seaside holiday
Seaside holidays are a classic British pastime – tucking into fish and chips on the sea front, pushing coins into arcade machines, and taking long walks on the promenade are often the perfect way to spend a summer's day.
Tips:
Bring sun cream, bottles of water to stay hydrated, and a jacket – sea breezes in the UK are no joke

Buy beach toys like a lilo and frisbee in advance, as they'll likely cost more if you buy them at the seaside
Water sports
Throwing yourself into water sport activities are a great way to spend the day. If you're heading to the beach, you might enjoy a spot of surfing, and places like Portrush (Northern Ireland), Llangennith (Wales), and of course Cornwall (England) offer some of the best spots to catch the waves.
Tips:
Check weather reports regularly to be sure conditions are good for surfing
Remember to take out water sports insurance to protect your gear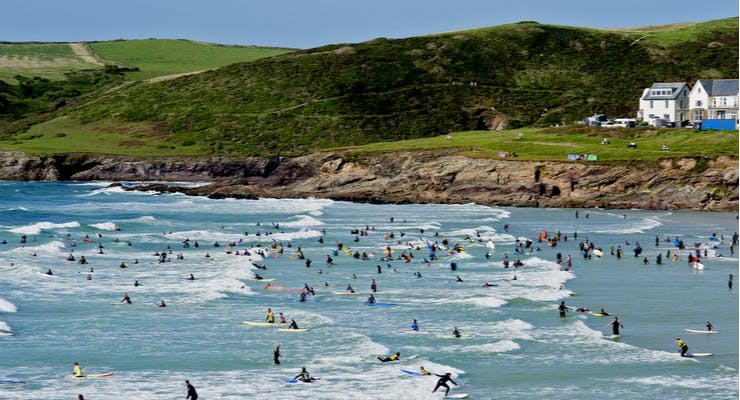 Sailing or boating
As mentioned above, the UK's waterway system is a great way to enjoy a self-contained holiday on the water. It's a unique and entertaining way to see England and Wales, and it lets you enjoy activities like fishing and canoeing.
Tips:
Pick the right crew – river boats are relatively snug spaces, so travel with people you get along with

Keep this in mind when packing – there might not be much space for large suitcases

Ask questions – you'll get a tutorial and induction before setting sail, so make sure you learn all you need to
Winter sports
With winter sports cover, you won't need to splash out on a trip to the Alps for a skiing or snowboarding holiday – places like Glenshee in Scotland and Cumbria in England offer snowy adventures when the weather permits.
Tips:
If you aren't a regular on the slopes, consider renting your equipment rather than buying it

Pick the right time to go – avoid school holidays, as it'll be more expensive and busier
Where should I stay for my staycation?
When it comes to accommodation, your options range from wild and adventurous to a home away from home, depending on which you'd prefer. Keep your comfort in mind, as well as price, to make sure you really enjoy your nights away.
Camping
Camping is a cheap and easy way to enjoy the outdoors, and there are plenty of campsites across the UK. You could pitch up a tent high amongst the mountains in the Lake District or Snowdonia, hidden away in the woods in the Forest of Dean or the Trossachs, or nestled along the coasts of Cornwall and Antrim.
Caravanning
Caravanning is a luxurious step up from camping, offering more privacy and creature comforts – and most campsites in the UK will also offer caravan sites as well.
Cottage
Renting a cottage for a while can help you feel at home in the countryside – giving you a warm place to relax after a day of exploring.
Hotel
Hotels remain the best option if you're looking for convenience. It's a low-stress choice where your basic needs are taken care of – from food and drink to laundry and housekeeping. You'll be able to find hotels across the UK, but bear in mind that they may not always be close to the places you want to visit.
Rental apartments and AirB&B
You might be able to rent an apartment for the short term, which is as good as renting out a cottage if you're in the city – plus, you'll get privacy and creature comforts.
Boat
Boats can be more than just a mode of transport – many places offer boating holidays lasting a few days to a few weeks, giving you the chance to roam the waterways of England and Wales at your leisure and let the water rock you to sleep in the evening.
How should I get to my staycation destination?
So you've picked where you're going and sleeping on your UK staycations. Now, it's time to plan your travel. Getting to your destination can be an adventure within itself, and there's plenty to consider before deciding how you're going to travel. You can prioritise cost and convenience on a coach or choose a more unique experience and travel by boat or sleeper train – here are the most common options for getting around the UK.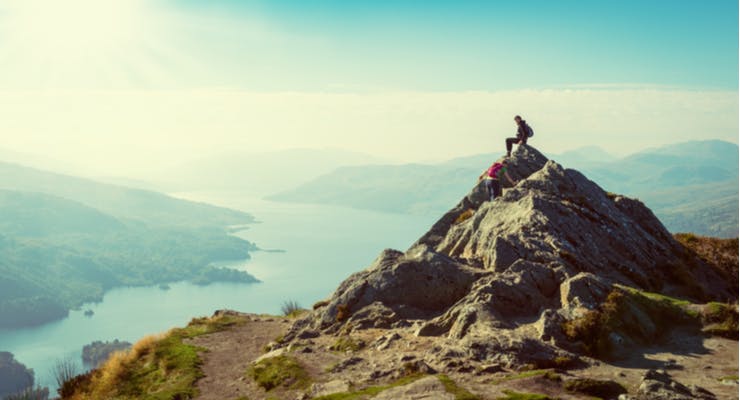 Road trip by car
Taking a road trip to your destination might be the most convenient way of travelling if you're keen on exploring at your own leisure or you have a lot of luggage to take with you.
Depending on how far you're travelling, it might not be that expensive either – you'll need to take care of fuel and car maintenance (if necessary), perhaps food and drink for the journey, and parking/overnight storage.
| Pros | Cons |
| --- | --- |
| You can be spontaneous | They take longer than trains or planes |
| You'll see more of the country at your leisure | You have more responsibility – especially if you're driving |
| You can bring as much luggage as you need – or can fit in your car | Parking and traffic can be frustrating |
| It can be a fun bonding experience | If there aren't many of you, it might work out to be more expensive than public transport |
| You can save on petrol costs if there are more of you |   |
Road trip by coach
A coach can also be a good option if you're travelling light – the main benefit is that they're often cheap, and you won't need to pay for anything more than the ticket and storage for your bags and belongings.
However, there won't be a lot of room for flexibility – if you're heading somewhere that isn't reachable by coach alone, you'll need to arrange further transport, like a taxi.
| Pros | Cons |
| --- | --- |
| Coaches can reach even small towns | Often takes longer than trains or planes |
| They're more affordable than trains, planes, and other automobiles | Might not be as comfortable |
| Some benefits of a road trip without responsibility |   |
Rail
Travelling by rail can be a better alternative to a coach. You'll generally be more comfortable, and you'll get to your destination quicker, but as you'd expect, tickets are normally more expensive. Likewise, with coaches, you may need further transport to reach places off the beaten track.
If you are heading to Scotland from further south, you might consider a sleeper train. These can be a novelty and a holiday in itself, offering a comfortable and convenient way to see the stunning Highlands.
| Pros | Cons |
| --- | --- |
| Quicker than cars and coaches | They can be relatively expensive unless you book well in advance |
| Usually more comfortable | Not a lot of flexibility |
| You can avoid traffic | Not all places are accessible by train |
| Long-distance trains offer snacks and drinks |   |
Ferry
If you're heading to Northern Ireland by coach, train, or car, you may need to jump on a ferry to make your way across the Irish Sea, with the alternative being to fly. If you take the ferry, you'll likely be able to bring your car on board and keep your things in there, but if you've travelled on coach or train, you will have to take your belongings with you on deck.
| Pros | Cons |
| --- | --- |
| A ferry can be a nice change of pace to road or rail travel | A ferry trip may take longer than a flight  |
| It may work out cheaper | There isn't always much to do on a ferry |
Canals and river boats
England and Wales both offer an extensive waterway system of canals and rivers which you can navigate by boat. It can be a fun and distinct way to explore the country, but keep in mind it can be a little pricier.
| Pros | Cons |
| --- | --- |
| Boating holidays are uniquely relaxing experiences | Limited for space – so make sure you get on with everyone |
| They offer opportunities for fishing, canoeing, and sometimes swimming | It can get very cold in the evenings |
|   | It might get boring for periods of time, so bring entertainment |
Local flights
If the distance is great enough, a local flight is a great way to travel within the UK. It's often the quickest mode of transport, but do consider your journey time to the airport, as this can affect total travel time.
| Pros | Cons |
| --- | --- |
| They're the quickest way to travel | Getting to your hotel from an airport can be time consuming |
| They can be inexpensive if you book in advance | Not always an option for remote locations |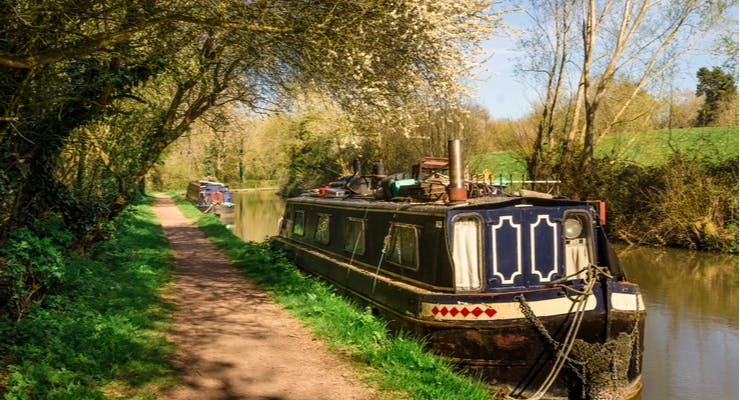 Compare travel insurance quotes
If you're going on a staycation, don't forget your travel insurance – comparing staycation cover with MoneySuperMarket is a quick and simple way to find an affordable policy. Just tell us who's travelling and what cover you need, and we'll search the market for a list of quotes tailored to your requirements.
You'll be able to compare deals by the cost, the cover you'll get, and the excess you'll need to pay to make a claim. Once you've found the one you want, just click through to the provider's website to finalise your purchase.
As with any insurance policy, keep in mind that the cheapest option isn't always the best. You should aim to take out the right amount of cover you need at the best price available – this way you won't be over- or under-insured, and you'll have peace of mind that your holiday is protected.