Travel insurance and pregnancy - what you need to know
Find out how being pregnant might affect your travel plans, especially if you're intending to fly, and what you need to know about travel insurance when you're expecting
Travel insurance when you're pregnant
Travel insurance is important for anyone going on holiday or a business trip or travelling for any other reason.
If you're pregnant, you can buy travel insurance for pregnancy in the same way as if you weren't expecting.
Insurers don't treat pregnancy as a medical condition, and in most cases you do not have to mention that you are pregnant when you apply for cover.
That means your policy will not cost extra simply because you're pregnant.
Travel insurance covers you for complications associated with pregnancy and childbirth, not for routine treatments or a normal birth. There might be some time restrictions, such as you'd only be covered for complications associated with premature birth within the first 32 weeks.
Your policy is unlikely to pay for the cost of a routine birth if you give birth overseas.
The details of cover provided by travel insurance policies will vary from insurer to insurer, so it is important to read the policy booklet for any conditions or exclusions. For example, you may be asked to provide details of any medical conditions associated with your pregnancy, such as high blood pressure or gestational diabetes.
You might also only be covered by your policy up to 38 weeks of your pregnancy. If you are expecting twins, this might be reduced to 32 weeks.
Prices for travel insurance start from as little as £4.60† for a single trip to Europe, or you could buy an annual policy from £12.25†
If you're travelling to Europe, you should carry a European Health Insurance Card (EHIC). This is not a replacement for travel insurance, but it entitles you to state-provided medical treatment across most European countries on the same terms as a local national. This scheme will continue even though the UK has now left the European Union although the name EHIC is being phased out and a new Global Health Insurance card (GHIC) will replace it – with broadly the same terms and cover.
†Based on an individual aged 30 taking single trip cover for 3 days to France. Cover starts on 14 March 2022 and ends on 17 March 2022. Annual cover from £12.25 based on an individual aged 30 with no pre-existing conditions taking annual cover for travel in Europe. Cover starts on 14 March 2025 and ends after 12 months. Price correct as of February 2022.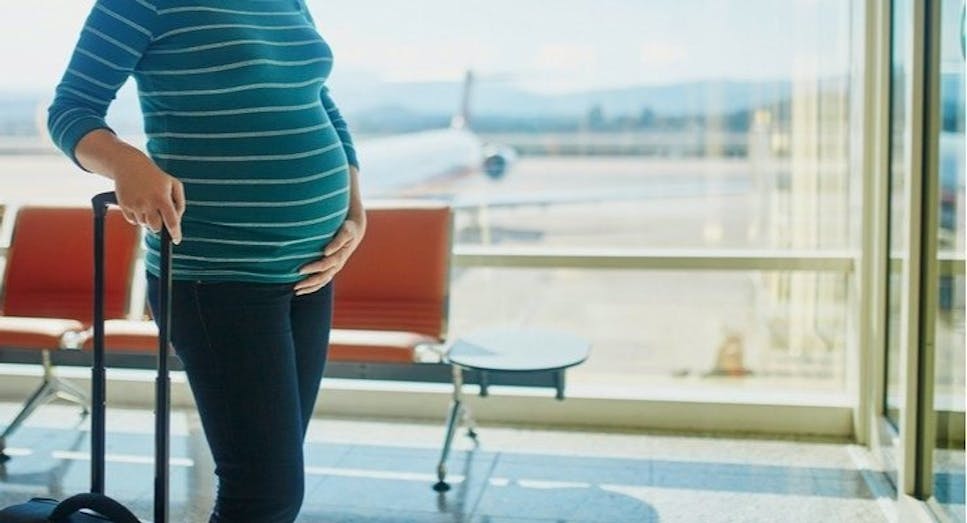 If you're flying when pregnant, check the airline's rules and requirements
Each airline has its own restrictions regarding pregnant women. Most will say you can't fly if you're past 36 or 37 weeks (if you're carrying one baby – it might be 32 weeks for twins), so it's worth calculating how many weeks you will be to term when it comes time for your return journey.
You might also be asked for a doctor's letter confirming you're fit to travel once you're past 28 weeks.
The reason for these restrictions is that, the later into your pregnancy you are, the greater the possibility that you'll go into labour prematurely – and no-one wants that to happen when you're mid-air and there's no guarantee of skilled medical help being available.
Some airlines also refuse to accommodate children under two weeks old, so again, it is important to check while you are making your arrangements. All the information should be on an airline's website.
Also, from your perspective, you probably want to be near to family, friends and your own medical professionals once the likely birth date approaches.
What is covered by travel insurance for pregnant women?
Travel insurance for pregnant women provides the same cover as any other travel insurance, including medical expenses, medical repatriation, personal liability, lost and stolen luggage and flight cancellation. Though basic cover can vary from policy to policy so check the small print in all cases.
Many policies are 'stepped' in that the cover gets more extensive if you pay a higher premium.
With travel insurance, you get what you pay for in the sense that cheaper policies tend to offer lower cover levels.
Whichever policy you choose, check the level of excess payments payable in the event of a claim (the excess is the amount you must contribute towards any claim you make).
With some policies, you pay an excess per policy (this is the better option) while with others you pay the excess for each individual named on the policy (not ideal unless the policy offers extensive cover at a highly competitive premium).
To find out more about the minimum recommended cover levels in each area, please take a look at our travel insurance guide.
When should I fly during pregnancy?
As long as you've had a straightforward pregnancy, flying shouldn't cause you any problems, but it may be that you'll want to speak to your doctor about it.
The safest time to fly is before 36 weeks, after which there's a possibility of going into labour.
However, some women prefer not to fly during the first 12 weeks due to feelings of nausea or morning sickness. Plus there is a higher risk of miscarriage during the first three months, and so some women will not want to fly.
If you want to fly after the week 28, the airline might ask for a letter from your doctor or midwife confirming the expected due date and whether you're at risk of any complications. 
Advice for travelling during pregnancy
A well-deserved break can be just what the doctor ordered during a pregnancy, but it's important to plan ahead to make sure the holiday runs smoothly and that stress levels are kept to a minimum.
Before travelling, you should consider the following:
Potential blood clots: The risk of developing blood clots (deep vein thrombosis) in the veins of the legs during a flight (or when remaining stationary on a long car journey) increases when pregnant, so it's important to regularly get up and move around as much as possible. You should aim to do so for around 15 minutes of every hour.
Vaccinations: It is best practice to avoid travelling to high risk destinations as the use of a vaccine may not be safe during pregnancy. Malaria also poses a high risk to pregnant women, so speak to your doctor if you need further advice in this area.
Is it easy to get a quote for pregnant travel insurance?
Yes, getting a pregnant travel insurance quote should only take a few minutes and you only need to fill in a few details to start the ball rolling. To start the quotes process all you need to do is enter your details on our online comparison tool.
You'll need to enter the country or countries you are travelling to, the dates you'll be travelling between, along with your date of birth and details of anyone else travelling with you.
You'll also need to disclose if you have any pre-existing medical conditions – but remember, pregnancy is not a medical condition so it doesn't make a difference to the price or to the availability of the insurance. You won't be asked to 'declare' whether or not you are pregnant.
However, if you have a medical condition associated with your pregnancy, you should mention that.
With these questions answered, you can proceed to the results page. Here you can filter results by cover level in the areas of baggage, cancellation and medical expenses and decide on the excess you wish to pay should you need to make a claim.
After doing this, all that remains is to choose a travel insurance deal best suited to your requirements at a competitive price.