Compare travel insurance for Bali
If you're looking forward to heading to the natural beauty of Bali, then make sure you pack the beachwear and sun protection – and get the right travel insurance before you set off
Do I need travel insurance for Asia?
Yes, travel insurance is essential if you're planning a trip to Asia. It will cover you financially if you're ill, have an accident, lose your baggage or fall victim to thieves – which could all work out pricy if you don't have cover in place.
Travel insurance also provides financial protection if you need to cut short or cancel your trip in an emergency. So, get it sorted early and you can relax and enjoy your holiday.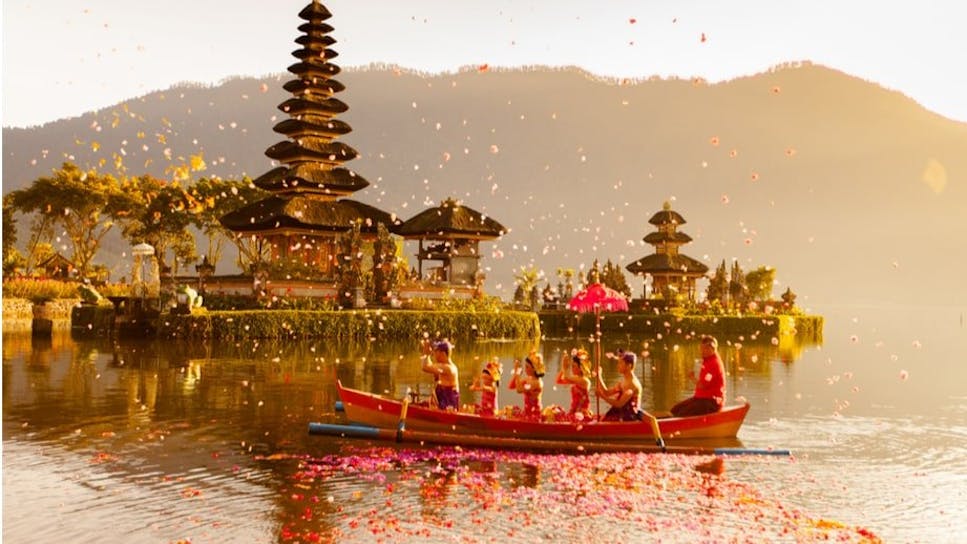 What type of travel insurance do I need for Asia?
Trips to Asia are covered by most worldwide travel insurance policies. It should fall into one of the following categories:
One holiday to Asia: If you're only taking one trip, select single-trip travel insurance and include all the countries you plan to visit. If you're backpacking, select backpackers' insurance
Several holidays through the year that include the USA, Canada or the Caribbean: You might be able to save money by selecting an annual multi-trip travel insurance policy. If you plan to visit the USA, Canada or somewhere in the Caribbean, you need to select a worldwide policy that covers these countries
Several holidays through the year that don't include the USA, Canada or the Caribbean: Again, you could save by selecting an annual multi-trip travel insurance policy. If you don't plan to visit the USA, Canada or the Caribbean, you can select a worldwide policy that excludes those countries.
What should my travel insurance policy for Asia include?
Your travel insurance policy should include the following:
Cover for medical expenses, usually up to a limit of £5m

Cover for the cost of bringing you back to the UK, otherwise known as 'repatriation'

Cover for the cancellation or curtailment of your holiday, in case you have to head home earlier than planned or an emergency prevents you from going in the first place

Delay and missed departure cover, in case events beyond your control (such as a car breakdown) cause you to miss your flight

Travel abandonment cover, for unusual circumstances where the journey to your destination becomes unfeasible

Baggage cover, in case your belongings are lost or stolen during your trip. Make sure you include cover for any particularly costly items you'll have with you, such as jewellery

Passport cover, because getting a replacement for a lost or stolen passport while abroad can be both complicated and costly

Personal liability cover, protects you in case something you do causes injury to someone else, or the loss or damage of their possessions
Asia travel insurance: exclusions and what to watch out for
Many standard travel insurance policies won't include the following:
If you have a pre-existing medical condition, or you've had one in the past for which you've received advice or treatment, you may find you're charged a higher premium. You might even have to take out a special policy for pre-existing conditions

Cover for unexpected incidents that may affect your holiday, like civil unrest, war, terrorism and natural disasters

Cover for accidents or injuries that can be linked to you drinking too much

Cover for travel to locations that the Foreign, Commonwealth & Development Office (FCDO) has said British holidaymakers should avoid

Cover for accidents or injuries that happen during sporting activities such as skiing and snowboarding. If you know you'll be doing something adventurous, check to make sure you have adventure cover in place first
How much should my travel insurance excess be?
The excess on your travel insurance is the amount you'll pay before your travel insurance company will pay out on a claim. While a higher excess might reduce the cost of your cover, you shouldn't increase it to the point that you won't be able to afford it if you make a claim.
When should my travel insurance policy start from?
Start your travel insurance policy from the day you book your trip, not from the date you're planning to travel. If you delay the start of your policy, you will not be covered if you unexpectedly need to cancel.
Health and vaccines
The main public hospital is in Denpasar and has English speaking staff, an international wing and specialists available. There are also a number of private hospitals and clinics. Medical facilities may ask you to prove up front that you have health insurance or can pay for treatment.
Regarding vaccines, Bali is a popular tourist destination used to welcoming visitors. Those travelling should make sure they are up to date with their routine boosters in the UK, such as your measles-mumps-rubella vaccine (MMR), and a tetanus booster – which will also protect you from diphtheria.
The Foreign Office says vaccines for rabies and typhoid could be considered. Travellers are advised to avoid direct contact with wild animals. Likewise, dengue fever may be present, and you should try to bring mosquito repellent.
Certain UK medications are strictly controlled in Indonesia, while others are more freely available. It's best to check in advance whether any medications you take are controlled.
Top tips for travelling to Asia
Bali is a magical island full of cultural treasures, iconic landmarks and stunning landscapes. Here are a few essential travel tips:
Visit Bali's iconic sea temple: Pay a visit toTanah Lot Temple, an ancient Hindu shrine known for its unique offshore setting and sunset backdrops. Priests at the Tirta Pabersihan fountain bless visitors by sprinkling them with the water. Cup your palms and take a sip

Take in the rice paddies: Bali is famous for its rice paddies and innovative irrigation systems that are said to date back 12 centuries. Some of the finest can be seen at Tegallalang in Ubud, where the views over the valley are even more spectacular

Spoilt for beaches: Bali is famous for its beaches and while some can get quite busy at peak season, if you hop in a cab you should be able to find your own stretch of glorious paradise

Seek out a snorkel: Those looking to snorkel for the first time will be well catered for at Padangbai, Amed, Tulamben and Nusa Lembongan island. More remote offerings include Crystal Beach on Nusa Penida island and Pasir Putih near Candidasa.

When to visit: The best time to visit Bali is during the dry season between April and October. It never gets cold in Bali, with year-round temperatures from mid-20s celsius upwards, but it does become wetter and more humid during the northern hemisphere winter

What to eat in Bali: You'll find some delicious cuisine in Bali.Try Bebek betutu, which is duck stuffed with spices, wrapped in banana leaves and coconut husks cooked in a pit of embers. Or Balinese sate, known as sate lilit and made from spiced mince pressed onto skewers

Avoid Bali belly: It's estimated around a third of tourists might have some tummy trouble in Bali, often caused by consuming contaminated food or water. Tips to avoid sticking to drinking bottled or boiled water, sanitising hands before eating and eating food cooked fresh not left in the sun for a period

Getting around: You've plenty of options. You can hire a car and even a driver to transport you. Alternatively, taxis are cheap and accessible. Those looking to be more adventurous could take to two wheels. Motorbikes are quintessential to the Bali experience and are zipping about everywhere

How to pay: Cash is largely king and you'll probably get the best rates by procuring it from a reputable outlet when you arrive. The Indonesian Rupiah is accepted at all Balinese businesses. The larger hotels and tour operators will accept foreign currency but you might lose out through the exchange rate. To keep fees down, also make sure you have the best possible credit card for travelling abroad

Avoid the crowds: As a popular tourist destination, Bali can become busy, especially in Ubud and the south. To find seclusion, head to the more chilled out north and west coasts or the central mountains