Compare travel insurance for Majorca
Here's some ways to make the most of your time in Majorca – and remember to pack travel insurance
Why do I need travel insurance for Majorca?
If you're heading to Majorca for a relaxing break in the sun, make sure you take out travel insurance when you book.
It will provide cover for you and your family if someone becomes ill or has an accident while you're away, and in case your possessions are lost or stolen during your trip.
A good travel insurance policy will also protect you in the event that your holiday has to be cut short or cancelled unexpectedly: peace of mind worth paying for.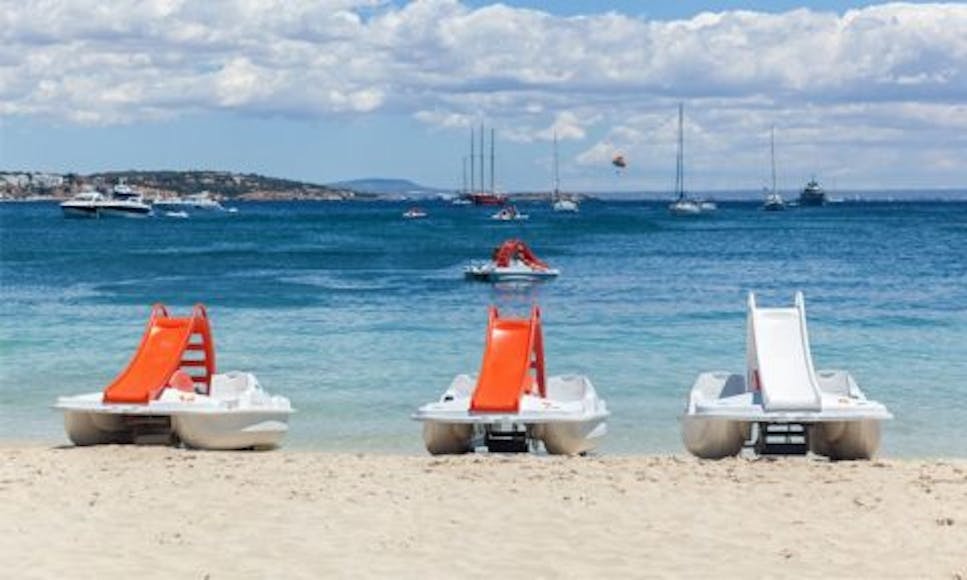 What should my travel insurance policy for Majorca include?
A good travel insurance policy for Majorca should include the following:
Cover for up to £5m worth of medical expenses.

Cover for your repatriation to the UK, in case you have to be brought back specially (for example, in an air ambulance).

Cancellation and curtailment cover.

Cover for delay and missed departures - in the event that circumstances beyond your control, such as your car breaking down, mean you don't make it to the airport on time.

Cover for travel abandonment, in the unlikely event that problems arise on your journey and you have to head home.

Cover for lost and stolen baggage.

Cover for the loss or theft of your passport. This isn't always included as standard, but it's probably worth adding as getting a replacement passport while abroad can be complicated and expensive.

Personal liability cover - in case something you do causes injury to someone else, results in the loss of their possessions or causes damage to something of theirs.
Majorca travel insurance: exclusions and what to watch out for
While travel insurance provides a vital safety net for you and your family while you're away from home, it's important to understand that it can't cover everything.
Here are the common exclusions you should expect:
Pre-existing medical conditions. This means any illness that was diagnosed, or whose symptoms you reported to your doctor, before travelling. If this affects you, then you might have to pay extra for a standard policy, or perhaps take out specialist cover.

Unexpected incidents that affect your holiday, such as terrorism, war, civil unrest and the effects of some natural disasters.

Alcohol-related accidents, injuries and illness. Whether it's you or someone else that gets hurt, if an incident occurs because you've had too much to drink your insurer will almost certainly reject any claim you make.

Travel to places that the Foreign, Commonwealth & Development Office (FCDO) has advised British tourists to avoid.

Accidents or injuries that occur during extreme or adventure sports such as diving, surfing and rock climbing - popular in some parts of Majorca. If you're planning on taking part in such activities while on holiday, make sure you are properly covered first.
Always check the excess on your travel insurance policy, too. Though it might seem tempting to opt for a higher excess in exchange for a lower premium now, you may regret it later. Your excess must be affordable, as this is the sum you will need to stump up if you have to make an insurance claim.
Finally, always start your travel insurance policy from the date you book your trip - not the date you are due to fly. Otherwise, should you need to cancel your holiday due to unforeseen circumstances, you will not be covered.
Will an EHIC/GHIC cover me in Majorca?
The Balearic Islands, to which Majorca belongs, are part of Spain – so they are in the European Union. This means you can use your European Health Insurance Card and the Global Health Insurance Card – GHIC, when on holiday in Majorca.
Even though Britain isn't part of the European Union you can use your European Health Insurance Card (EHIC) until it expires. The new Global Health Insurance Card - GHIC, which despite the name is only valid for use in the EU, replaces the EHIC and can be used by UK residents when they are on holiday in the EU for State-provided emergency healthcare.
The GHIC works under exactly the same terms and conditions as the EHIC. The GHIC is free and you can apply for a card through the NHS.
Crucially, though, this doesn't mean that all medical treatment received under the EHIC/GHIC scheme in Majorca would be free.
It is therefore quite normal for holidaymakers who get medical treatment under the EHIC/GHIC scheme to have to make financial contributions to the cost of their care.
The EHIC/GHIC is a useful safety net, but it is not a substitute for good quality travel insurance.
Top travel tips for Majorca
1. Don't miss La Seu
The Cathedral of Santa Maria of Palma, also known as La Seu, took more than 300 years to build and is among the most famous monuments in the Balearics.
One of the tallest gothic cathedrals in Europe, its central nave is more than 10 metres higher than that of Notre Dame in Paris. See it illuminated at night if you can.
2. See the Serra de Tramuntana
This is one of the most beautiful landscapes in the world, and it looks spectacular from the road.
Drive from Valldemossa to Sa Calobra and experience a car journey you will never forget.
3. Buy bottled water
While the water in Majorca is safe to use, it may taste unpleasant to drink because of its high mineral content. Be ready to buy bottled for consumption, even though tap water is fine for teeth-brushing.
4. Try your hand at haggling
Majorcan markets are well worth exploring, and - even if the thought of bartering for a better deal leaves you feeling queasy - they're the perfect place to have a go at haggling.
Traders will be well used to the bargaining process, so don't be shy!
5. Say gracias
While many of the people you encounter in Majorca will have good English, speaking as much Spanish as you can is a good idea while you're there.
Saying hello, please, thank you and goodbye en espanol will win you a considerable amount of credit with the locals.