Compare travel insurance for Egypt
Here's a few ideas on how to have a brilliant time in Egypt – and a reminder to sort out your travel insurance
Why do I need travel insurance for Egypt?
Travel insurance is essential if you're planning a holiday in Egypt.
If you fell ill, had an accident, lost your baggage or had your belongings stolen while on holiday there, your travel insurance policy would cover you. What's more, it would provide financial protection if you needed to cut short or cancel your trip in an emergency.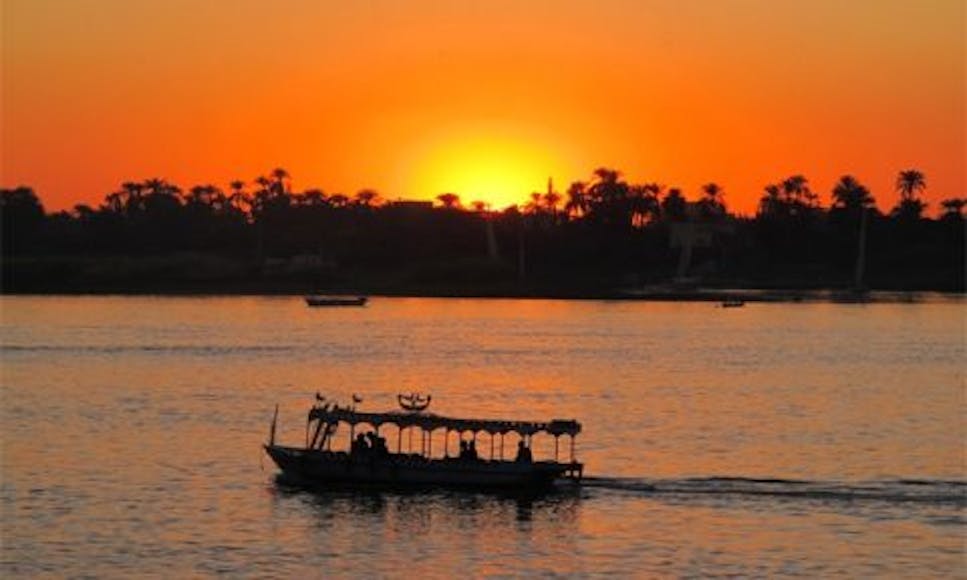 What should my travel insurance policy for Egypt include?
A good travel insurance policy for Egypt should include the following:
Cover for medical expenses, usually up to a limit of £5m.

Cover for the cost of bringing you back to the UK, or 'repatriation'.

Cover for the cancellation or curtailment of your holiday, in case you have to head home earlier than planned or an emergency prevents you from going in the first place.

Delay and missed departure cover, in case events beyond your control (such as a car breakdown) cause you to miss your flight.

Travel abandonment cover, for unusual circumstances where the journey to your destination becomes unfeasible.

Baggage cover, in case your belongings are lost or stolen during your trip. Make sure you have cover for any particularly costly items you'll have with you, such as precious jewellery.

Passport cover - because getting a replacement for a lost or stolen passport while abroad can be both complicated and costly.

Personal liability cover. This protects you in case something you do causes injury to someone else, or the loss or damage of their possessions.
Egypt travel insurance: exclusions and what to watch out for
Most travel insurance policies come with exclusions you should be aware of.
Exclusions are things your insurer will not pay out for, and usually include the following:
Pre-existing medical conditions. For example, if you have chronic high blood pressure and become unwell on holiday as a direct result, you will be unable to claim. If you have such a condition, or you've had one in the past for which you've received advice or treatment, you may be charged a higher premium. In some instances, you might have to take out a special policy.

Cover for unexpected incidents that may affect your holiday. These might include civil unrest, war, terrorism, earthquakes and other natural disasters.

Cover for accidents or injuries that can be linked to you drinking too much. If you hurt yourself or someone else after having one too many, your travel insurer will almost certainly refuse to pay out.

Cover for travel to locations that the Foreign, Commonwealth & Development Office (FCDO) has said British holidaymakers should avoid.

Cover for accidents or injuries that happen during sporting activities such as skiing and scuba diving. If you know you'll be doing something adventurous while on holiday in Egypt, check to make sure you have appropriate insurance cover in place first.
In addition, make sure you're happy with the excess payable under your travel insurance policy. While opting for a higher one might help to slightly reduce the cost of your cover this could be a false economy, leaving you financially stretched in the event you have to claim.
Finally, start your travel insurance policy from the day you book your trip - not from the date when you are planning to travel. If you delay the start of your policy, you will not be covered if you unexpectedly need to cancel your holiday to Egypt.
Is Egypt considered a part of Europe?
Possibly - but you need to check. If you are buying Europe-wide travel insurance, find out whether Egypt is included within the countries covered.
While some companies treat Egypt as though it is part of Europe because it borders the Mediterranean, other travel insurers class it as a 'worldwide' destination.
Top travel tips for Egypt
1. Don't drive
While driving at home might feel trying at times, it is slow, safe and utterly civilised in comparison with the traffic chaos you'll find in cities such as Cairo.
Egypt's roads are not for the faint hearted, and there are good reasons why most British holidaymakers choose to walk or use taxis instead of hiring a car.
2. Be sun safe
Egypt has a desert climate with temperatures climbing above 40 degrees centigrade at certain times of year. Use high factor sun cream, regularly seek out shade and wear a hat and sunglasses to help minimise the risk of sunburn.
It's also vital to make sure you stay hydrated. Tap water in Egypt is not suitable for drinking, so this means having bottled water with you at all times.
3. Have hygiene products handy
Depending on where you go in Egypt, you may find that bathroom facilities aren't as plush as those you'd expect back home.
If you're heading out of your resort or hotel, it's a good idea to take pocket tissues or toilet paper, and a bottle of hand sanitiser, with you.
4. Dress considerately
It's important to respect Egyptian culture while you are on holiday there - particularly if you are heading out of tourist areas to visit any of the country's monuments, mosques or famous historical sites.
Both men and women are advised to dress conservatively when outside of resorts, with legs and shoulders covered. Women are expected to cover their hair at religious sites, and anyone entering a mosque must always remove their shoes.
5. Have a go at haggling
Are you horrified at the thought of haggling for a cheaper deal? Then a trip to Egypt could cure you of your bartering phobia.
Stallholders and shop staff in Egypt are so used to haggling that it's the perfect place to give it a go. Not only might you save some money while you're away - you could pick up some transferrable skills that help keep more pounds in your pocket back home.