Compare travel insurance for France
Have a fabulous time in France – and remember to sort out travel insurance so you can fully kick back and enjoy your break.
Whether you're sightseeing in Paris or tasting the finest wines in Bordeaux, even the most well-thought holiday plan can still have accidents and problems. The best way to protect your holiday to France is with travel insurance that covers you for emergencies and any other issues that could arise.
Why do I need travel insurance for France?
Whether it's a summer-long trip or a short city break you're planning, don't go to France without travel insurance.
Having cover will protect you in case you are injured or become ill while you're away, and it will cover you if your belongings are lost or stolen. Also, it will provide a financial safety net if you have to cancel or cut short your holiday.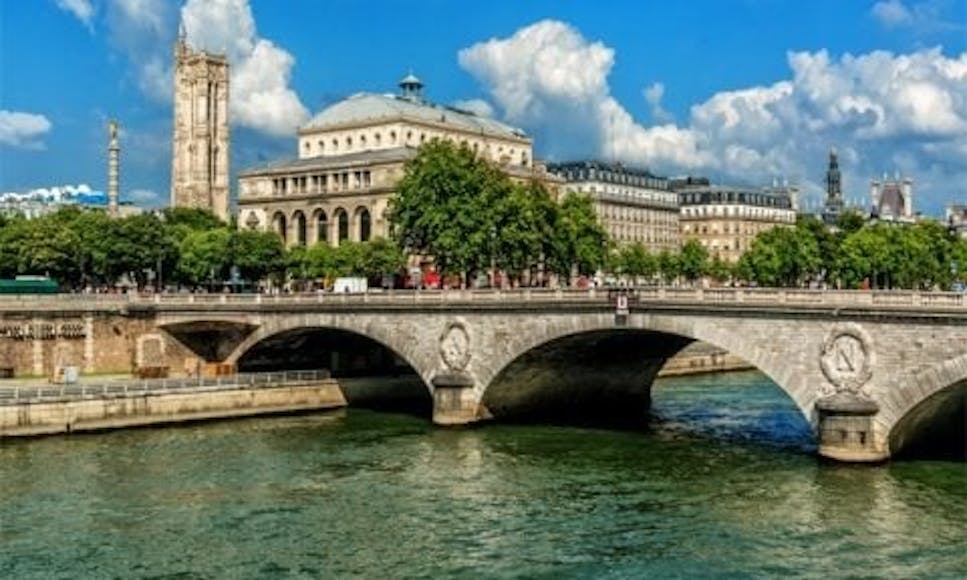 Will my GHIC cover me in France?
France is a member of the Global Health Insurance Card (GHIC) scheme, which now replaces the European Health Insurance Card (EHIC). Bear in mind that the UK is still participating in the GHIC scheme, even though it is not part of the European Union.
In a nutshell, this scheme is designed to give both EU and UK visitors to European countries access to the same state-subsidised healthcare that citizens of those countries would themselves receive.
This means that, whatever state-provided healthcare a French person would get if they fell ill, a GHIC holder would get too – but, crucially, it doesn't necessarily mean that any or all medical treatment received in France would be free.
Do I need travel insurance if I have a GHIC card?
The GHIC is a useful safety net, but it is no substitute for proper travel insurance. A GHIC will not protect you as much as comprehensive travel insurance. For example, a GHIC:
Won't cover repatriation if it's needed

Would not cover the cost of air-lifting you to hospital in an emergency

Provides no protection in the event of other emergencies, such as baggage loss or the theft of your purse or wallet.
What should my travel insurance policy for France include?
Before you go to France, taking out a good travel insurance policy can provide you with the following:
Cover for medical expenses

Cover for repatriation to the UK

Cancellation and curtailment cover, in case you can't go on your holiday or have to head home early

Cover for delayed and missed departures if circumstances beyond your control, such as a flash flood, make you miss your flight

Cover for travel abandonment, in the unlikely event that problems arise on your journey and it's too difficult to get to your destination

Cover for lost and stolen baggage

Cover for the loss or theft of your passport. Consider adding this to your policy if it isn't already included, as getting hold of a new passport while you are on holiday can be costly and stressful

Cover for personal liability in case something you do causes the loss of someone else's possessions, damage to their possessions, or causes that person an injury.
France travel insurance: exclusions and what to watch out for
All insurance policies come with exclusions, and travel insurance is no exception. It's important to be aware of the things that you'll probably be unable to claim for.
When taking out a travel insurance policy, consider exclusions such as:
Pre-existing medical conditions. This term covers any illness that was diagnosed, or whose symptoms you discussed with your doctor before travelling. If you fall into this camp, you'll either have to pay an additional premium to extend a standard policy, or you'll have to take out specialist cover

Unexpected incidents such as terrorism, war, civil unrest, or the effects of certain natural disasters that affect your holiday

Alcohol-related accidents, injuries, and illnesses. If you hurt yourself or someone else while under the influence while on holiday in France, your insurer may not pay out

Travel to destinations that the Foreign, Commonwealth & Development Office (FCDO) has advised British tourists to avoid

Accidents or injuries that occur during adventure or winter sports, such as skiing and snowboarding. If you're planning on taking part in such activities while on holiday in France, make sure you are properly covered first
Always check the excess on your travel insurance policy, too. Though it might seem tempting to opt for a higher excess in exchange for a lower premium, never set yours so high that you'd struggle to pay it in the event you needed to make a travel insurance claim.
A good time to start your policy would be from the date you book your holiday, not the date on which you're due to travel. This ensures that, if an emergency should arise in the intervening period and prevent you from going to France as planned, you will not lose all the money you've spent on your trip. 
How can I get cover for adventurous activities?
Normal travel insurance may not cover you if you are injured during adventurous activities or winter sports. Such sports may include skiing or snowboarding, which are popular tourist activities in France. You may benefit from ski insurance if you're planning on hitting the slopes.
With MoneySuperMarket, you can easily add additional cover to your travel insurance policy, including winter sports cover. Just make sure to tick the 'Winter sports cover' box when creating a new quote.
Winter sports cover should protect you with equipment cover, medical treatment, cancellations, and more.
Top travel tips for France
Travel insurance isn't the only thing you need to think about when visiting France. To make your life even easier, and to ensure you have the best time possible, we've collated five top tips for visiting this great country:
Speak French… as much as you can!
Speak as much French as you can. While many French nationals speak good English, they invariably prefer not to. Being able to ask for what you need using the local lingo will stand you in good stead for great service.
At the very least, learn to say 'Parlez-vous Anglais?' which means 'Do you speak English?' to show that you're making an effort with the language.
Use the world-class public transport
If you're planning to travel around France, why not use public transport? France's train network is one of the best in Europe. The Train a Grande Vitesse (TGV) is a rail system that provides high-speed services between cities across the country.
Know the rules of the road
You probably know that you'll need to drive on the right-hand side of the road if you take your car to France. But did you know that by law, you must carry a warning triangle in your vehicle, along with a high visibility jacket for every passenger?
If you're planning a road trip in France, do your research; make sure you understand any rules that may differ from those you are used to at home.
It is also vital to make sure your car insurance policy will cover you in France if you will be driving your own vehicle.
Eat and appreciate the amazing food
France is known as the gastronomic capital of the world – and for good reason! From Michelin-starred meals to simple, sensational bread, cheese, and wine, make a point of sampling the local delights wherever you go.
Be prepared for a different type of greeting
If you get to know some of the locals while you're on holiday, they may greet you in the traditional European style: that is by kissing you, usually once on each cheek.
Famously reserved Brits may struggle with this somewhat intimate gesture, but relax! It's the continental equivalent of a handshake.
Just be prepared to react quickly if you see someone lean in: headbutting the locals is never a good look.
How do I get travel insurance for France?
If you're booking (or have already booked) your next trip to France, getting travel insurance is the best way to protect your health, finances, and belongings should something not go to plan.
With MoneySuperMarket, you can compare the best policies from leading insurance providers. If you provide us with details about your travelling plans and some information about you, we'll pick out the best quotes for you to compare. Get protected and have a bon voyage!