Compare travel insurance for Spain
Off to sunny Spain? Sort out your travel insurance before you go, so you can kick back and enjoy your Spanish break
Do I need travel insurance for Spain?
If you're planning a holiday in Spain, you should always make sure you have travel insurance before you set off. That way, you'll be protected against many common travel problems while on your trip. For instance, travel insurance can cover you against illness, accidents, lost baggage and theft while you're on your Spanish getaway.
Travel insurance also means you'll be able to reclaim your costs if you have to cancel or cut short your trip in an emergency – so you can relax and enjoy your holiday.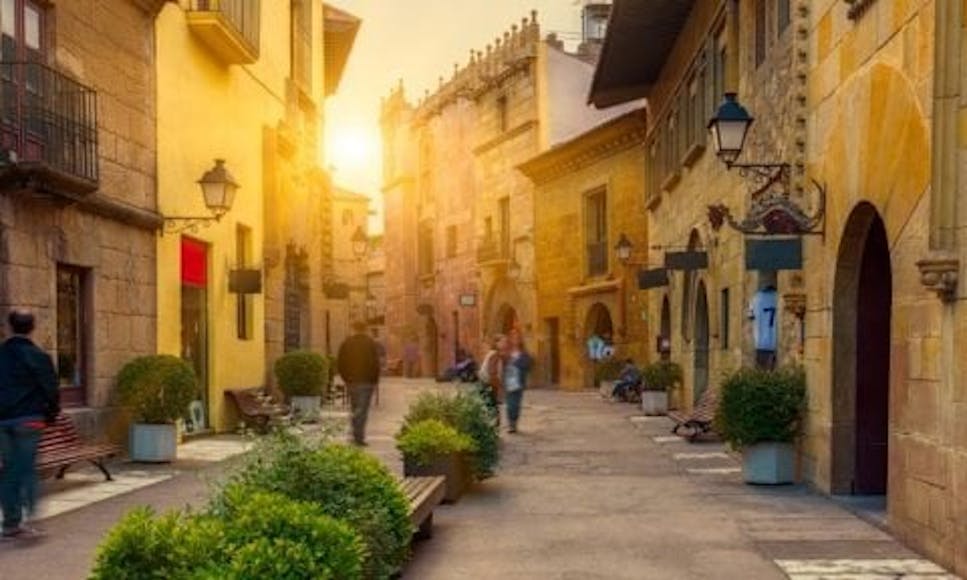 What type of travel insurance do I need for Spain?
Because Spain is an EU country, your trip will be covered by any European travel insurance policy. However, there are many different types of insurance that might suit your holiday. When you find the best travel insurance deals through MoneySuperMarket, you'll be able to tailor your insurance to your needs. Some categories to look out for:
Single-trip insurance: If you only want to cover your trip to Spain, select single-trip travel insurance, and type in Spain as your destination

Annual multi-trip insurance: If you take two or more holidays a year, it might save money to buy an insurance policy for the entire year. You can choose from a policy that only covers trips within Europe, or policies that will cover you across the world. (If you're planning to visit the USA, Canada or the Caribbean, you'll need a specific policy for these countries.)

Backpackers' insurance: If you're visiting Spain as part of a backpacking holiday, you can find great deals on backpackers' insurance, which can cover you for longer trips or if you'll be visiting several different countries
What should my Spain travel insurance include?
When you're choosing a travel insurance deal for your Spanish holiday, watch out for these important features your cover should include:
You should also keep an eye on your policy's excess – that's the amount you'll have to pay yourself towards any claim. A higher excess usually means your premium is cheaper – but make sure it's an amount you'll be able to pay.
The full details of your insurance will be in your policy document, so make sure you read it in full before you choose a travel insurance deal.
What won't be covered in my Spanish travel insurance?
There are some features that may not be included in your insurance for your trip to Spain. These are known as exclusions. Make sure know what you can and can't claim for before you make your holiday plans.
Some insurance policies might not cover you for accidents or injuries you sustain during dangerous sports, or even hiking or kicking around a football on the beach. MoneySuperMarket's insurance comparison tool allows you to quickly find out what activities will and won't be covered in any travel insurance policy. If you plan on enjoying any physical activities while on your Spanish getaway, check that they're included first

If you have a pre-existing medical condition, or you've had one in the past for which you've received advice or treatment, you may be charged a higher premium. If this is the case, it may help to take out a special policy for pre-existing conditions

Spain is a stable and peaceful country – however, you may not be covered for incidents related to civil unrest, war or terrorism, so exercise caution

If you suffer an accident or injury that can be linked to you drinking too much or using illegal drugs, insurers are likely to refuse your claim
When should my Spain insurance policy start from?
When you choose an insurance policy, make sure you're covered from the day you book your trip, not the day you actually leave. That way, you'll be covered in case you need to cancel your holiday before you set off.
Health and vaccinations
If you need medical help while you're in Spain, you should find that the healthcare facilities are around the same high quality that you'd expect in the UK. If medical staff aren't able to communicate with you in English, you might be provided with an interpreter, although this costs around €20 per hour.
Dengue fever has been reported in some areas of Spain, especially around the southern coast. It's spread by mosquitoes, but there's currently no vaccine or treatment – so it's best to avoid mosquito bites by using insect repellent.
You won't need any special shots for Spain, but it's important to make sure you're up to date with all your ordinary vaccines before you set off.
The legal status of some medicines might be different in Spain. If you're travelling with prescription medicines, it's best to check in advance to make sure they're not controlled. You should also bring a copy of your prescription with you.
Spain fact file
Travelling to Spain: Key Information

Language

Spanish, Catalan, Galician, Basque

Currency

 Euro – compare travel money

Dialling code

 +34

Plug sockets

 Plug sockets type C and F – adapter needed

Emergency services phone number

General: 112

Police: 091

Medical: 061

Vaccinations:

See the National Travel Health Network for latest information

Embassy address and contact details

Telephone: +34 917 14 63 00

FCDO travel advice

 See UK gov website for latest information
Top travel tips for Spain
Spain is full of beautiful sights and exciting things to do. Use our Spanish travel tips to help you make the most out of your holiday:
Beat the heat: Spain's hot summers are a big draw for British tourists – but they can be dangerous too. In Córdoba, the hottest city in Europe, July temperatures are often well over 40 degrees. Take sensible precautions to avoid heatstroke: use sunscreen, wear a hat if you're in direct sunlight, and always keep a bottle of water handy

Parles català? While Spanish is the country's only national language, first-time visitors might be surprised by how many other languages are spoken in Spain. If you're headed to Barcelona or the Costa Brava, expect to hear plenty of Catalan. If you're up in the north-east, you'll hear Basque – which is reckoned to be one of Europe's oldest languages. You can probably get by with just Spanish – but learning a few words of the local dialect is a fast way to make some new friends

Tipping tips: It can be hard to tell whether or not to tip in Spain – in most cities and towns it's not expected, but in some tourist resorts it's become more usual. If you appreciate the service, leave something in the region of 10% - it'll usually be appreciated

Sleepy siestas: The Spanish siesta is famous for a reason – many people here take their afternoon naps very seriously. While shops and restaurants should be open all day in big cities and tourist resorts, if you're headed into the hinterlands don't be surprised if you can't get much done around 2 pm

Night owls: The flipside of Spain's siestas are its late nights. Nightlife in Spain tends to get going much later than in the UK – dinner doesn't usually start until about 9pm, and even a relaxed meal out can last until long past midnight. If you're hitting up some local bars, don't be disappointed if they seem empty at 7pm: the night's still young

Sagrada Família: Barcelona is a beautiful city, but the city's greatest building has to be this massive Catholic basilica. Designed by Antoni Gaudí in 1883, it's still not fully completed – which means you can see a nineteenth-century marvel being built before your eyes.

Eat local: Most travellers have tried some of Spain's most famous delicacies – think paella, chorizo, or iberico ham. But the regional food in Spain is great too, and some of it's still relatively undiscovered. From the soft sobrassada sausages of Majorca to the silky black txipirones of the Basque region, there'll be something new to try wherever you're headed

Beyond the Med: The sun-soaked Mediterranean beaches of Spain draw in millions of British tourists every year, and it's not hard to see why. But more adventurous travellers might want to check out Spain's other coast. The rugged Atlantic coastline is over 700km long, and features some stunning beaches – from tiny coves or surfing paradises to broad city beaches like the Playa de la Concha. They're often cheaper and less crowded than the Med, too!

Moorish marvels: The southern parts of Spain were ruled from Morocco for centuries, and that heritage can still be seen in some of the country's architecture. Check out the Mezquita in Cordoba – now a cathedral, but built as a mosque in the eighth century – the Aljafería, a fortified Islamic palace in Zaragoza, or the Alhambra palace in Granada
Get the best price on travel insurance for Spain
Travel insurance for Spain is essential to keep your protected, but not all policies are the same. To find the cheapest Spanish travel insurance that meets all your needs, it's important to compare before you buy.
MoneySuperMarket's comparison tool asks you a few simple questions about you and your holiday: where you are going, how long for and what you want your policy to cover, and in just a couple of minutes you can compare prices from a range of leading travel insurers.