What is travel disruption insurance and what does it cover?
Travel plans can be thrown awry for many reasons, but how can travel insurance help? Our guide explains the basics of travel disruption cover and other compensation you can find if your travel plans are disrupted.
What is travel disruption insurance? 
Travel disruption insurance compensates you if your trip is delayed, disrupted, or cut unexpectedly short. It should cover the cost of any parts of your trip that are affected, such as flights, accommodation, or land transfers. 
It might not be included as standard within your travel insurance policy, but you'll usually be able to take it out on top of your cover.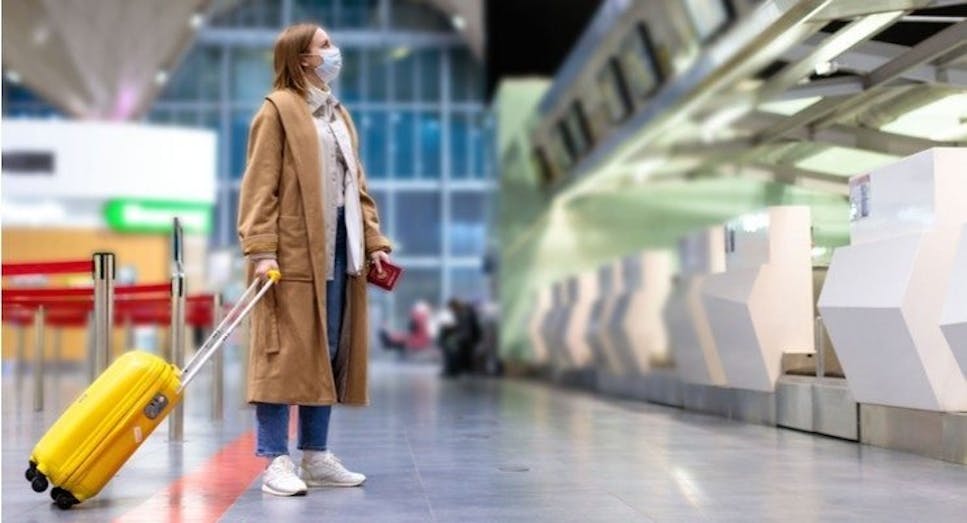 Does travel disruption insurance come as standard? 
Travel disruption cover doesn't always come as standard with travel insurance. While some providers may provide it automatically with their policies, others may require you to pay extra for it. This is why it is important that you ready the terms of your policy carefully. 
When you compare travel insurance quotes with MoneySuperMarket, you have the option to select travel disruption cover as part of your policy and we will filter your search results to show you only providers that offer this cover. 
Do I need travel disruption insurance? 
You might not need travel disruption insurance, but it depends on how you book your trip. 
Travel disruption insurance offers the financial protection you'd normally receive from a tour operator when purchasing a package holiday. If you've booked a package holiday that includes a flight, it should be ATOL protected – and if it doesn't include a flight, then it should be ABTA protected. However, when booking travel and accommodation separately, you may not get this protection – travel disruption insurance can fill the gap and provide peace of mind. 
Here are some reasons why travel disruption cover may or may nor be right for you: 
Pros:  
Will cover transport disruptions outside of flights 

Offers cancellation cover if disruption forces you to cancel activities or accommodation 

Some providers offer cover for extreme weather and natural disasters, for which airlines aren't required to offer compensation 

If you are left stranded by disruption, your insurance can cover emergency accommodation and repatriation 
Cons: 
Doesn't cover delays caused by your airline or tour operator 

Policies with disruption cover may cost more than basic policies 

The types of disruption you're covered for my vary between providers and policies 

May not cover disruptions that are predicted to happen more than two weeks before you travel 
What is covered by travel disruption? 
The disruption must be caused by an event outside of your control, of which you are not already aware when you book your holiday. It must also affect your plans through missed departures, delays, or being forced to abandon, cut short, or even extend your trip because you can't get home. Examples include: 
Industrial action 

Supplier failure 

Government foreign office instructions 

Poor weather conditions 

Airspace closure 

Closure of travel routes: road, rail, or air space 

Mechanical breakdown 
You should always check your travel insurance policy for exclusions. For example, disruptions caused by poor weather may not be included as standard, with some policies excluding events put down as 'Acts of God'. 
What will travel disruption cover provide? 
Different policies for travel disruption provide different levels of cover. If your travel plans are disrupted, your insurer may offer alternative means of transport or accommodation. The exception to this would be for disruptions relating to your airline. Issues such as delayed or cancelled flights are typically the responsibility of your airline to resolve. Travel insurance, in these cases, would only cover you if you are left without a flight for more than 24 hours. 
If you have to make your own travel arrangements, your travel insurance may refund you a certain amount. It's important to keep your receipts to prove what you have spent including for items such as emergency accommodation, food, and phone bills. You may not be able to claim back these costs otherwise. 
Your travel insurance can also cover you if you are forced to cancel booked accommodation or activities because of the disruption. 
Are airline strikes covered by travel disruption insurance? 
Travel insurance may cover airline strikes but only in specific circumstances and it usually won't cover any refunds or accommodations that are the responsibility of the airline.  
If your flight is disrupted on short notice (less than two weeks before your flight) and you are delayed by more than 24 hours, your travel insurance can cover certain expenses like cancellation fees for accommodation or activities that you booked. However, it will not cover the cost of the flight itself, and overnight accommodation in the event that you experience an overnight delay is the responsibility of the airline to provider. 
Not all travel insurance providers will cover airline strikes. Some may not offer any type of cover at all if you are delayed or have to cancel your holiday because of an airline strike, so it is important that you examine your policy carefully to find out what you are covered for.  
Are delays resulting from changes since Brexit covered? 
Any cover you receive from Brexit-related problems depends on your policy. If there are strikes or industrial action as a result of Brexit, you may be covered by your travel insurance. However, long queues because of passport of border control aren't covered. If you miss any important activities because of these issues, your travel insurance won't cover any cancellation costs. It is up to you to take passport control delays into consideration when planning your trip. 
Does travel disruption insurance cover Covid? 
Many travel insurance policies offer cover for Covid related cancellations or delays as standard, but different policies for travel disruption provide different levels of cover. If you're buying a new travel insurance policy, you should check with the provider what cover it provides for coronavirus-related events. 
One area insurers consistently agree on is that if you book a trip against Foreign, Commonwealth & Development Office (FCDO) advice to travel, you will not be covered. This means you won't be covered in countries that do not feature on the  Foreign, Commonwealth & Development Office (FCDO) list for exempted travel. 
However, as we have seen, this list can change in a short period, so contact your travel insurer if you have any doubts. You can also read more with our 'What you need to know' guide to travel insurance and coronavirus. 
What else can I claim for if my travel is disrupted? 
Sometimes, you may not need to claim for the cost of your whole holiday. For example, if your plane is delayed for a few hours, you won't want to cancel your entire holiday – but you'll still appreciate being looked after. 
Some travel insurance policies offer flight delay assistance by providing complimentary airport lounge access if your flight's delayed for two or more hours. To take advantage, you just need to let your insurance provider know what flight you'll be on 24 hours before your planned departure. 
Even if you don't have travel disruption cover, there are other ways you can be compensated. If your flight is delayed for more than two hours or cancelled, your airline is obligated to provide you with food and drink. This is usually provided in the form of vouchers that you can use around the airport. 
How soon you can ask for this depends on the length of your flight. For shorter flights, you can ask for these vouchers when your flight is delayed by two hours. For longer flights, however, you may need to wait as much as four hours until the airline will provide you with vouchers. 
Airlines can be negligent when it comes to these responsibilities and may not always provide you with these vouchers. In cases like these, you can claim back the cost of food and drink purchases from the airline later on. The airline is required to compensate you for these, so you need to keep your receipts to prove your purchases if you have to buy your own food and drink. 
If you are stranded in the airport overnight because of a flight delay or cancellation, your airline is also obligated to provide you with accommodation. If the hotel isn't near the airport, your airline must also cover transportation costs between the airport and your accommodation. They also must cover the cost of transportation if you are forced to return home and come back to the airport the next day. 
How do I claim compensation for travel disruption? 
If you need to claim on your travel disruption policy, you should get in touch with your airline, accommodation provider, or travel agent first. If you were booked on a European airline, flying within Europe, and your flight has been delayed or cancelled, the airline has a duty to help you under European law. 
After this, you should contact your insurance provider. They should have a number you can call 24/7 to make a claim, which can be found in your policy documents or on their website. 
Compare travel insurance 
Looking for cheaper travel insurance? We can help you find a better deal by comparing quotes in minutes from our panel of leading insurers. All you need to do is answer a few questions about you and your travel plans and we'll fetch policies that match your needs. With just a click on the policy you want, you can complete your application in minutes and get cover today for your next trip. Simple, quick, and good for your wallet!