Compare travel insurance for Asia
Your next trip to Asia should be remembered for the right reasons, so it's important you get travel insurance to protect you
Do I need travel insurance for Asia?
Yes, travel insurance is essential if you're planning a trip to Asia. It will cover you financially if you're ill, have an accident, lose your baggage or fall victim to thieves – which could all work out pricy if you don't have cover in place.
Travel insurance also provides financial protection if you need to cut short or cancel your trip in an emergency. So, get it sorted early and you can relax and enjoy your holiday.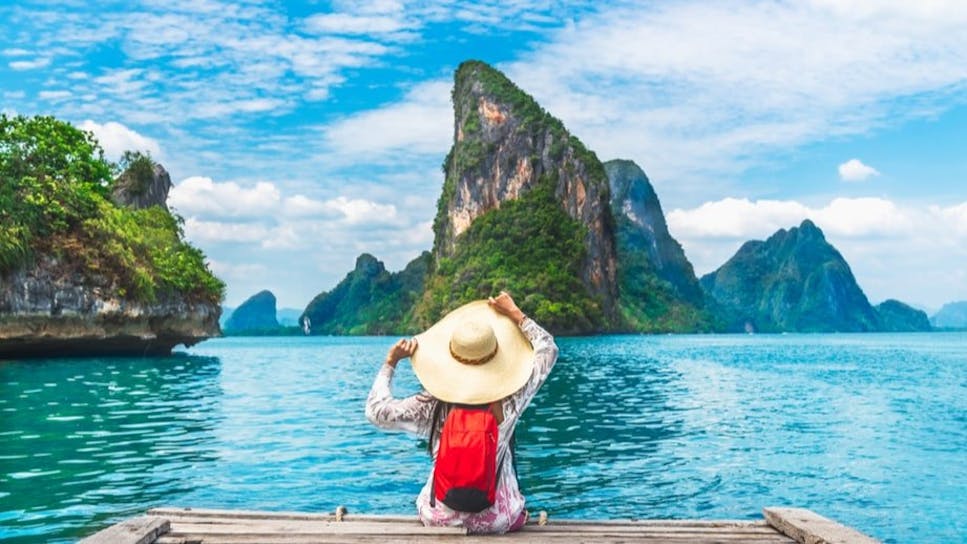 What type of travel insurance do I need for Asia?
Trips to Asia are covered by most worldwide travel insurance policies. It should fall into one of the following categories:
One holiday to Asia: If you're only taking one trip, select single-trip travel insurance and include all the countries you plan to visit. If you're backpacking, select backpackers' insurance
Several holidays through the year that include the USA, Canada or the Caribbean: You might be able to save money by selecting an annual multi-trip travel insurance policy. If you plan to visit the USA, Canada or somewhere in the Caribbean, you need to select a worldwide policy that covers these countries
Several holidays through the year that don't include the USA, Canada or the Caribbean: Again, you could save by selecting an annual multi-trip travel insurance policy. If you don't plan to visit the USA, Canada or the Caribbean, you can select a worldwide policy that excludes those countries.
What should my travel insurance policy for Asia include?
Your travel insurance policy should include the following:
Cover for medical expenses, usually up to a limit of £5m

Cover for the cost of bringing you back to the UK, otherwise known as 'repatriation'

Cover for the cancellation or curtailment of your holiday, in case you have to head home earlier than planned or an emergency prevents you from going in the first place

Delay and missed departure cover, in case events beyond your control (such as a car breakdown) cause you to miss your flight

Travel abandonment cover, for unusual circumstances where the journey to your destination becomes unfeasible

Baggage cover, in case your belongings are lost or stolen during your trip. Make sure you include cover for any particularly costly items you'll have with you, such as jewellery

Passport cover, because getting a replacement for a lost or stolen passport while abroad can be both complicated and costly

Personal liability cover, protects you in case something you do causes injury to someone else, or the loss or damage of their possessions
Asia travel insurance: exclusions and what to watch out for
Many standard travel insurance policies won't include the following:
If you have a pre-existing medical condition, or you've had one in the past for which you've received advice or treatment, you may find you're charged a higher premium. You might even have to take out a special policy for pre-existing conditions

Cover for unexpected incidents that may affect your holiday, like civil unrest, war, terrorism and natural disasters

Cover for accidents or injuries that can be linked to you drinking too much

Cover for travel to locations that the Foreign, Commonwealth & Development Office (FCDO) has said British holidaymakers should avoid

Cover for accidents or injuries that happen during sporting activities such as skiing and snowboarding. If you know you'll be doing something adventurous, check to make sure you have adventure cover in place first
When should my travel insurance policy start from?
Start your travel insurance policy from the day you book your trip, not from the date when you're planning to travel. If you delay the start of your policy, you will not be covered if you unexpectedly need to cancel.
Health and vaccines
While there are excellent private hospitals throughout Asia, the public health system may not be advanced as the UK's, especially outside the larger cities - and medical facilities will ask you to prove up front that you have health insurance or can pay for treatment.
Regarding vaccines, visitors should check the individual locations of travel to make sure they're up to date with their routine boosters in the UK. This means making sure you have your measles-mumps-rubella vaccine (MMR), and a tetanus booster – which will also protect you from diphtheria. Isolated incidents of rabies have been reported in Asia, depending on the country, and the Foreign Office advises travellers to avoid direct contact with wild animals. Likewise, dengue fever may be present, and you should try to bring mosquito repellent.
Certain UK medications are strictly controlled in Asia, while others are more freely available. It's best to check in advance whether any medications you take are controlled, while you should also be careful when buying things like Viagra or Valium on the street – it might be fake, or you might not be able to tolerate it for other reasons.
Top travel tips for Asia
Asia is by far the biggest continent in the world and offers something for everyone. From gorgeous beaches to amazing cuisine, the world's oldest cultures to fascinating architecture, the sprawling continent is truly compelling.
There is so much to see and do there that we couldn't possibly summarise it all here, but MoneySuperMarket has collected a few essential tips for Asia below:
World-class cuisine: You'll find some of the best world's food in Asia from street food to high-end cuisine – and often at rock bottom prices. Made with herbs, spices and an abundance of fresh ingredients, whether you're starting in the west with Turkey or go Korean in the Far East, you'll be spoilt for choice.   

When to visit: Asia is such a vast area that working out when to visit depends on the specific location. Things to check are average temperatures and humidity. Also, keep an eye on when any rainy seasons start and end. For example, in Thailand, the rainy season runs from July to October

Easy to move around: Asia is set-up for the first-time traveller with lots of information points wherever you're headed. And if you still need some help, they'll usually be a friendly face around to point you in the right direction.

Cultural and religious diversity: Given Asia is home to 60% of the world's population, there's no surprise there are also a wide range of customs and beliefs. It's the birthplace for Christianity, Buddhism, Hinduism and Islam and you could spend a lifetime investigating 

Drive into the Cultural Triangle: Many travellers head to Sr Lanka and if you head inland from the capital Colombo you'll find Polonnaruwa, one of the country's eight UNESCO World Heritage sites. Once a sprawling fortified city you can explore the ruins of the palace and the carved Buddhas of Gal Vihara.

Gawp at the Taj Mahal: It's one of the most-visited tourist sites in the world, so if you're planning a trip to India then the famous religious ivory-white marble mausoleum is probably a must-see. If you want to avoid it at its busiest though, get yourself on-site by daybreak.

Bug spray: Don't forget the mosquito repellent!

Drinking water: While you'll want to drink plenty to avoid dehydration, enquire whether the tap water will be kind to your tummy first. In most places, you'll probably be advised to drink bottled water.