Will travel insurance cover natural disasters?
This guide will outline who you can turn to for help or compensation in the event of a natural disaster – whether you've booked a package holiday or are travelling independently.
The recent wildfires in Greece and Italy have left a lot of British holidaymakers unnerved, with many considering cancelling their travel plans to avoid the risk. With so many service providers involved in the chaos pointing fingers to pass on responsibility, you don't always know who to turn to for help or what kinds of compensation you're entitled to.
If you're unfortunate enough to be caught up in a natural disaster, such as a wildfire, flood or earthquake, here's everything you need to know about getting home safely and claiming compensation.
Have plans to travel? Here's what you need to know
If you haven't travelled out to your holiday destination yet, there is still the possibility that a natural disaster could put a stop to your travel plans. If you're in this situation, here are a few things you should know about cancelling your holiday.
What will my travel insurance cover?
Not all travel insurance policies will cover natural disasters as standard, so it's important that you check your policy details carefully when shopping or making a claim. For those that do offer this cover, in the event of a natural disaster before your trip, you can typically claim for travel disruption and cancellations.
But even if your travel insurance policy includes cover for natural disasters and extreme weather, there are hidden terms to your policy that can prevent you from making claims.
Contact your airline or tour operator first
In some cases of ongoing natural disasters, insurance providers may require you to seek all other avenues of possible compensation or assistance before they will approve any claims. So, before making any insurance claims if you need to cancel your travel plans, you should first contact your airline or tour operator directly to find out what assistance they can offer. The same applies to any activities or accommodations you've booked.
No cancellation cover without an FCDO warning
Travel insurance will only pay out for holiday cancellations in the event of a natural disaster if the Foreign, Commonwealth & Development Office (FCDO) advise against anything except essential travel to your destination. Some providers also require the local or national authorities to say that it's unsafe to travel.
If you make the choice to cancel your holiday while your holiday provider or airline is operating as normal and FCDO's advice is unchanged, then you won't receive any cancellation cover from your insurance. This means that holiday goers are left with the tough choice of putting themselves at risk by travelling or cancelling their holiday and not receiving any compensation.
You won't be covered if the event is 'anticipated'
There's also the issue of 'anticipated' events. If extreme weather or catastrophe is forecasted before you booked your holiday or left for your trip – or it is currently happening when you are supposed to fly out – then your travel insurance may not cover you for any related problems.
Unfortunately, this puts you in a difficult situation if the event happens before you travel but the FCDO hasn't issued any travel warnings. It means that insurance providers won't pay out if you cancel the holiday but they also won't pay out if you are affected by the event while you're abroad.
If you're concerned that this may be the case for you, you should speak to your insurance provider to confirm what you are covered for.
Booked a package holiday?
It's your tour operator's responsibility to reimburse you if they cancel your travel plans. They should refund you for any parts of the holiday that you booked through them, like accommodation, activities, or flights. However, they won't compensate you for any plans you made independently. If you booked any additional activities, you will need to cancel them yourself. If you have travel insurance with cancellation cover, you may be able to claim for any cancellation fees for these activities.
Booked an independent holiday?
If you organised your holiday entirely yourself, you will be responsible for cancelling bookings with your suppliers if you are unable to travel.
According to UK and EU regulation, airlines don't need to compensate travellers for delayed or cancelled flights in 'extraordinary circumstances', which includes wildfires and volcanic eruptions. So, if flights are cancelled due to natural disasters, it's unlikely that you will receive compensation from your airline.
However, your airline may be required to assist you with rebooking your travel or refunding you, so it is always necessary to speak to your airline first before making a claim on your travel insurance. You can also claim on your travel insurance for cancelled activities and accommodation if the FCDO has advised against travelling to your holiday destination.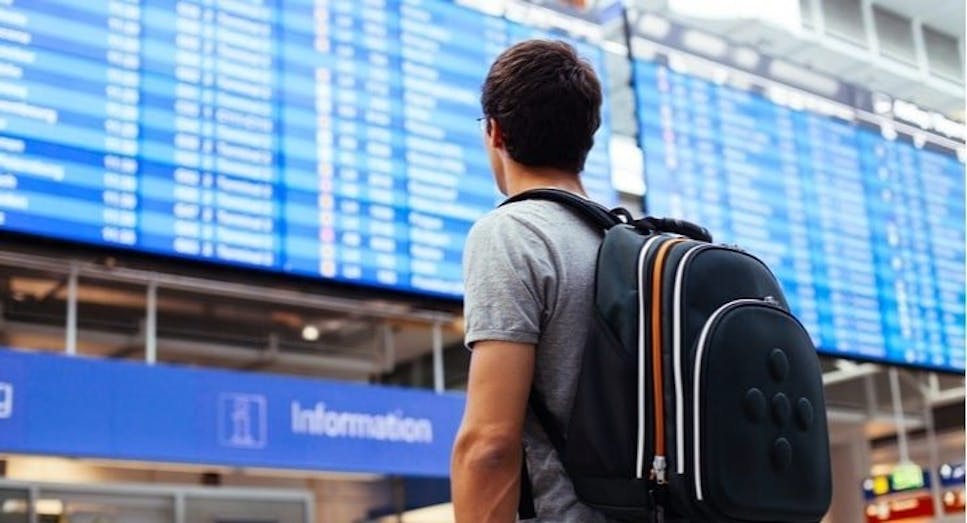 Where to find help if you're being evacuated
If you are caught in the middle of a natural disaster while you are out of the country and are being forced to evacuate, here's some information about compensation and support you may be entitled to:
What will travel insurance cover?
If you are stranded abroad because of a catastrophic event recognised by the FCDO, your travel insurance provider will usually extend your cover until you get home. So, you don't have to worry about your cover ending too soon if you are out of the country past your policy's end date or your per-trip limit if you have an annual policy.
If you are forced to evacuate, travel insurance can cover:
Emergency accommodation

Emergency travel
Baggage cover is one feature of your travel insurance policy that you should pay attention to in cases of evacuation. Sometimes there isn't time for you to pack up your belongings and you may be forced to leave the country without them. Travel insurance, in this instance, may reimburse you for your lost luggage, but there are limits and conditions to this cover.
Baggage insurance has a single-item limit and an overall cover limit, which may be less than the full value of your luggage. Cover for certain personal possessions – such as jewellery or mobile phones – needs to be added to the policy manually in the form of:
Personal possessions cover (for valuables over the single-item limit)
Travel insurance also won't cover any of your belongings while they are in the care of an airline.
Booked a package holiday?
If you need to evacuate your accommodation, your holiday provider is responsible for finding you new accommodation or emergency accommodation if necessary. Your provider will also be responsible for arranging your transport home to the UK if your travel was booked through them. If they are unable to fly you home or can't find a flight with another airline, you may need a chartered flight organised by the UK government. Check the FCDO for more information and contact your nearest British embassy if you're unable to arrange travel back to the UK.
Booked an independent holiday?
If you booked your holiday independently and have been forced to evacuate, cancellation of your holiday plans needs to be done by you. You will need to speak to each of the suppliers that you booked with to cancel your activities or reschedule them.
Travel insurance will cover you for certain cancellations if advice has been given by FCDO not to travel and you need to evacuate the country, but it likely won't cover you if you are only being locally evacuated and you are cancelling activities or accommodation you've booked elsewhere.
You will also be responsible for arranging your own emergency accommodation and return flights. The airline you booked with is not required to compensate you if a natural disaster grounds or delays your return flight. They are, however, responsible for finding you alternative travel back home if your flight home is cancelled or delayed.
The airline also must offer food and drink if there's a delay to your replacement flight and you are travelling to or from a UK airport. They may provide passengers with food vouchers to use at the airport, or they will ask you to keep the receipts for whatever necessities you purchase in the airport while your flight is delayed. With your receipts you can claim back the money you spent from the airline at a later date. If you are delayed overnight, the airline is also responsible for providing accommodation.
If your flight has been delayed by more than 24 hours, your travel insurance may cover you for cancellation.
Travel tips for natural disasters
You can't predict when a natural disaster will strike, but there are some extra precautions you can take to minimise their impact on your travel.
The first thing you should be doing when booking a holiday is checking FCDO's travel advice. The FCDO provide all sorts of useful information about each destination and up-to-date travel warnings. Travel insurance will not cover any destinations that the FCDO has advised against travelling to, so you should confirm that it's safe to travel before making any plans. It may also be useful to familiarise yourself with your air passenger rights to know what sort of travel issues are the responsibility of the airline to resolve.
Secondly, it's important that you take out travel insurance. The UK government advises that you take out appropriate travel insurance if you're travelling abroad. Even if you have booked a package holiday, a travel insurance policy can help you protect the aspects of your travel plans that aren't the responsibility of your provider. By taking out a travel insurance policy at the same time as when you book your trip, you can benefit from cancellation cover if you are forced to cancel your holiday because of a natural disaster or medical emergency.