Everything you need to know about European Health Insurance Cards
The European Health Insurance Card, or EHIC for short, is being phased out and replaced by the Global Health Insurance Card
The European Health Insurance Card is a document that allows EU citizens access to medical treatment in EU and EEA countries, either for free or at a reduced cost, during a temporary stay – as long as the medical treatment isn't the specific reason for your travels. It replaced the E111 card that was discontinued in 2005.
Even though Britain has now left the EU, your EHIC card is still valid – existing cards can run until they expire (most cards have a five-year life). Check the expiry date on your card before you travel.
As the EHIC is phased out it is being replaced by the Global Health Insurance Card (GHIC) for UK nationals living in the UK – this card is also free. Although the card is called 'global' it only actually applies to health care in the EU.
The details and terms of use of the GHIC are likely to be very similar to the EHIC, but they have yet to be outlined fully. It is possible the GHIC may not include medical treatment if it relates to a pre-existing condition, for example, which the current EHIC does cover.
You can find out more information and apply for a new EHIC/GHIC through the official government site.
Despite the benefits of the free EHIC/GHIC card it makes sense to also get a good travel insurance policy. The EHIC does not cover all costs and eventualities, so insurance can give peace of mind when travelling in Europe.
Why is it worth getting a European health insurance card – or the new GHIC?
An EHIC/GHIC will cover you if you need emergency medical treatment for a sudden illness or accident, for example.
However, this cover will only be given if you haven't travelled specifically to receive treatment from the country you're in.
The EHIC covers you until you return to the UK and in some cases it means you won't pay anything for the care received.
However, it is worth noting that not all EEA countries have a health system that is free at the point of use. In this case, EHIC holders might have to make a contribution towards their treatment, which they can then claim back when they return home.
There are also some parts of the EEA where state-provided health care may not be available, and therefore the EHIC won't provide any protection. The EHIC also won't be accepted in the following places:
The Channel Islands

The Isle of Man

Monaco

San Marino

The Vatican
For more detailed information on what the EHIC covers in each participating country, visit the GOV.UK website.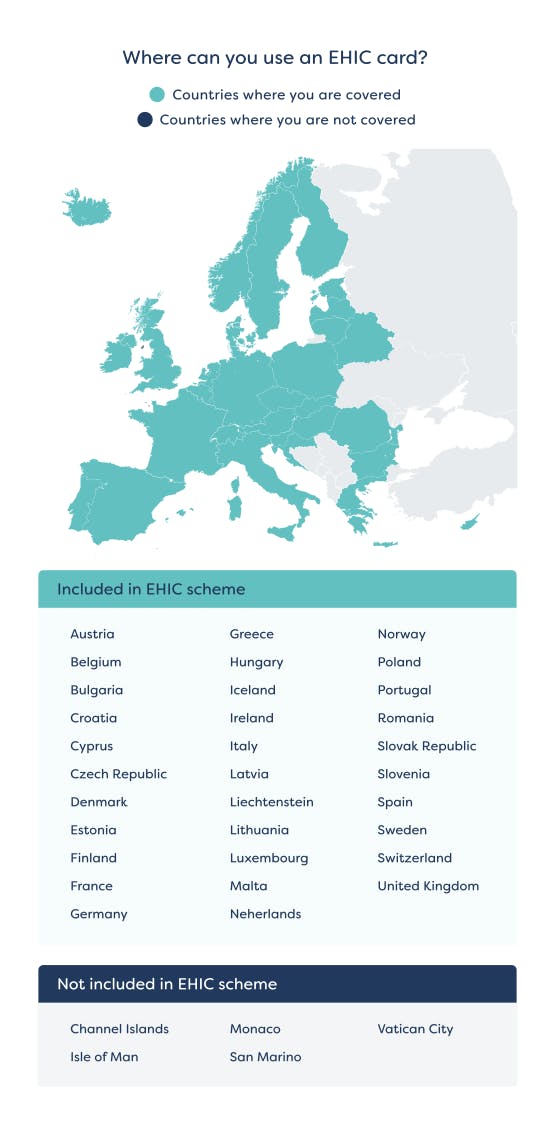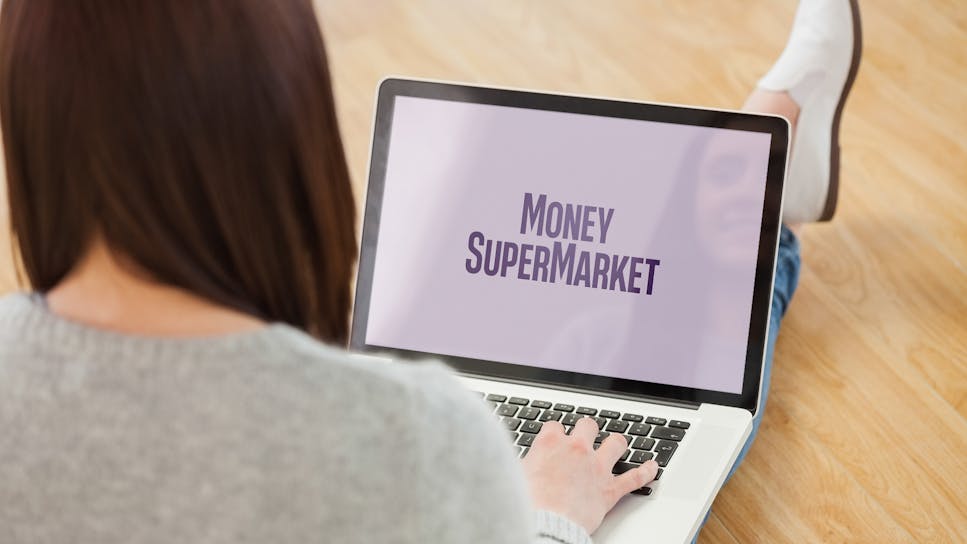 Does my child need a European health insurance card – or GHIC?
Every member of your family needs their own EHIC/GHIC – including your children. Under-16s need a parent or guardian to apply for their card, while you can also apply on behalf of your child if they are still in full-time education and under the age of 19. UK citizens would need their full name, date of birth, and NHS or National Insurance number.
If you have the necessary information, you can also apply on behalf of your partner.
Do I need travel insurance if I have a European health insurance card or GHIC?
The EHIC – and new GHIC - only helps you with the cost of emergency medical treatment – it doesn't provide cover for a number of things that travel insurance does, such as:
Theft and loss: if you lose your luggage, phone, or passport or are the victim of theft, your travel insurance may be able to help

Delay: you may be able to claim for cancellations or delays

Other costs: if you are seriously injured or ill on holiday, your coverage may include further transportation for medical treatment, as well as flights, visits from family members and extra accommodation

Rescue: travel insurance will usually cover mountain rescue or an air ambulance if you get injured/stuck while on a winter sports holiday, provided you include the winter sports option

Repatriation: travel insurance also covers the cost of bringing you back to the UK if you require urgent treatment (or your body if you pass away while overseas)
How do I apply for a European health insurance card?
You can still apply for an EHIC/GHIC online through the official NHS Business Services Authority website (it is still referred to as the EHIC). You can also apply offline by either calling the official automated service on 0300 330 1350, or downloading an application form from the NHS website.
Once they've received your application, you should receive your documents within 7 days.
If you apply online, you should be careful about how you do it because there are a number of scam websites that will try to accept payment from you in order to apply for an EHIC/GHIC on your behalf.
Applying for the card is free, provided you go through the official channels, and any website that asks for payment in return for 'reviewing' or 'fast-tracking' your application cannot actually influence this at all.
Some of these fake EHIC application sites look very convincing and often appear high up on search engine results pages. Some of them even say you can get the EHIC for free via the NHS, but they charge you for applying on your behalf.
Sadly if you are taken in by one, you're unlikely to get your money back so make sure to only use the official EHIC website if you apply for a card online.
Can I renew a European health insurance card?
An EHIC card is valid for five years. UK nationals can continue to use their EHIC until it expires – the expiry date should be at the bottom of the card. You can't then renew the card. This is because the EHIC is being replaced by the free GHIC. For new cards, and after an EHIC has expired, you can apply for the new free GHIC.
Can I have a card if I live abroad?
You should be eligible for the EHIC/GHIC if you live abroad and you are:
Receiving a UK State Pension

Receiving exportable UK benefits

Are a posted or frontier worker

Live in the EEA and are a family member of someone working in the UK
Visit the official NHS website for the European Health Insurance Card for details on how to renew if you're living abroad.
Prepared for going abroad
If you're travelling to one of the EU and EEA countries, an EHIC is invaluable if you need emergency medical treatment. However the EHIC – and new GHIC - is more of a safety net than a substitute for a good travel insurance policy. It's advisable to take out a good travel insurance policy to ensure you're covered for anything that might go wrong on your trip.