Compare travel insurance for your next holiday to the Canary Islands
Make the most of your time in the Canary Islands – and don't forget to take out a travel insurance policy so you can fully relax and enjoy your break.
The Canary Islands are a Spanish region off the coast of north-western Africa. They're known for their long hours of sunshine, blazing climate, and relaxed atmosphere, which makes them the ultimate holiday destination. The most popular island is Tenerife, a hotspot for tourists looking for a getaway.
If you're heading to Tenerife or any of the other islands in the region, travel insurance is a must. Find out about the cover you need and more about this fantastic location.
Why do I need travel insurance for the Canary Islands?
If you're jetting off to the Canaries, make sure you take out travel insurance.
This will provide cover for you and your family if someone becomes ill or has an accident while you're on holiday, and in case your possessions are lost or stolen during your trip.
Travel insurance will also protect you if your holiday has to be cut short or cancelled unexpectedly, which could otherwise see you left seriously out of pocket.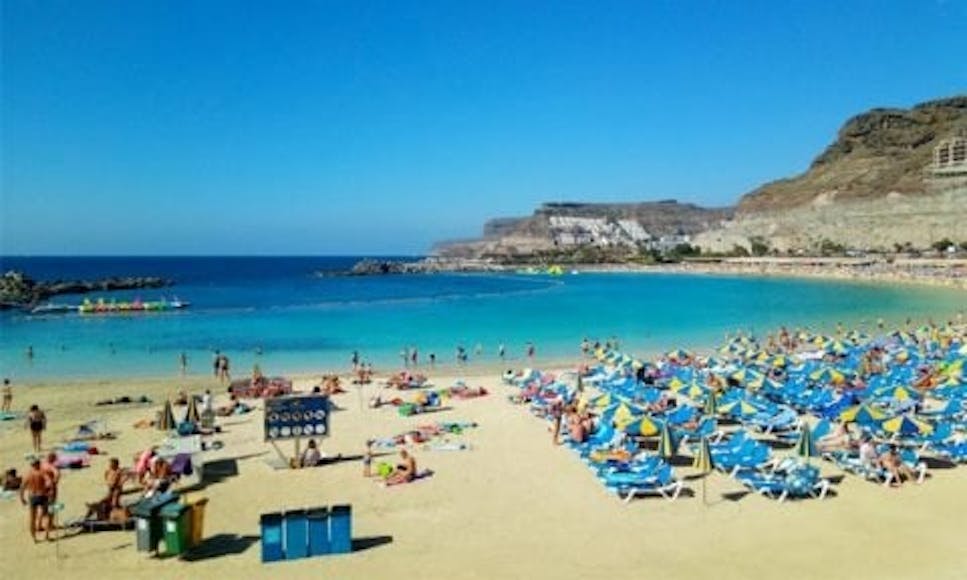 Will an EHIC/GHIC cover me in the Canary Islands?
Because the Canary Islands are part of Spain, a European Health Insurance Card (EHIC) and the new Global Health Insurance Card (GHIC) will cover you for emergency State-run healthcare while you're on holiday there.
The UK is still participating in the EHIC/GHIC scheme even though it is not part of the European Union. You can apply for the new UK GHIC through the NHS, which is free and works very similarly to the old EHIC.
The cards are a great safety net, but they don't replace good quality travel insurance, as they don't offer cover for repatriation or cancellation and so on, and you may also need to pay for some care abroad that you would get free in your own country.
What should my travel insurance policy for the Canary Islands include?
A good travel insurance policy for the Canary Islands (including Tenerife, Fuerteventura, Gran Canaria, and Lanzarote, among other islands) should include the following:
Medical cover
A good policy will cover the cost of any emergency medical treatments you need while you're abroad.
Cover for your repatriation to the UK
If an emergency causes you to return home, this will cover the expenses. This could include the cost of an air ambulance flight.
Cancellation cover
Cover for the cancellation or curtailment of your holiday in case it can no longer go ahead or it is cut short for a valid reason.
Delay cover
Cover for delayed and missed departures should be included in the event that circumstances beyond your control, such as your car breaking down, mean you miss your flight.
Cover for travel abandonment
In the unlikely event that problems arise on your journey and you have to give up trying to get to your destination, you will be compensated by your insurance provider.
Cover for lost and stolen baggage
If your possessions are lost or stolen during transit or your stay, your travel insurance should cover their value.
Cover for the loss or theft of your passport
Passport cover isn't always included as standard, but it's worth adding. Getting a replacement passport while abroad can be complicated and expensive.
Cover for personal liability
If something you do causes injury to someone else or results in loss or damage to their belongings, personal liability cover will protect you.
Canary Islands travel insurance: exclusions and things to watch out for
All insurance policies come with exclusions, and travel insurance is no exception.
Here are some of the things that you'll probably be unable to claim for under your travel insurance policy: 
Unexpected incidents
This includes incidents such as war, terrorism, civil unrest, and natural disasters that affect your holiday. While the Canary Islands are peaceful, it's worth remembering they are volcanic islands!
Alcohol-related accidents
This includes injuries and illness caused by alcohol – whether it's you or someone else that gets hurt.
Locations against UK Government advice
If you travel to places that the Foreign, Commonwealth & Development Office (FCDO) has advised British tourists to avoid, if something happens, your insurance is unlikely to pay out.
Adventure sports and activities
This includes any accidents or injuries that occur while you're engaged in extreme or adventure sports, such as diving or surfing. If you're planning on taking part in such activities while on holiday in the Canary Islands, some providers offer special winter sports and adventure sports cover that you can add to your policy.
What excess should I have on my travel insurance?
Don't forget to check the excess on your travel insurance policy, too. Though it might seem tempting to opt for a higher excess in exchange for a lower premium now, don't set it so high that it would be difficult to afford in the event you needed to claim.
When should I start my travel insurance policy for Tenerife and the Canary Islands?
While you might think it's sensible to start your travel insurance policy from the date on which you're due to travel, this could be an expensive mistake. Starting your policy from the day you book your trip will keep you covered should you need to cancel your holiday or change plans due to unforeseen circumstances.
I have a pre-existing medical condition; can I still get cover in Tenerife?
In most cases, a normal travel insurance policy will not usually cover you for pre-existing medical conditions. Instead, you can purchase travel insurance from a specialist insurance provider if you want to make sure your condition is covered while you travel. This may cost a little more but will give you the same peace of mind when you go on holiday.
You should not lie to your insurance provider about any pre-existing medical conditions when buying your policy. Failure to declare them may invalidate your policy when you come to use it.
Can I get cover for adventure sports in Tenerife?
There's no shortage of amazing activities to enjoy in Tenerife and the rest of the Canary Islands. Tourists love quad biking and paragliding. However, these activities do come with some risks. And those risks may not be covered by a normal travel insurance policy.
However, you can get additional cover for adventure sports and extreme activities when you go on holiday. Additional cover may cost a little extra, but it ensures that you will be protected should an accident happen.
Top travel tips for the Canary Islands
After you've got your travel insurance sorted out, you can start planning the amazing activities you'll get to experience on your holiday to Tenerife or one of the other Canary Islands. Check out our five top tips for visiting this amazing region:
Stay safe
While the Canary Islands are famed for their warm, bright weather, their coastal breezes can mask the intensity of the sunshine.
Always make sure you, and the rest of your party, wear high-factor sun protection while out and about, even if the conditions do not seem to warrant it.
Meanwhile, whether you're swimming at your resort or in the sea, read the signs and follow safety advice at all times. Be aware that the current around the Canary Islands can be powerful and can prove dangerous, especially for younger members of the family and those who are not strong swimmers.
Buy bottled water
While the water in the Canary Islands is safe to drink, many Brits report that it doesn't taste as good as the water back home. That's because it's largely desalinated seawater.
Be prepared to use tap water just for teeth-brushing and to buy bottled for drinking.
Experience exceptional wines
While the Canary Islands are a familiar holiday destination for many Brits, what's less well known is that this Spanish archipelago has several wine regions – and within them, some of Europe's most southerly vineyards.
Experts claim Canary Island wines are floral, light, and fresh – so why not try a glass of the local tipple with your tapas? You're on holiday after all...
Dare to drive
The Canary Islands offer a rich and varied experience for holidaymakers, with luxurious resorts that can cater to your every need as well as historical monuments and breath-taking natural scenery.
If you're keen to get off the beaten track, you could hire a car during your holiday. Just remember that you'll need to stick to the right-hand side of the road!
Beware the wrong beach…
Finally, depending on where you go in the Canary Islands, be aware that some beaches are popular with nudists.
If you're not keen on visiting a 'clothing optional' stretch of the coast, do your research before heading out! 
Looking for travel insurance for Tenerife and the Canary Islands?
If you're booking a holiday to Tenerife or the Canary Islands, you'll need comprehensive travel insurance. Fortunately, finding the best deal couldn't be easier. With MoneySuperMarket, you can compare quotes from leading insurance providers to find a policy that best fits your needs.
Use our comparison tool and tell us about who you are, where you're going, and how long you'll be on holiday. In just a couple of minutes, we'll provide you with comprehensive and affordable travel insurance policies.