Compare travel insurance for Cyprus
Enjoy the sun and take in all the wonderful sights in Cyprus. But don't forget to arrange travel insurance as soon as you book so you can relax and enjoy your break!
Are you arranging your next relaxing trip to the sunny coastal city of Paphos? Or are you planning to visit ancient monasteries and fascinating archaeological sites? Cyprus has a lot to offer, from unforgettable landscapes to great history and culture.
Taking out travel insurance will help you make the most of your holiday in this beautiful part of the world. Also, you will be able to unwind with much-needed peace of mind, safe in the knowledge that you are covered for any unexpected mishap.
Learn more about the ins and outs of travel insurance for Cyprus with MoneySuperMarket's short guide.
Why do I need travel insurance for Cyprus?
Cyprus is a favourite holiday destination for many Brits. But don't let familiarity with this Mediterranean island make you forget the need for travel insurance.
Good cover will protect you in case you become ill, have an accident, lose your belongings, or are the victim of a crime while on holiday.
In addition, travel insurance will cover you if you have to cancel or cut your trip short, preventing you from losing all the money you've spent on it.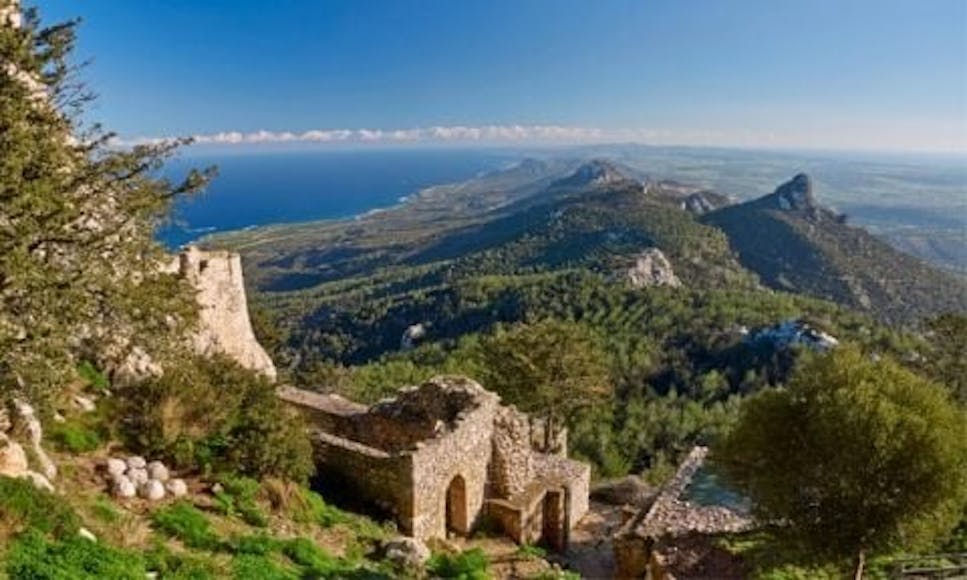 What should my travel insurance policy for Cyprus include?
A good travel insurance policy for Cyprus should include the following:
Cover for medical expenses

Cover for your repatriation to the UK, should this be necessary

Cover for cancelling or curtailing your holiday in an emergency

Delay and missed departure cover - in case events out of your control (such as extreme weather) cause you to miss your plane

Travel abandonment cover. Travel abandonment is unusual, and means you give up trying to get to your holiday destination because your journey has become impossible for some reason

Cover for lost and stolen baggage

Cover for the loss or theft of your passport. This may not come as standard with your travel insurance policy, but it's probably worth adding if necessary

Personal liability cover. This protects you in case something you do injures a third party, causes the loss of their possessions or destroys something that belongs to them
Travel insurance for Cyprus: exclusions and what to watch out for
Travel insurance is a valuable safety net. But as with all forms of insurance, there are things it simply won't cover.
Most travel insurance policies exclude the following:
Cover for illness or injury arising from a pre-existing medical condition. This means any condition that was already diagnosed, or whose symptoms were discussed with a doctor, before you took out your policy. If you're in this situation, you might have to pay more to extend your cover or take out a special policy

Cover for unexpected incidents that affect your holiday, such as terrorism or war, civil unrest, earthquakes, and other natural disasters

Cover for any accident, illness, or injury that arises as a result of intoxication. If you have too much to drink while you're on holiday and hurt yourself or someone else as a result, your travel insurer will almost certainly refuse to pay out.

Cover in any location that the Foreign, Commonwealth & Development Office (FCDO) has advised British tourists not to visit

Cover for accidents or injuries that occur during sporting activities such as skiing, scuba diving, and paragliding. Never take part in such activities without checking you have appropriate insurance cover first.
Make sure you check the excess on your travel insurance [AH8] policy before you buy it. While a higher excess might make your premium cheaper, don't forget that this is the sum you will have to shell out before your insurer will pay any claim you make. Therefore, you want it to be affordable.
Finally, don't delay the start of your travel insurance policy until the day you are due to go away. If you do, you'll have no cover in between booking your holiday and flying. If for any reason you are forced to cancel the trip you have planned, you could end up seriously out of pocket.
Will an EHIC/GHIC cover me in Cyprus?
The European Health Insurance Card (EHIC) and the UK Global Health Insurance Card (GHIC) will cover you in the Republic of Cyprus. However, it will not be accepted in Turkish-run north Cyprus.
The EHIC/GHIC scheme entitles UK residents to state-funded emergency healthcare while travelling in the European Economic Area – including the Republic of Cyprus.
The UK is still participating in this scheme even though it is not part of the European Union and EHIC cards can continue to be used until they expire. You can apply for the new UK GHIC through the NHS – which is free and works in exactly the same way as the EHIC.
EHIC and GHIC should not replace good-quality travel insurance. This is because it won't cover the costs for repatriation or cancellation and so on. What's more, you may also need to pay for some care abroad that you would get free in your own country.
Top travel tips for Cyprus
Be politically aware
While you don't need to become an expert on Cypriot history, it is important to know that there is a north and south divide on the island. The north is run by Turkey and mostly inhabited by Turkish Cypriots, whereas the south is inhabited mainly by Cypriots of Greek heritage.
Tensions between the north and south have eased significantly in recent years, with crossings between the two sides now easier compared to prior decades. However, the so-called 'green line', which is a UN buffer zone between the Republic of Cyprus and north Cyprus, is still in place.
Not only are there cultural differences between north and south Cyprus, but the two zones use different currencies. In fact, the south accepts Euros and the north uses the Turkish lira.
Stay sensible
Cyprus is a socially conservative country, mostly populated by devout followers of either Islam or the Greek Orthodox Church. Drinking too much in public is severely disapproved of. When it comes to drugs, there is a strict zero-tolerance policy.
Learn a little Greek or Turkish
Cyprus is a former British colony, so English is widely spoken. But wherever you go on holiday, it's a good idea to try and learn a few words of the local lingo. Be aware, though, that the Greek spoken in Cyprus is a dialect quite different to that spoken in Greece itself.
Consider your clothing
It's fine to dress as you usually would in most parts of Cyprus. But if you're visiting a religious monument or a place of worship, you should ensure that your legs, arms, shoulders, and chest are covered.
Think twice about driving
While motorists drive on the left-hand side of the road in Cyprus, the similarities between driving there and in the UK are otherwise limited.
The general standard of driving in Cyprus is regarded as low, while the state of many roads is considered poor by British visitors. For your own safety, you may want to avoid being your party's designated driver in Cyprus and take taxis instead.   
Compare travel insurance policies for Cyprus
Are you heading off to Cyprus for your next relaxing holiday? Comparing travel insurance policies with MoneySuperMarket is a quick and easy way to find affordable cover for your upcoming getaway.
All you need to do is provide us with a few details about you and your plans, and we'll take care of the rest. We'll scour our market and identify all the best deals for your pockets and needs. Once you've found the right policy, click through to the provider and finalise your purchase.