Can I get last minute travel insurance?
Even if you've left your insurance to the last minute, there's still time to get your holiday covered
Ideally, you should sort out travel insurance as soon as you book your holiday. That way, you're covered in case something forces you to cancel your trip before you go or if your flight's delayed. But even if getting insured has slipped your mind, don't worry. It should still be possible to get last-minute travel insurance.
In most cases, you can get insured any time before your holiday starts, including on the day you leave.
How late can I book travel insurance?
In most cases, you can still buy last-minute travel insurance right up until the day you leave. So, even if it's departure day and you're not insured, it's not too late to get cover.
However, insurers have different rules for how late you can book. Some will let you buy insurance while you're at the airport or even waiting at your gate. Others will only offer you insurance if you haven't gone through customs. Some, instead, won't insure you if you've already left home on your way to the airport.
This is because, for some insurers, your trip begins as soon as you leave your home and ends once you've returned. If your policy covers traffic or delays that cause you to miss your flight, your insurer will treat your journey to the airport as part of your holiday and will insure you as soon as you have set off.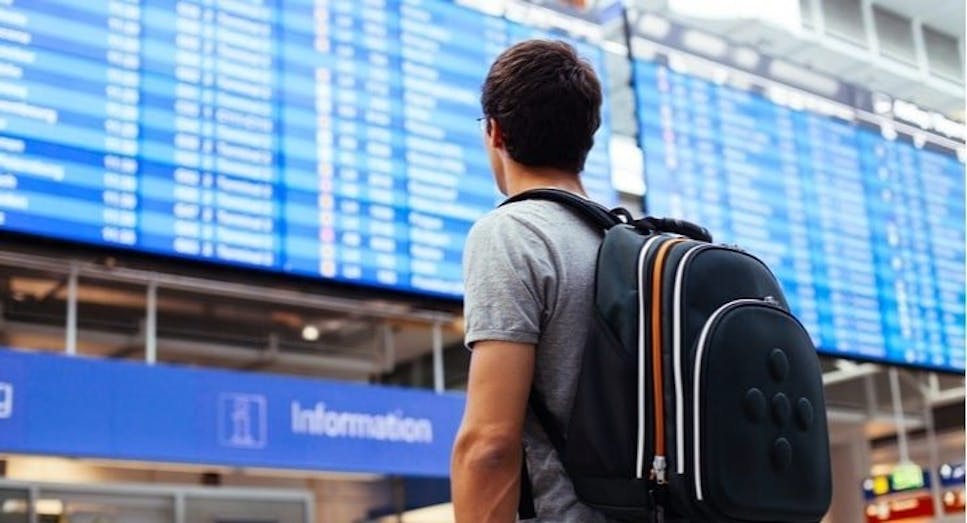 Does travel insurance start the day you buy it?
When you buy travel insurance, you can decide if you want it to start immediately or on a later date. If you want it to start on the day you buy it, you're usually insured the moment you pay for the policy. It doesn't take long to get your insurance sorted!
So, if you wake up on departure day and realise you've forgotten to get cover, there's still some time to get protected.
Can I buy travel insurance if I'm already on holiday?
In some situations, you might not remember to purchase travel insurance until you're already on your holiday. This is a trickier situation, but you might be able to find specialist post-departure travel insurance that will allow you to get cover while you're abroad.
Most insurers don't allow you to get travel insurance while abroad because of the risk of fraud. For instance, someone might lose their luggage and then buy travel insurance so they can make a claim.
If you do find a specialist insurer offering post-departure travel insurance, you'll have to pay more than if you'd booked before leaving. The process of getting insured is also likely to be more complicated, as these insurers will want to use extra checks to prevent fraud.
Where can I get last-minute travel insurance?
Even if you've left it to the last minute, it's still a good idea to compare travel insurance quotes. That way, you can make sure your insurance has enough coverage, and that it'll cover everything you've got planned for your holiday. This could include, for instance, any outdoor activities.
Looking for last-minute travel insurance to suit your plans?
The best way to get a great deal on travel insurance is to use a price comparison site like MoneySuperMarket. Our price comparison tool gives you hundreds of policies from dozens of leading brands, all at the click of a button.
Simply give us a few details about yourself and your trip, and we'll do the rest. We'll scour our market and find an array of affordable deals for you to pick from. This will allow you to enjoy your trip with well-deserved peace of mind.