Fan caves: The superfans dedicating their homes to their passion
Whether it's a tattoo, a themed wedding, or dedicating an entire room in your house to your favourite sports team or literary franchise, superfans often find creative ways to demonstrate their commitment to the cause.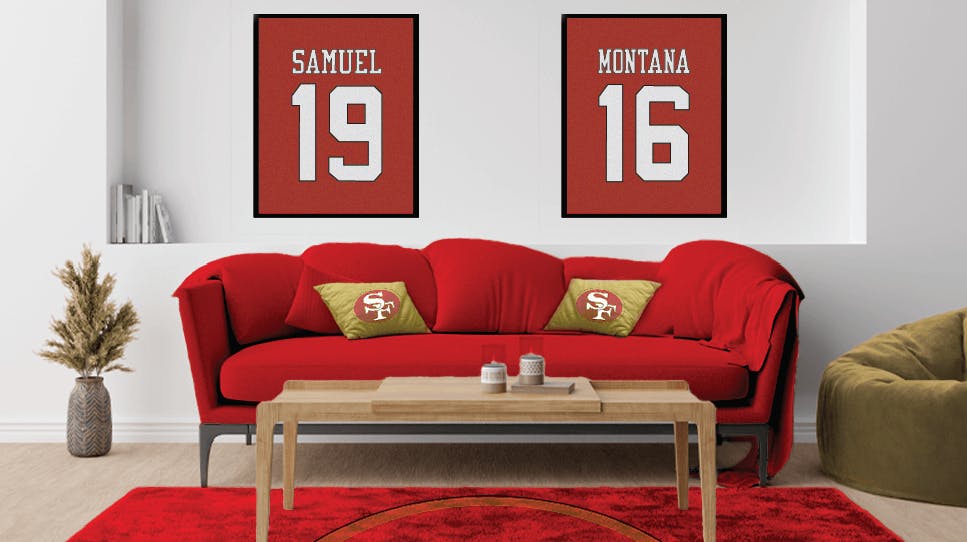 However, renovating a room or garage and furnishing it with posters, memorabilia and collectables doesn't come cheap. It can also have an impact on the cost of your home insurance. 
But which fandoms are people most likely to dedicate a space to in their homes? 
Using data from Twitter and Pinterest, MoneySuperMarket ranked the sports teams, as well as the film, literary and video game franchises, that are most likely to inspire fan caves and interior design choices.
The Premier League fanbases most likely to have a fan cave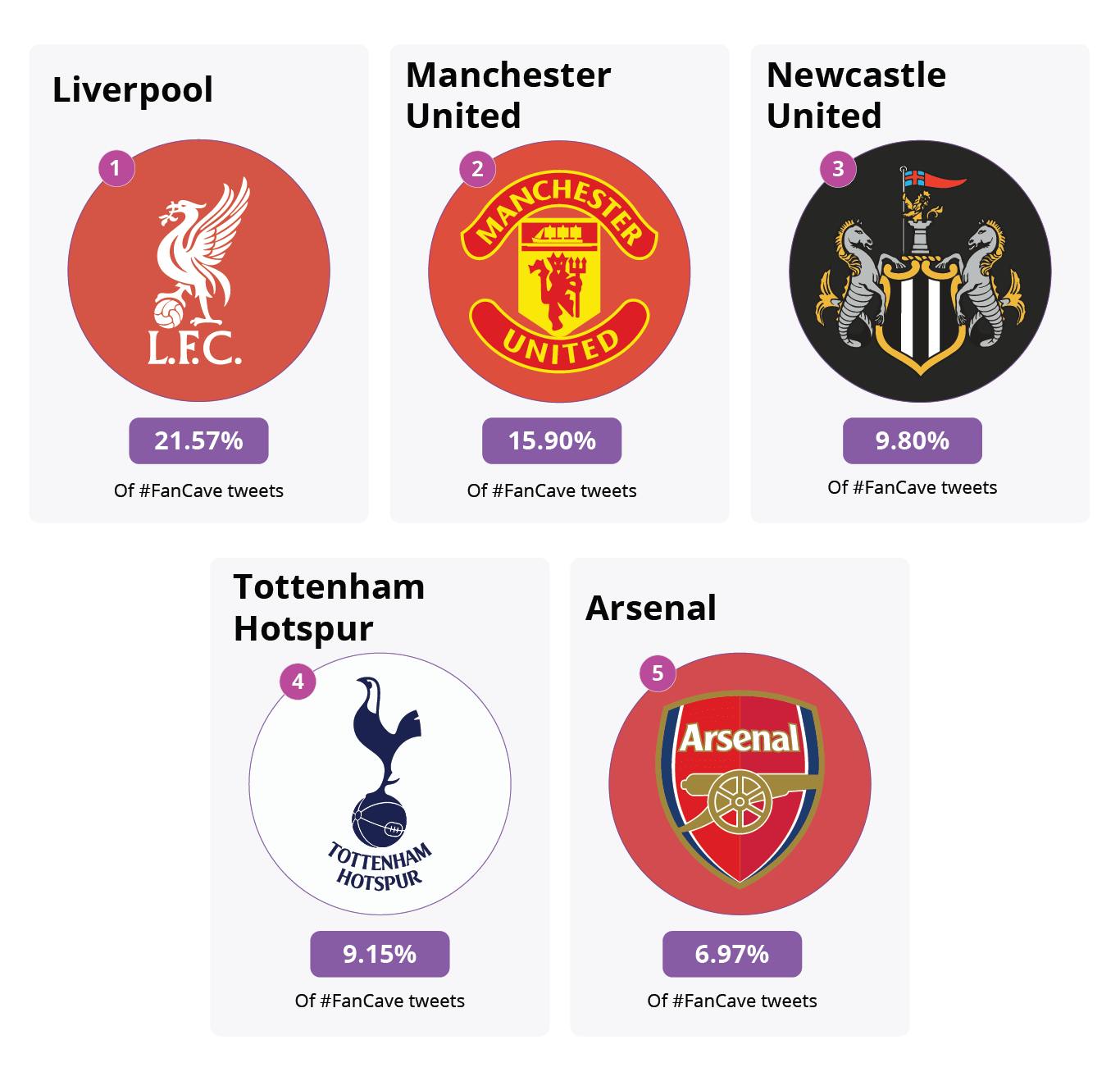 As one of the world's biggest clubs, it's no surprise that fans have been inspired to dedicate a space in their homes to Liverpool. More than a fifth (21%) of all football fan caves included in our study are owned by proud Liverpool supporters. 
A match-worn Mo Salah shirt recently sold for more than £4,000 ($4.850) at auction*, so if you're fortunate enough to have a signed or game worn jersey in your collection, you might want to tell your insurance provider. 
The single item limit on most insurance policies is typically around £1,000, meaning that you'll be unable to claim back the full value of your collectables that your insurer is unaware of in the event they're damaged or stolen. 
Historically successful and valued at £3.7 billion ($4.6 billion), Man Utd appeared in 15.9% of tweets from fan cave enthusiasts. While United fans have had a few disappointing seasons in recent years, last season saw them win their first competitive trophy since 2017. 
Newcastle United's supporters are considered among some of the most passionate football fans, and during their 91 seasons in the topflight of English football, including four League titles and six FA Cup wins, they've had plenty to shout about. 
Roughly one in ten (9.8%) Premier League fan caves were decorated in honour of The Magpies, while Spurs and Arsenal finished in fourth and fifth place accounting for 9.15% and 6.97% of all tweets respectively. 
The NFL fanbases most likely to have a fan cave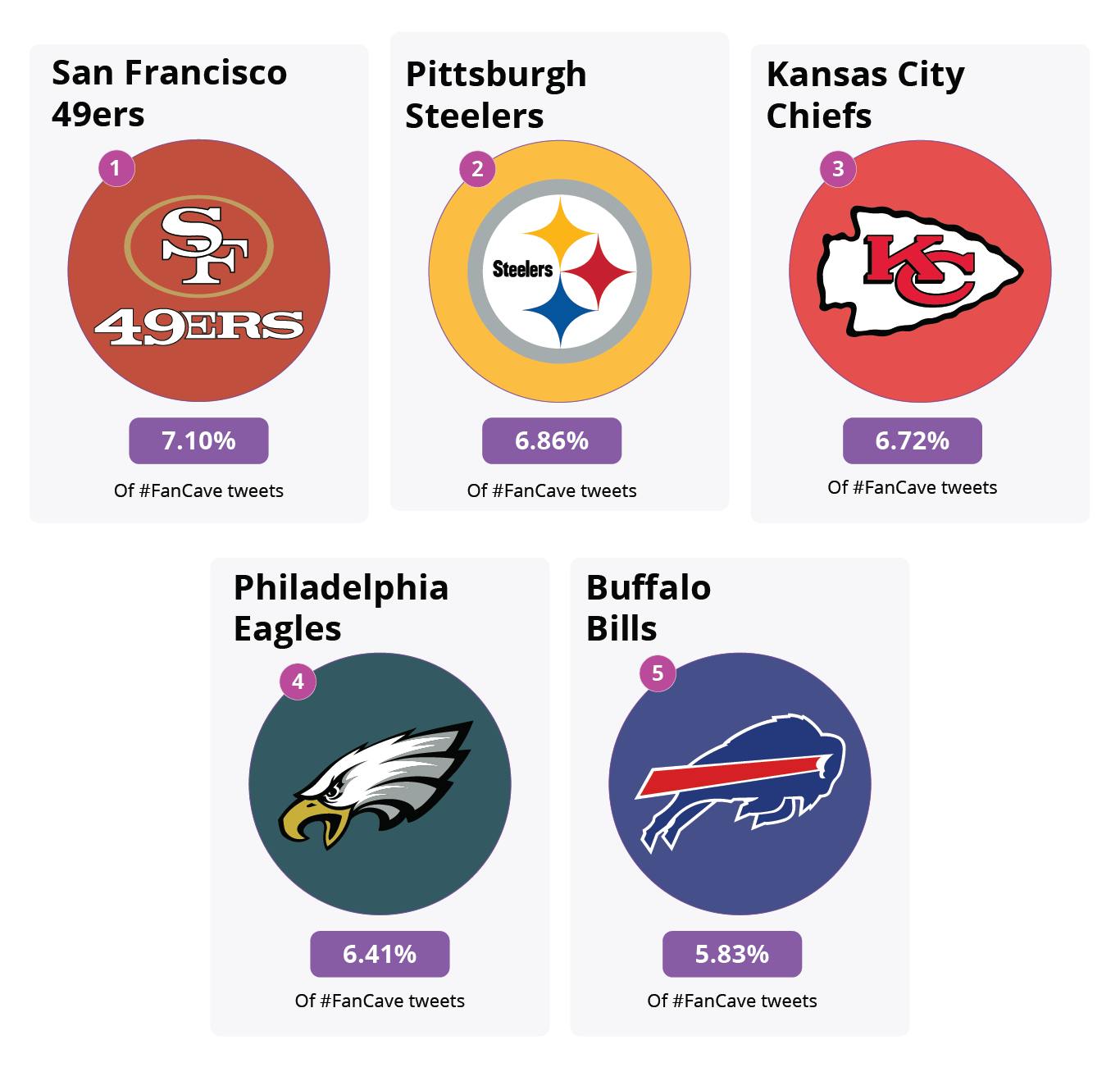 Thanks to players like Steve Young, Joe Montana and Jerry Rice, San Francisco has a long reputation as one of the NFL's coolest clubs.  
A team often shortlisted as a Super Bowl favourite, it's no wonder the Niners faithful are proud to voice their support on social media, their dedication sees them in first place with 7.1% of tweets. 
For the princely sum of £15,000 ($18,000) * collectors can add a game-worn Christian McCaffrey jersey to their collection. Just be sure you also add it to your home contents policy to ensure it's covered in the event it's damaged or stolen. 
In second place and accounting for 6.8% of tweets, support for the Pittsburgh Steelers is never hard to find. Thanks in part to their 16 consecutive winning seasons and historic Steel Curtain defence of the '70s that featured the legendary 'Mean' Joe Greene. 
With two Super Bowl wins and three conference championships since 2019, it's no surprise that the Chiefs rank towards the top of our list. 
Quarterback Patrick Mahomes already looks set to challenge Tom Brady's record of seven Super Bowl wins in ten appearances. And should he continue to win, you can expect more fans to dedicate a space to him in their homes. 
In fourth place and fresh off the back of another Super Bowl appearance were the Philadelphia Eagles with 6.41%, while the Bills Mafia finished in fifth with 5.83%. 
The NBA fanbases most likely to have a fan cave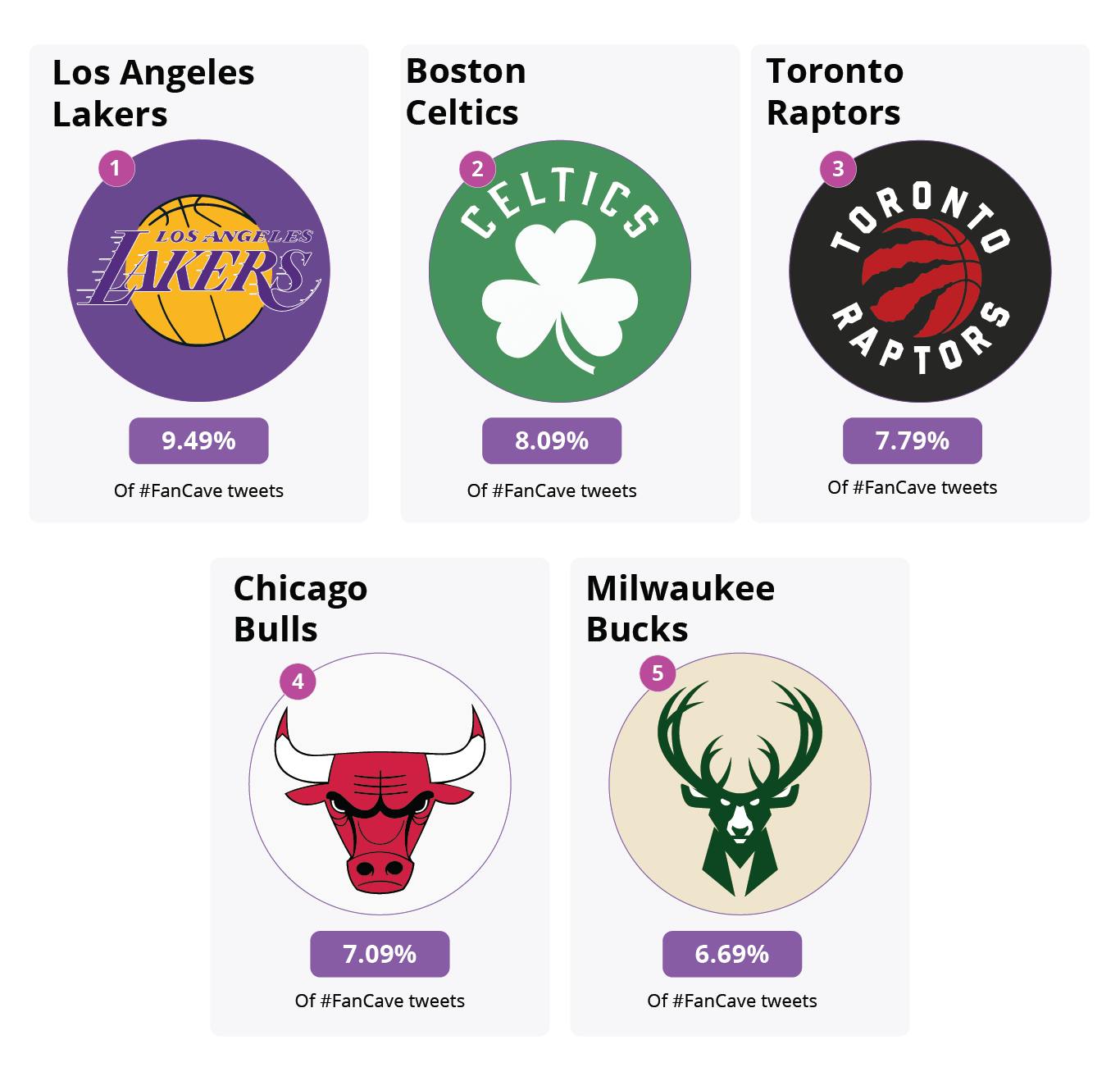 In first place and accounting for almost one in ten NBA fan caves, (9.49%) are the LA Lakers - and looking at the team's history, it's not hard to see why. 
With 26 Hall of Fame players, 17 championships, and 19 conference titles, there's been more than enough success to keep fans cheering over the years. And they've also been home to NBA mega stars including Shaquille O'Neal, Kareem Abdul-Jabbar, LeBron James, and the late great Kobe Bryant. 
A jersey worn by LeBron James in the 2023 NBA Playoffs recently sold for a staggering £52,000 ($63,000) * at auction. 
Tied with the Lakers for 17 NBA championships, the Boston Celtics came in second place with 8% of fan caves dedicated to celebrating their greatness. 
The Celtics and the Lakers are one of the NBA's oldest rivalries with the two having played a record 12 times in the NBA Finals. The rivalry was heavily publicised during the 80s thanks to an ongoing feud between Larry Bird, and the Lakers' star, Magic Johnson. 
One of the newer teams in the NBA, the Raptors were founded in 1995 as part of the league's Canadian expansion. And while they may not have the rich history of the Lakers or Celtics, the Raptors boast rapper Drake among their diehard fans. 
Rounding out the top five were the Chicago Bulls and Milwaukee Bucks with 7.09% and 6.69% respectively. 
The most passionate fans by sport
The biggest pop culture home decor inspiration  
While some fans choose collectables and memorabilia, others prefer to incorporate their passion into their home with style and decorating choices.  
Using data from Pinterest, we found the movies, TV shows, video games and books inspiring our home decor choices.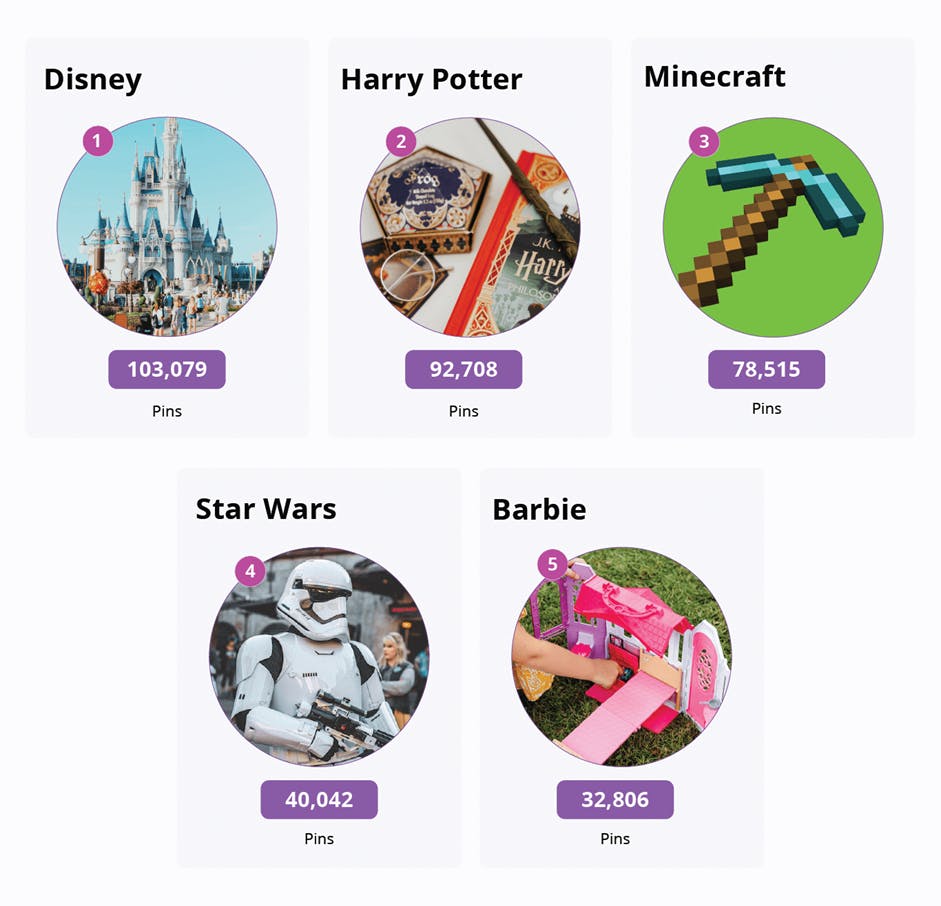 Creators of some of the most beloved movies, the Disney back catalogue is filled with some of cinema's most imaginative stories and settings.  
Whether you're planning a Disney-themed nursery or bringing some nostalgia into your bedroom, there's plenty of home decor inspiration to be found here. 
Between the best-selling book series, the multi-billion dollar film franchise, and even a theme park, Harry Potter is the definition of pop culture phenomenon. 
And with such a rich tapestry of Harry Potter content to draw from, it's no wonder fans have such an abundance of interior design ideas.  
If you're lucky enough to boast a first edition copy as part of your collection, be sure to inform your home insurance provider. Potentially worth as much as £40,000, its value will far exceed your policies single item limit, meaning that you'll be unable to make a claim should it be damaged or stolen. 
Having sold over 238 million copies, Minecraft is the best-selling video game of all time. Between its unique, playful art style and family-friendly gameplay, a Minecraft-themed fan cave would bring a spot of fun and colour into any home. 
In fourth place with more than 40,000 pins was Star Wars while Barbie finished in fifth with 32,806. 
Top 20 fandoms  
Our expert says
A fan cave can be a fun and creative way of demonstrating your passion for a team or franchise. Filling your home with valuable collectables, using themed wallpapers, and updating home décor can add up.  Remember to inform your insurer of any valuable collectables that you own. If your prized possession exceeds your single item limit you could be at risk of being underinsured on your home contents policy and, should the worst happen, unable to replace it. If you're thinking about going down the DIY route for your fan cave, you might also want to check your buildings insurance policy before getting started. While some insurers will cover you for any basic mishaps, it's unlikely that you'll be able to make a claim should you accidentally botch any larger jobs. When it comes to the more complicated tasks, it's always a good idea to hire a skilled tradesperson instead of going it alone." 
Whether you're looking to insure your prized possessions or cover the basics, see if you could save by comparing cheap home insurance quotes with MoneySuperMarket. 
Methodology 
Sports teams  
An analysis of tweets that tagged a team's account and/or used team-relevant hashtags since 2019. 
Replies and retweets were excluded and duplicates were removed. Accounts advertising or selling sports memorabilia were also removed. 
Each team's fan cave-related tweets were calculated as a percentage of all fan cave tweets for their respective sporting leagues to find the fanbases most likely to dedicate a room in their home to their favourite team.  

Pop Culture 
We collated a list of popular franchises such as Harry Potter, Lord of the Rings etc. from sources such as Tumblr's annual fandom report. 
Using Pinterest, we found the number of boards and pins dedicated to themed interior design ideas, e.g., "Harry Potter Bedroom Ideas"
The number of boards dedicated to each franchise + [room] was totalled and used to rank the fandoms most likely to take inspiration from their favourite franchise when decorating their homes. 
Duplicates were removed. 

* https://www.matchwornshirt.com/product/mohamed-salah-8qZpNxUU_kKq2mMQNfmxlw 
https://nflauction.nfl.com/international-series---49ers-christian-mccaffrey-game/isynmv1/aucd/4760066 
https://auctions.nba.com/lebron-james---los-angeles-lakers---game-worn-association/isynmv1/aucd/4557080