Will my home insurance be affected by home improvements?
If you're spending time and money on renovating your home, you'll want to ensure you have the right home insurance cover to keep you protected
Looking for home insurance?
Home buildings insurance is designed to protect you financially should your home be damaged and it needs to be repaired or even rebuilt.
But if you want to make structural changes, such as an extension or loft conversion, then your cover might not be adequate, and you might need to consider home renovation insurance. Our guide explains what it is, what it covers and when you might need it.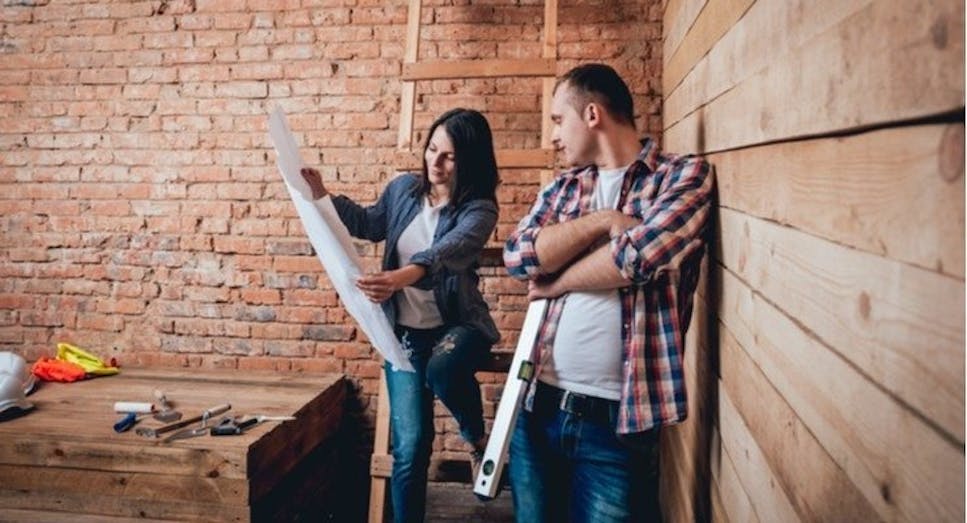 What is home renovation insurance?
Renovations insurance protects your property when you're carrying out work on your home.
If anything bad were to happen, such as a collapsed wall, a serious fire or a theft, or injury to those at the property, renovation insurance would cover the costs incurred.
Home renovations might include refitting your kitchen, converting the loft or extending the house to build that study you've always wanted.
What does home renovation insurance cover?
Home renovation insurance is designed to cover you from the start of the works through to completion. Some of the things the policy should cover include:
Subsidence or a landslip during the works

Damage to neighbouring properties (caused by the renovations)

Theft of building materials, tools and equipment

Theft or damage of your personal possessions

The property being unoccupied for more than 30 or 60 days

Public and employers' liability cover in case of injury during renovations

Legal cover should you run into dispute with the tradespeople completing the work
Once the work has been completed, most renovation insurance policies can continue to cover your home, but you could get a better policy by comparing standard home insurance.
Does my home insurer need to know about building work?
While it might be tempting not to, you should tell your home insurer about any building work, otherwise you risk invalidating your existing policy.
Some buildings insurance policies may have a minor building works clause that allows you to undertake light works, but it is typically better to check with your current provider to see whether you'll be covered both during and after the renovation.
Will my home insurance policy cover renovations?
Most home insurance policies only cover redecoration and DIY. To make sure you are covered while you make renovations, you should contact your home insurance provider before you begin.
Depending on the work taking place there might be different restrictions placed on your cover. Your insurer may say no changes are needed and be happy for you to proceed, but it's a good idea to check and make sure. This is even more important if your building is listed as listed buildings often require specialist materials or techniques for repair and renovation work, which can be expensive or hard to source.
What renovations are not covered by my home insurance?
Most standard home insurance policies will not cover major renovation works, because they increase the chances of something going wrong and you needing to make a claim.
You usually need separate cover for:
Accidental damage to your building and contents

Theft of your contents and building materials

Personal accidents

Legal cover if you have any problems with a construction company completing a job
Ask your existing home insurer if they can cover the work before you start. If they cannot, find a policy that can insure your house during renovation projects.
What will my insurance provider want to know?
Once you've told your provider about the work you have planned, they will ask you some questions to help work out what level of extra risk, if any, the work poses to your home.
Your insurer's questions may cover the following:
The cost of the work

How long it will take

Whether the property will be unoccupied while the work is being carried out

The name of any builders or contractors you're hiring, or whether you're doing the work yourself

Whether the contractors you hire have public liability insurance
Am I covered if I do the renovation work myself?
It will depend on the scale of the work and the size of the alterations you are making to the existing property.
If you're in any doubt, then it's usually an indication to call your insurer to check whether you're covered.
If accidental damage cover is included in your home insurance then you should be covered for smaller mistakes such as breaking a window or drilling through a pipe, but if you are taking on larger structural changes then you should look at taking out a self-build insurance policy to ensure you are covered.
Will my home insurance premium go up?
This depends on what work you are having done. An extension for example, where you are adding extra rooms, fixtures and fittings, may increase your premium as the cost to rebuild in event of a claim would likely be more.
If your premium increases dramatically or your provider won't cover you, you can compare quotes through MoneySuperMarket to look for a good deal while the building work is taking place.
Compare home insurance
If you're looking for a home insurance policy to cover your home improvements, you can compare quotes from MoneySuperMarket's leading panel of providers.
We'll show you the cost of the policies and exactly what they cover so you can easily decide which one is for you.
It's important to remember that the cheapest deals are not always the best when you're considering policy quotes.
Always make sure you check any policy documents carefully before taking cover out, as you'll be able to see exactly what's included in each deal.