Home insurance for a burst pipe and water damage
A burst water pipe or leak can leave an expensive mess to clear up – here's how home insurance can protect you and your wallet
Does my home insurance cover burst water pipes?
Any good home insurance policy should include cover for burst pipes and water leaks as standard. In fact, it's one of the most common reasons for home insurance payouts in the UK – according to the Association of British Insurers, providers pay out £2 million for burst pipes and water leaks every day.
But even if you have insurance, your cover might not include burst pipes and water damage if your insurer believes that the damage was your fault. For instance, this could be because you ignored a slowly leaking pipe and allowed the problem to get worse, or because you overfilled a bathtub.
To make sure you get the most protection possible, it's worth considering getting accidental damage cover as part of your home insurance. Every policy is different, but this should help keep you protected even if the damage was your fault.
There are a few other things to look out for too. All home insurance policies should protect you against 'escape of water' – that's any damage caused by a flood or leak in your home. But they may not include your expenses when it comes to hiring a plumber to find the leak and prevent it from happening again – this is called 'trace and access' by insurers.
The type of leak also matters. If a pipe burst suddenly and floods your home, you should be covered, but not all insurers will pay out for damage caused by a slow drip if you had a chance to fix the problem before it got worse.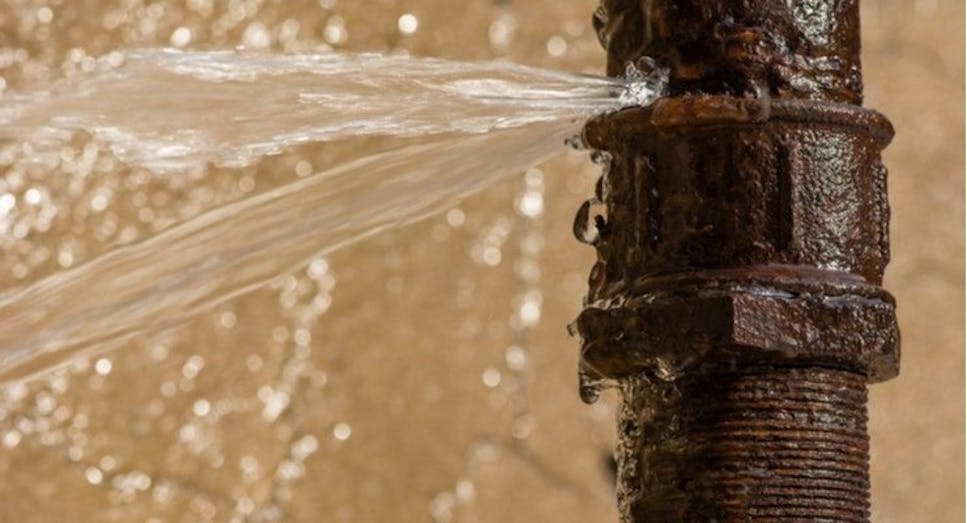 What causes water pipes to burst?
The main factor that causes water pipes to burst is changes in temperature. During the winter months, there's a chance that the water in your pipes might freeze – and when it freezes, water expands, putting a serious stress on the inside of the pipe. Occasionally, the surface of the pipe tears open. So when the water melts again, it starts leaking out.
There are other things that can burst a water pipe too – anything that puts pressure on the pipe could potentially cause it to burst. Like if your water pressure is too high, or there's a blockage in the pipes, you might end up with a leak in your home.
What should I do if my water pipes are frozen?
If you notice that your water pipes have frozen, don't panic – here's a checklist of what to do next.
Turn off the stopcock – this prevents any more water from entering your home, so if there is a leak you haven't spotted, it won't cause a flood.

Carefully check your pipe for any splits - if you find one, call a plumber. If not, you can try thawing the pipes yourself.

Start by emptying your pipes – flush the toilet and run your cold taps until no more water comes out.

Gently warm the pipe - using a hot water bottle or a towel soaked in warm water. You can use a hairdryer too, but only on its lowest setting – too much direct heat could damage your pipes. Never pour boiling water over a frozen pipe – it's a fast way to causing a serious split.
What should I do if my house is flooded?
If a burst pipe floods your house, the first thing to worry about should be your safety. First, switch off the mains power at your fuse box – if water comes into contact with your electrics, it could give you a lethal shock or even start a fire. Next, shut off the water supply to your home at the stopcock. Again, drain the pipes by running all your taps and flushing the toilet. Then it's time to get some help.
Your insurer should have a 24-hour helpline so you can report any floods in your home. Let them know what's happened, and they'll be able to help you start the process of making a claim. It's a good idea to take some photos of the damage before you start mopping up and making repairs – that way, your insurer will have a better idea of the problem.
Some insurers might have a list of approved plumbers, so it's worth checking with them before you bring someone in – you might not get your money back from the insurer if you use a plumber that isn't on their list.
How do I detect a leak in my house?
Not all water leaks are sudden – sometimes you could have a broken pipe in your home without even knowing it. Here are a few things to watch out for to help you detect a leak in your house – if any of them appear, chances are there's a burst pipe somewhere on the property.
Damp patches on the ceiling, or patches of discoloured paint

Small puddles appearing on the floor when nothing's been spilled

Low water pressure in your taps, bath, or shower – although if only your shower is affected, there's a chance the shower head has been affected by a build-up of limescale
An unexplained increase in your water usage – if you have a water meter, check it regularly. Here's a tip: turn off your stopcock, and then see if your water meter goes up over the next few hours. If it does, there might be a leak
How do I claim on my home insurance policy for a burst pipe or water leak?
It's easy to start the process of making a claim if you've been affected by a burst pipe or water leak – simply get in touch with your insurer. Any home insurance should come with a free 24-hour emergency line for these situations, so whatever the time of day there'll be someone available to help get your claim started.
Once you've made contact with your insurer, they should send a loss adjuster to your house within 24 hours. The loss adjuster will examine the damage, plus any other evidence you provide, to work out how much your insurance should pay out to fix up your home.
If the water damage is so serious that you can't stay in your home, let your insurer know. Many home insurance policies include alternate accommodation if your house becomes uninhabitable.
If you don't like the first offer, you can always negotiate for a better one. But the process can take months, and you might be asked to submit further evidence. It's up to you to decide if a better payout is worth the extra inconvenience.
How can I prevent burst pipes and leaks?
Water pipes can burst without warning, but there are a few steps you can take to prevent it happening. The most important is to prevent your pipes freezing – your home should never drop below zero degrees. Alternately, if you'll be away from the house for an extended period and you don't want to spend money on heating, you could turn off the stopcocks and drain the pipes to prevent ice forming.
Here are a few more tips to prevent burst pipes and leaks:
Make sure you know where your stopcock is – getting to it quickly can be the difference between slight water damage and a serious flood

Try not to leave appliances like washing machines or dishwashers running when you're not around – that way, if there is a leak, you'll be there to stop it before it gets worse

Ensure that any new appliances are attached to the mains by an experienced plumber

Invest in lagging, or pipe insulation – it's easy to fit foam insulation around your pipes to stop them freezing in cold weather
How can I make sure I have adequate home insurance for water damage to my home?
A burst pipe can do serious damage to your home, so you'll want to know that you've got all the insurance you need. The most important thing to look out for is your level of cover: your contents cover should be enough to replace all your valuable possessions if they're destroyed by water damage. Meanwhile, your buildings cover should insure your house for its full rebuild cost. If you're not sure how much that is, you can check with MoneySuperMarket – we use data from the Royal Institution of Chartered Surveyors to get an estimate of your rebuild cost whenever you compare home insurance online.
There are a few other things to look out for too. To make sure your claim isn't rejected by your insurer, it's worth considering getting accidental damage cover with your home insurance – this makes sure you'll still be covered if you cause the water leak yourself. It's also a good idea to see if your insurance will cover the cost of finding and repairing the leak as well as repairing any damage – this is known as 'track and access insurance,' and it should be mentioned in your policy documents.
Compare home insurance with MoneySuperMarket
The best way to make sure your home insurance is up to scratch is to compare quotes online. With MoneySuperMarket, it couldn't be easier to find a great new deal on home insurance that gives you all the protection you need.
Simply answer a few quick questions about yourself and your house, and we'll show you a list of quotes tailored to your requirements. You can compare your quotes by price and the level of protection they offer, and once you've found one you like, we'll send you straight to the provider's page to get your insurance set up. It's fast, easy, and free – try it today, and see how much you could save.