How to work out the rebuild cost of your home
Your home's rebuild cost – sometimes referred to as 'buildings sum insured' – is different to its market value. Here's why it's important to get the right figure for your home insurance quote
Looking for home insurance?
When it comes to home insurance, correctly working out the rebuild cost of rebuilding your property will help ensure you buy the right amount of cover. But how do you come up with a figure? Our guide is here to help.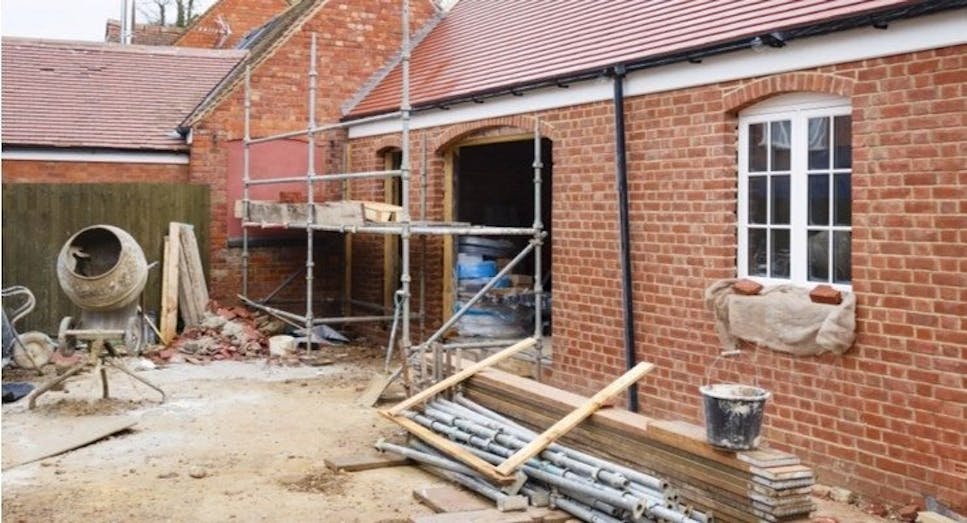 What's the rebuild cost of my home?
The rebuild cost of your home is the amount it would cost in labour and materials to reconstruct it from the ground up if it was completely destroyed beyond repair. This could be the result of a fire, flood or a storm, for example.
Lots of factors go into calculating your home's rebuild cost. They can include:
Property type: Whether it's a multi-story house, a bungalow, or a flat

The style of property: Is your house detached, semi-detached, or terraced

Property size: Size covers the number of floors you have – including cellars, lofts, and garages – as well as the external floor area

The age: If the building is listed or is older than average then this could increase the rebuild cost

Cost of labour: The cost of labour changes over time and some homes may require the work of a specialist

Cost of materials: If your house is not made from brick, then it might require non-standard materials which can drive up the rebuild cost

Planning costs: You may need the services of an architect to plan your rebuild, and large or complex homes may have more expensive planning costs

Debris clearing: The cost of clearing debris – this can also include the cost of demolishing the old property if a rebuild requires starting from scratch
Is the rebuild cost different from the market value of my home?
Yes. The market value relates to how much someone might pay to buy your property. This takes into account the value of the land itself and other lifestyle factors, like proximity to schools or transport links. So it's likely to be higher than the rebuild cost.
In a few cases, where houses are made out of non-standard building materials, the market value could be lower than the rebuild cost – but this is very rare. In these cases you should insure against the higher rebuild cost rather than the lower market value.
Why do I need to know how much it would cost to rebuild my home?
You need an estimated rebuild figure for rebuilding your home so that you know how much buildings insurance to take out. Home insurance providers will use the rebuild cost to determine your premium, and what payout you would receive if you made a claim.
If you have a mortgage, your provider may also insist you have buildings insurance in place as a condition of the loan.
What happens if I underestimate the rebuild value of my home?
The higher the rebuild cost of your home, the more you'll have to pay for cover, so it might feel tempting to understate the true cost and save some money. If you do this and then need to make a claim for a rebuild, you could find yourself with a shortfall when the payout doesn't match the cost, meaning even more unexpected expenses.
While you might think this unlikely, fires in particular damage thousands of homes every year causing structural damage.
What happens if I overestimate the rebuild value of my home?
If you overvalue the amount, you'll be over-insured and pay too much in premiums.
What factors might affect the rebuild cost of my home?
If your home is made of non-standard materials, such as thatch or even timber and concrete, it could be more expensive to rebuild than a typical bricks and mortar home. This is because the material costs more , or it might require a specialist builder who charges a premium.
The type of property is also important. If you live in a block of flats, the rebuild may affect the entire building rather than just your home, making it more difficult to estimate how much cover is required.
Read more with our guide to specialist home insurance which includes what you should do if you live in a listed building.
How do I know if my home is listed?
If you live in a listed building, then this too would affect the rebuild cost. To find out if your home is listed, consult English Heritage, Historic Scotland, Cadw or the Northern Ireland Environment Agency.
How do I calculate the rebuild cost?
You can use the rebuild cost calculator provided by The Building Cost Information Service (BCIS) or hire a surveyor to carry out an assessment.
The calculator only focuses on brick properties, so if you have a non-standard construction and you want to be accurate, a professional surveyor will be able to calculate the rebuild cost. A basic survey should cost around £320. You can search for a professional surveyor on the Royal Institute of Chartered Surveyors (RICS) website.
Before you use the calculator, there is some information that you will need to have on hand to get accurate results. One of the first things you'll need to do is work out your home's external floor area for both upstairs and downstairs. You'll need to say what type of property you have and how many storeys there are, what style it is (detached, semi-detached, or terraced), and the number of bedrooms.
How to work out the area of your house in square metres?
It's a straightforward sum. Measure the length and width of the ground floor walls and multiply the two figures together. If the upstairs is identical to the downstairs, simply double the ground floor area.
Be as accurate as possible, but don't worry about being 100% on the mark. The important thing is that you have insurance in place.
Also, don't forget to include any additional square meterage such as converted loft space.
What if I live in a flat or maisonette?
Given flats and maisonettes are constructed differently to houses, a surveyor may be required for an accurate valuation.
If you live in a leasehold property, first check that the freeholder (building owner) has buildings insurance in place. Many flats and apartments in the UK are leasehold properties, with the cost of the insurance often passed on to the leaseholder through a service charge.
If you rent your home then your landlord is responsible for buildings insurance.
Will my rebuild cost change if I renovate my house?
In a word, yes. If you add an extension, conservatory or loft conversion to your home, the rebuild cost is likely to increase as the house is bigger.
If this is the case, recalculate your rebuild cost and tell your insurance provider so they can update your premiums. If you don't do this and inform your insurance provider you may be left uninsured for any renovations you've made to your home and will have to cover the difference in the event of a claim.
If you aren't changing the fundamental structure of your home it's unlikely the rebuild cost will change.
Compare home insurance
It's quick and straightforward to compare home insurance quotes with MoneySuperMarket.
Just tell us a few details about yourself and your home and we'll search our leading panel of providers to find the best value quotes.
Our expert says
Calculating your rebuild cost can be a daunting prospect but it's worth doing – and properly. Take your time, go through the task step by step, and call in the experts, such as a surveyor, if you need to - especially if it is an unusual or complicated job. A misstep could result in higher premiums than necessary if you overestimate, or a shortfall if you underestimate and then need to make a claim.