Protect your home against accidental damage costs
Accidents can happen at any time, but insuring yourself against accident damage can protect you against repair and replacement costs – compare policies today
Looking for home insurance?
Home insurance can give you a range of protection for your home, from helping to pay for repairs to damaged brickwork to replacing valuable items should you be burgled. But will your home cover also extend to accidental damage – and if so what exactly are you covered for?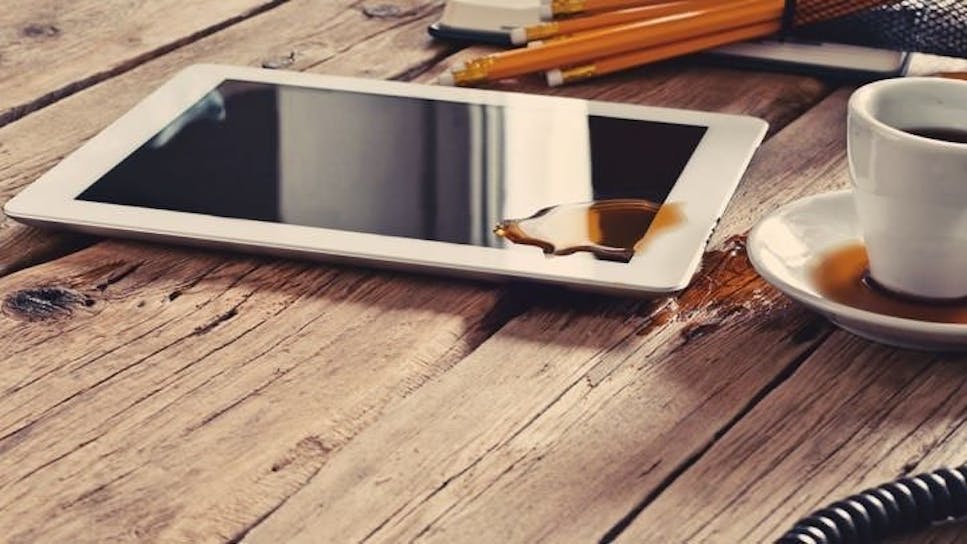 What is accidental damage insurance?
Accidental damage insurance is an add-on to home insurance that covers you for damage to your property or its contents that results from an unexpected and unintentional event.
Accidental damage insurance isn't usually included as standard, but you can easily add it to your policy when getting a quote.
What is considered accidental damage?
The specific definition of accidental damage may vary between home insurance companies. However, it often includes things like drilling through a water pipe to spilling coffee all over the carpet, and from broken TVs to smashed windows, or even a vehicle hitting your property.
What are the benefits of accidental damage cover?
As accidental damage cover gives you more comprehensive insurance, it offers peace of mind. This increased protection means the overall cost of your home premium will increase. The price you pay will depend on your particular circumstances and the level of cover you choose. 
Making a claim under your policy will also reduce your No Claim Discount when you renew. But the reverse is also true. If you don't make a claim your No Claim Discount will increase until you reach the maximum number of years allowed under your policy. This can differ between insurers, so always check.
You also need to consider the policy excess, which is the amount you pay on any claim. If your excess is £200, for example, you'll have to pay the first £200 towards any replacement costs.
Do I need accidental damage cover?
Accidental damage cover for both buildings and contents insurance can be a useful extra – especially because it's unlikely to be included as standard with your home insurance policy.
If you're renting then your landlord is responsible for the buildings insurance, but you should still consider protecting your contents.
What's covered by accidental damage cover with buildings insurance?
An accidental damage policy added to your buildings insurance can offer cover for:
Broken glass windows

Damage to toilet basins, sinks and other bathroom fittings

Damaged drains, pipes, cables and tanks connected to your home

Cracked wall tiles

Damaged kitchen units, including built-in appliances like ovens

Collision damage from a car, a tree or other forces

Putting a foot through the attic floor or making an unintentional hole in the wall

Damage to locks or keys
What's covered by accidental damage cover with contents insurance?
An accidental damage policy added to your contents insurance can offer cover for:
Accidental damage to gadgets like your laptop, mobile phone or smartwatch at home

A TV that's been physically broken

Damage to your home furniture, including sofas and mattresses

Spilling liquid such as red wine or coffee on the carpet

Damage to your property in your garden

Damage caused by a professional contractor when moving home

Damage to your belongings when you are travelling, provided you have personal possessions cover
Will I be covered by damage caused by children?
Accidental damage is useful for protecting your bank balance against any mishaps around the home, particularly if you have children or grandchildren.
Most home insurance policies will pay out for damage to home entertainment equipment like televisions or stereos.
However, other accidents like marker pen on the walls or fruit juice spillages might require extended accidental damage cover if you want to claim.
Your policy documents will outline exactly what you can and can't claim for, and if you have any questions you can always call your insurer to ask.
Will I be covered by damage caused by pets?
Although accidental damage can be bought as an add-on, many policies still do not cover much of the damage caused by pets.
This generally includes things like scratching, fouling, tearing and chewing. However, should your over-excited pet knock over an expensive item such as an antique vase, you may be covered.
It's also likely your insurance won't cover damage resulting from insect or vermin infestation. If you have pets, it's even more important to check the terms to see if you're covered and if not it might be possible to add enhanced cover.
Will I be covered by damage caused by DIY work?
Not necessarily. While accidental damage insurance should cover you for a burst pipe while putting a nail in the wall, insurers won't usually pay out for botched work on the electrics or plumbing if you have a go yourself.
Read the policy before conducting any DIY work around your home because it could be more prudent to hire a professional tradesperson for skilled tasks.
What is not covered by accidental damage home insurance?
While the policy should cover you for accidents, it's not in place to insure against wear and tear or negligence. As such you might not be able to claim for accidental damage:
If the damage was caused deliberately

If the damage is a result of general wear and tear

If poor or defective workmanship caused the damage

If it's electrical breakdown or mechanical failure

If the damage is caused by vermin or an infestation

If the item is above the single item value limit stated on your policy
How much does accidental damage insurance cost?
The cost of adding accidental damage to your home insurance policy depends on how much standard cover you take out and the value of your building and contents. Insurers will also factor in:
Your claims history: If you've made previous claims on a home insurance policy, insurers will see you as more likely to claim again in the future and will charge more
How often you pay: Paying monthly for home insurance spreads the cost of cover, but insurers often charge more in premiums versus an annual payment
The excess you pay: Excess is the initial amount you pay towards a claim before your insurer picks up the remainder. Paying more in voluntary excess indicates to insurers that you'll only claim when it's worth the higher cost, and in return they'll offer lower premiums
Do I need accidental damage home insurance if I'm renting?
As a tenant you are only responsible for your possessions, so it's worth considering taking out an accidental damage policy for your contents insurance.
The building's upkeep is your landlord's responsibility, so they must decide whether they want to take out accidental buildings insurance.
Do I need accidental damage home insurance if I'm a landlord?
If you're a landlord and have tenants renting your property then accidental home buildings cover could be a good idea should anything go wrong.
If the property is furnished, it's also wise to take out adequate contents insurance. You can compare specialist landlord insurance quotes with MoneySuperMarket.
If an item is destroyed, will I get a new one with accidental home insurance?
If you have new for old contents insurance you should receive a new like-for-like replacement or receive the equivalent in money or voucher. This is the most comprehensive type of cover you can get.
But check your policy's terms as the alternative is indemnity (or wear and tear) cover where the amount you'll receive depends on the current value of the item.
For example, if the dishwasher is five years old, then you will receive a similar valued item or amount to replace it.
What's a home insurance wear and tear clause?
A wear and tear clause means if an item is damaged it won't be replaced as new, nor will you receive the full cost for a new replacement.
All items are expected to wear over time meaning their insurance value depreciates. Your insurer will usually consider the age of the item and make a percentage deduction from any settlement amount offered.
Does accidental damage insurance cover matching sets?
If one chair of a three-piece suite is damaged or the sink of a matching bathroom suite is cracked, you may not have the entire set replaced on accidental damage insurance.
Instead, you'll receive the money to cover a replacement for the damaged item only and it will be up to you to see if you can purchase a single item from the range.
The exception to this is if you have matching set cover. In this case you can have the entire set replaced.
Are my items covered outside my home?
You should check the terms of your policy and if items are not covered outside of your home, including your garden, then you should be able to purchase personal possessions cover as an extra.
It's particularly worth checking out for laptops and electrical devices that you are more likely to take on your travels.
Also, when moving house, check whether your contents will be covered. Some policies will extend the cover to using a professional removal firm.
It's also worth seeing if the company has its own insurance in place should any accidents happen.
Does accidental damage insurance cover mobile phones?
Yes, as long as the accident happens within the home and the amount you are claiming for does not exceed the single item limit on your policy, you can claim for your mobile phone.
Does accidental damage insurance cover TVs and laptops?
Yes, electrical items can be covered by an accidental damage home insurance policy, but check the terms to be certain.
Particularly keep an eye on the single item limit for any pay out and whether you'll receive new for old cover or if wear and tear is taken into account.
Also understand whether you'll be covered if you take your laptop out of the property. Many policies do not extend to this so you may want to consider personal possessions insurance.
What if my home insurance claim is rejected?
If our insurance claim is turned down or you're not happy with the pay out offered, you should contact your insurer and explain your reasoning.
If you can't come to a resolution, you can take your case to the Financial Ombudsman Service who will assess the situation and try to determine a satisfactory outcome.
Compare accidental damage home insurance
Comparing home insurance quotes to find a cheaper deal is quick and easy with MoneySuperMarket.
Just tell us a little about yourself, your property and everything you want to insure, and we'll put together a list of quotes tailored for your requirements from our leading panel of insurers.
You'll be able to compare deals by the monthly and annual cost, the level of cover you'll get for your money, and the excess you'll need to pay if you claim.
Once you've found the policy you want, just click through to the provider's site to finalise your purchase.
As with all insurance, the cheapest available deal isn't always the best suited to your needs. It's better to aim for a balance between cost and cover, so you can find the perfect policy without overpaying or underinsuring yourself.
Looking for home insurance?