Compare over 65s travel insurance
If you're over 65, you will probably pay more for your travel insurance. Here's how to find affordable cover.
Enjoying your senior years may involve a lot of travelling, seeing the world, and having a great time everywhere you go. But every adventure needs suitable cover. Over 65 travel insurance can help protect you against accidents and emergencies that may impact your holiday plans.
What is over 65 travel insurance?
As you get older, you'll find the price you pay for insurance increases. The same goes for travel insurance. This is mainly because insurers perceive older travellers as being at a higher risk of making claims.
Typically, insurers have one premium bracket for those aged 18 to 64. Those aged 65 or over are likely to pay more for their insurance. This can often mean that low-risk, healthy customers can be turned down simply for being on the wrong side of 65. However, some insurers do offer specific cover for older travellers.
Travel insurance for those aged over 65 may come at a price, but equally, you may get additional benefits that you wouldn't with a standard policy. This could include extra emergency and medical cover.
You can also get standard policy coverage for lost or damaged possessions up to a certain amount. You can even pay for cover against circumstances out of your control, such as the airline you're flying with going bust.
If you're going on a cruise, you should take out cruise holiday insurance to ensure that you're covered.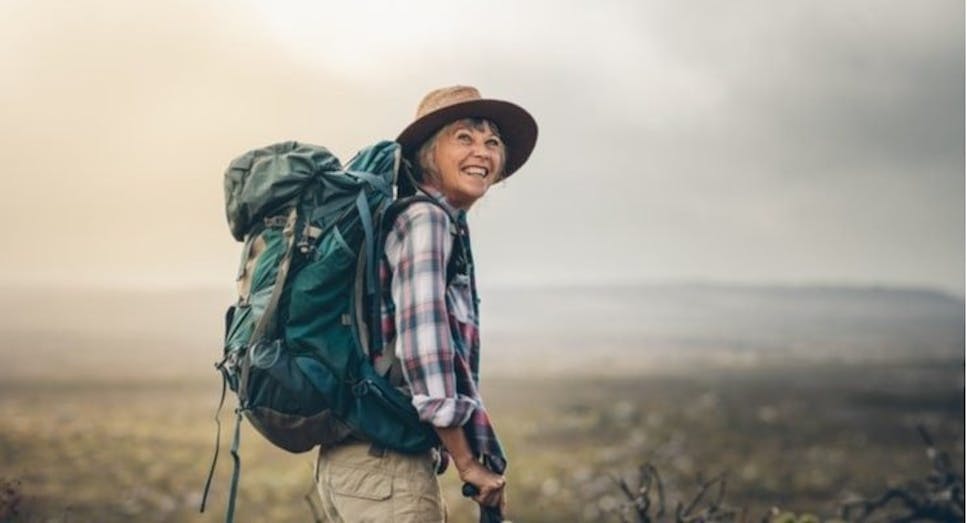 What does travel insurance for over 65 cover?
Travel insurance for those aged over 65 generally provides the same benefits as standard travel insurance. But you may also find that it includes extra coverage for medical-related issues. This is a common feature in travel insurance for people in their later years.
Taking out travel insurance can offer medical benefits such as:
Medical treatment costs: A travel insurance policy for older travellers might provide more cover for the cost of emergency medical treatment while you're away

Medicine: If you need to take any form of medication with you, a policy will help you pay for replacements if yours become lost or damaged

Medical equipment: You may also be covered for the cost of replacing medical equipment, including wheelchairs or walking aids

Pending treatment: Some over 65 travel policies can even provide cover if you need to end your holiday early for any medical treatment you have been waiting for
What else is covered by over 65 travel insurance?
While insurance policies for older people provide more medical cover than a standard travel insurance policy, there are other advantages:
Age limit: Basic travel insurance often has a minimum for what age you can take out cover at. That's not the case for policies designed especially for those aged over 65. However, you should keep an eye out for maximum age limits. Read the policy documents to be sure before you take out cover.

Travel companions: Another advantage is that you might even be able to take companions with you who won't have to take out a separate policy. Instead, they'll be covered for the same things you are
As with any insurance policy, it's important to read the documents and policy wording carefully so you can understand exactly what level of cover you get.
How much does over 65 travel insurance cost?
The price of travel insurance varies by insurer. Costs may also increase for older people who declare pre-existing medical conditions. Travel insurance will usually get more expensive the older you get. This is because the perceived risk of illness and injury increases with age.
Other factors beyond age, that may affect the cost of an insurance policy, include:
Health of the policy user

The number of people covered by the policy

The location of your travel destination and the risk level of the country

The length of the policy

Additional cover, including for activities or sport

The level of cover you've chosen
Can I get over 65 life insurance with a pre-existing medical condition?
Yes, but you should expect that the cost of your policy will be more expensive. Many insurance providers should still be able to give you affordable cover, and it's even more important that you are covered in case your condition affects your travel plans and holiday.
Don't lie about your pre-existing medical conditions when taking out over 65 travel insurance. If you need to make a claim, it will likely be rejected when they find out that you did not declare your condition.
What isn't covered by over 65 travel insurance?
Travel insurance policies generally have exclusions that are specific to older age groups. The main exclusion is the amount of time you can travel on one policy – some insurers might set a limit of around 31 days for the length of a trip.
This isn't always set in stone, so check what each insurer's travel limit is (or whether they even have a limit at all) when you compare quotes.
Travel insurance policies for those aged over 65 also have many of the same exclusions as other policies, including:
Undeclared medical conditions
Insurers won't assume you have a list of medical conditions if you're over 65. You should declare every condition that applies to you to make sure you're covered for all possibilities, especially as medical costs can vary hugely between countries and continents.
Undeclared activities
Being over 65 shouldn't limit the activities you're able to do on holiday, but you'll only be covered for potential injuries or lost belongings that occur if you've declared beforehand. This could be as simple as taking out an extra policy to cover the winter or water sports.
Undeclared belongings
Some insurers might require you to list the items you take with you abroad, particularly expensive or delicate items like instruments and gadgets. If you don't list something, it's unlikely your insurer will pay out for a claim.
Substance abuse
Insurers can also refuse a claim if you were under the influence during the event – for example, if you were drunk when you broke your arm falling down the stairs. This can differ depending on your insurer, as some may have a blood alcohol limit, while others may refuse if you have had anything to drink at all. The same can apply to drugs, as illegal substances are likely to void your claim, while prescription medication can be a grey area, depending on your insurer. You'll need to have a proper read of their policy wording to make sure.
Reckless behaviour
Everyone's expected to enjoy themselves on holiday, but it's worth remembering that you might not be covered for injuries or lost and damaged items if it happens as a result of reckless behaviour – you should talk to your insurer to find out more.
You should check with your insurer to see a full list of exclusions before taking out a policy, so you can be sure you've taken out the right level of cover and avoid any nasty surprises while you're away.
When should you take out over 65 travel insurance?
You get the most out of travel insurance by applying as soon as you know the details of your holiday. This means you will likely be covered in case you have to cancel your flights or accommodation early. You may have to do this as a result of:
Redundancy

Illness

Injury

Bereavement
Do I need over 65 travel insurance if I'm going to Europe?
The European Health Insurance Card (EHIC) and Global Health Insurance Card (GHIC) enable you to access state-provided medical healthcare for less or for free in participating European countries. However, you should consider the other costs implicated when you seek medical attention. The EHIC and GHIC do not cover you for repatriation and do not pay out for cancelled plans as a consequence of your accident or emergency.
It should be noted that your EHIC does not last forever. You will be able to use it up until its expiration date, but you will need to apply for a GHIC after this.
You will still have more protection with European travel insurance. You will likely be covered for more medical and health-related issues as well as other holiday disruptions.
Where can you go with over 65 travel insurance?
If you're only travelling in Europe, you'll be best suited to a policy that only covers Europe. However, a worldwide policy would be better if you plan on visiting Asia or the Americas.
Worldwide insurance coverage can also come with exceptions, generally applying to the USA, Canada, and the Caribbean. So if you're planning on travelling to any of these places, it's best to check if your worldwide insurance policy offers coverage.
Certain countries may be excluded from most travel insurance policies, regardless of your age. These countries are usually considered as high-risk locations according to the UK Government and Foreign & Commonwealth Office (FCO). Some insurance providers may also have their own list of high-risk destinations. You should check your policy to see if your travel destination is covered.
Compare over 65 travel insurance
When you're taking out over 65 travel insurance, it's always a good idea to shop around before you take out a policy. Comparing travel insurance quotes with MoneySuperMarket is simple – all you need to do is give a few details about where you're going, how long you're away, and any pre-existing conditions you might have.
Then you'll be able to browse and filter results depending on the provider, the level of cover they provide for medical costs, baggage and cancellation fees, as well as their Defaqto rating. This tells you what other customers have said about the policy and can help you find the best ones on offer.
It's important to remember that the cost of the policy isn't the most important factor – you should pay more attention to what is covered by the policy, making sure that it provides everything you need in terms of medical cover and cover for your belongings.