Why you need holiday insurance for water sports
Whether it's surfing, kayaking or scuba diving, travel insurance for water sports will cover your holiday activities
Does travel insurance cover water sports?
If you plan on enjoying water sports while on your holiday, it's essential to buy insurance. All water sports come with risk, and if you're not covered you could face extremely high medical costs, or even legal fees if you injure another person.
Many travel insurance policies will cover you for a range of holiday activities, including certain water sports – but not all activities are covered by every policy. If your chosen sport isn't covered, you won't be able to make a claim if you have an accident or injury.
If you want to take out cover for a sport that's not included in a standard policy, you'll have to pay extra to make sure you're insured.
And watch out – many insurers don't only exclude extreme activities like surfing or diving. Some standard policies might not insure things as simple as swimming in the sea or kicking a football around on the beach.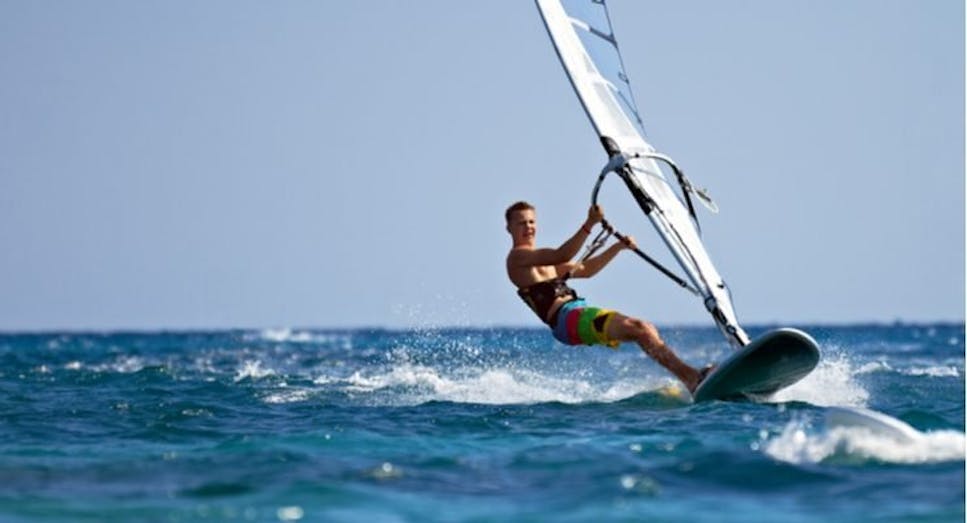 What counts as a water sport for insurance?
When you buy travel insurance, it's important to check which activities you'll be covered for. Some of the common water sports that might not be covered by standard travel insurance include:
Swimming and snorkelling

Surfing and body-boarding

Waterskiing

Jet-skiing

Scuba-diving

Free diving

Sailing

Parasailing

Wakeboarding

Swimming with dolphins
If you're comparing travel insurance with MoneySuperMarket, it's easy to see what will and won't be covered. Simply answer a few quick questions to see all your available quotes, and then click the 'More' button next to any quote to see what activities you'll be insured for.
Make sure you read the list of activities carefully – if one of the water sports you want to enjoy on your holiday isn't covered, you'll need to buy a more comprehensive policy.
Does travel insurance cover surfing?
Many ordinary travel insurance policies include surfing as an activity – but you might want some additional cover. For instance, if you're taking your own surfboard with you, it's wise to insure it separately; good surfboards can be expensive, and the lost baggage insurance on your policy probably won't be high enough to cover it. There are also some specialist insurers who offer dedicated travel insurance for surfers.
Ordinary travel insurance might come with some restrictions on surfing. For example, you could be covered only if you stay close to the shore, and in this case you'd need specialist cover if you plan on surfing in open water.
Some restrictions will always apply no matter what insurance you go for. Your insurance is likely to be invalidated if you break local laws by surfing illegally in dangerous areas, or if you ignore instructions from lifeguards.
Does travel insurance cover jet-skiing?
It shouldn't be hard to find travel insurance that will cover you if you plan on jet-skiing. However, because of the risks that come with using a jet-ski, the policies that include it are a little more expensive.
Any firm that hires out a jet-ski to you will probably have their own insurance – but that insurance will usually cover the company, not you. If you suffer an injury while jet-skiing, it's crucial that you're fully insured. Otherwise, you could face extremely high fees for medical care and ruin your holiday.
Jet-skiing is against the law in some countries. Even if it's included in your insurance, you're likely to have your claim denied if you're involved in an accident while jet-skiing illegally. Similarly, your insurance might be invalidated if you don't follow safety instructions.
Does travel insurance cover kayaking?
Kayaking and other white-water sports are covered by many travel insurance policies – but you might find that there are a few restrictions. For instance, your insurer might only cover you if you're kayaking on lakes and rivers, rather than open water. And if you're travelling with your kayak, you might want to get it insured separately as your baggage limit might not be sufficient.
If you're an advanced kayaker, or you want to take your boat out on the sea, you should consider specialist travel insurance for kayakers. However, the price of cover will increase.
Do I need extreme sports insurance for water sports?
Ordinary travel insurance is often enough for most water sports, such as surfing, diving or kayaking. But if you want to enjoy these sports at a more advanced level, or try out some more extreme sports – such as diving with sharks or class five white water rafting – it might be a good idea to take out a specialist extreme sports travel insurance policy.
Insurance for extreme sports is more expensive than an ordinary travel insurance policy: the more extreme your activities, the greater the risk to your insurer. But because these activities are more risky, it's more essential than ever to make sure you're fully covered.
How can I find travel insurance for water sports?
Whatever activities you'll be enjoying on your holiday, the best way to make sure you'll be covered for every adventure is to shop around for travel insurance using a price comparison site like MoneySuperMarket.
Our price comparison tool is quick and easy to use – simply give us a few details about yourself and your trip, and we'll do the rest. You'll be able to compare hundreds of policies from dozens of insurers – and quickly see which activities are included.